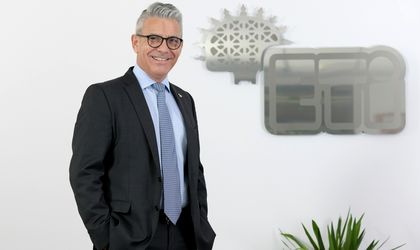 One of the most experienced top executives in Romania, Stephane Batoux, who has been the Head of International at ETi International for more than five years now, shares his vision of leadership and gives insight into the company's expansion plans.
By Anda Sebesi
Tell us your story. What first brought you to Romania?
I have been living in Romania for 13 years, since January 2009, when I took over the management of Danone Dairy at the regional level: Romania, Bulgaria, and the Balkans. Prior to that position, I had worked within the Danone Group for several years and I came to Romania from a GM role in Ukraine. After Danone, I joined Coca-Cola HBC Romania as General Manager, where I stayed for almost three years, until mid-2014. Afterwards, I accepted a proposal from Raul Ciurtin, the founder of Albalact, who asked me to lead his firm and manage the first company IPO on the Romanian stock market until the takeover by Lactalis Group in 2016. After the transaction with Lactalis was completed, I was offered a position inside the Lactalis Group, but I left with the intention to move into the entrepreneurial world, a dream I had had for many years. At the same time, a new and very interesting opportunity arose with ETi, one of the leading confectionery companies in Turkey.
Things lined up so well that I was happy to embark on this journey. The Chairman of ETi needed someone to lead the company's expansion into new markets and it turned out I was the right person for this challenge. I travelled to their headquarters in Turkey, where I met the owner of the company and my current boss, Firuzhan Kanatlı, a visionary and inspiring entrepreneur who shared with me his dream of replicating the success they had in Turkey at a global level. It was this shared ambition and vision that made it so easy for me to accept this challenge. I was also impressed by the Group's industrial capabilities, which operated at the highest quality standards I had ever seen and ensured that their products would be globally competitive.
What can you tell us about your leadership style?
I like to think big and I love to inspire others, especially the people on my team. As a leader, I think my main quality is that I'm able to give confidence to my team. They are highly skilled professionals who know exactly what they have to do and we believe that the biggest achievements can only be reached together as one. The leader I admire most is Nelson Mandela, not only for the cause he defended, but for the dedication and resilience he demonstrated in his quest for justice. "Never give up" is one of the values I live by, both professionally and personally.
ETi's values are embedded in your leadership strategy. How is this reflected in your leadership?
ETi is an agile company which is focused on innovation and quality; it's determined to grow and write new chapters internationally, and that perfectly fits in with my leadership vision—"Think big"— as much as it continues to carry forward the vision of its founder, an entrepreneur who had a big dream and did not deviate from turning it into reality.
How big of a role does innovation play at ETi?
Innovation has been part of ETi's identity and DNA from the very beginning. ETi brought on the market breakthrough innovations such as ETi Dare, a dark chocolate wafer that has already received several distinctions from both retailers and consumers, and ETi Milk Burger, the uniquely shaped product that received the "Innovation of the Year in Europe" award in 2015. Over the course of a few years, ETi managed to become a trusted company and reach new horizons, having made important contributions to the development of the confectionery industry.
About Stephane Batoux, Head of International at ETi
With more than 20 years of experience in FMCG, Stephane Batoux has been leading ETi International since 2017. Prior to this role, he led the local and regional operations of Danone, Coca-Cola HBC, and Albalact. He holds a Master's Degree in Economics from the University of Kent and an MBA from the École Supérieure de Commerce in Bordeaux, France.