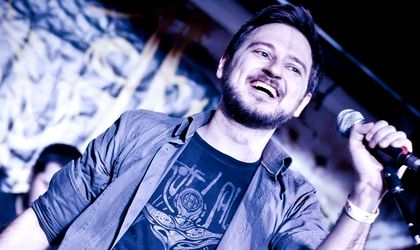 Living Rock, the only alternative music festival by the sea, will take place on the weekend of August 19-21, on Tuzla beach. Unlike the first two editions, when Romanian artists were the headliners, this year, the Belgian indie pop/rock band Balthazar will also perform on the stage beside the Black Sea. Business Review talked with Cosmin Ionescu, PR Specialist at Overground Music and one of the organizers of Living Rock, about the experience of the first edition of the festival and, of course, the upcoming second edition.

How would you describe the experience of the first edition of Living Rock, and what are the lessons you learned from it?
Living Rock is a big community united by the love for authentic music and experiences, and by the respect for the wild corner of nature we'll find ourselves in for a few days. The electric feeling in the first few rows during a concert is hard to beat, but I confess my favorite spot is up on the hill overlooking the seashore, near the access road, where you get an amazing view of the whole festival area.
Last year's edition, in 2021, was held while some COVID-19 restrictions were still in place (people had to either get tested in order to enter, or to present a valid vaccination certificate). This added a whole extra layer of complexity to the access screening and procedures. Jokingly, I would say that I hope we'll never again have the chance to implement any of the lessons we learned in this matter.
Jokes aside, we did gather some valuable feedback from our audience regarding the festival conditions – especially in the camping area and in the food-court – and we're doing our best to provide our festivalgoers with better amenities and a wider variety of options.
What can you tell us about the upcoming second edition of Living Rock? What is the concept behind the festival, why have you chose Tuzla Beach as a venue and who are the artists who will perform?
Our lineup is varied, with artists from many music areas that we might call "Alternative", not all of them with drums and guitars. There's Balthazar from Belgium, our headliners who developed quite a solid following here. There's local fan favorites Vița de Vie, Coma, Robin and the Backstabbers, byron, The Mono Jacks, Luna Amară, Toulouse Lautrec and E.M.I.L. – experienced bands with more than 10 years of history each (some even reaching 20). There are some "friends" of the alternative scene, artists with similar values to our own, making authentic music in fresh and exciting ways – Bogdan Simion and his band exploring old musical roots, Luiza Zan and her rich heritage in jazz & gospel music, Silent Strike with his daring electro beats, Amadeus – the string quartet pushing the boundaries of classical and pop music, and of course newer acts like The Kryptonite Sparks and Dl. Goe bringing fresh contemporary approaches to guitar driven music. There's also Piqued Jacks from Italy – we bet they'll be huge in a couple of years, and we're happy to bring their dynamic, energetic performance to the shores of Tuzla for everyone's delight.
The Romanian Black Sea Coast has attracted a series of festivals in recent years, but what does Living Rock brings new to this scene?
We're the only festival dedicated to the alternative music scene. Not only this, but we're trying to slowly build a concept of an alternative festival altogether, where people enjoy the wild corner of nature that is the Tuzla Beach, but at the end of it all they also give something back to the area. You could say our approach is boutique rather than mainstream. If you're into camping beneath wild olive trees, living life slowly, taking time to enjoy a sunset or a sunrise, bird spotting, if you don't mind sand in your hair and the sea smudging your make-up and being woken up by the cries of seagulls rather than your alarm clock, Living Rock might be the place for you.
What are the biggest challenges in organising a festival?
Particularly in 2022, the biggest challenge is competition. There are a lot of festivals popping up everywhere, and now, more than ever, you need to find the unique attributes that differentiate you from everyone else. I would even go as far to say that the supply (in festivals, concerts etc.) has finally overtaken the demand, and unfortunately this means that without securing an audience of your own, and investing in keeping them interested and entertained, you risk extinction.
Traditionally, I think building and securing the festival line-up is another big challenge. It requires a good deal of advance planning (most international artists have their festival seasons booked 1-2 years in advance) and you always need to find the right balance between the acts that will give you a return on investment (to make your festival profitable) and the ones that give you an edge, an identity of your own, to make your festival memorable and exciting.
How do you see Romania in terms of festival activity?
I think there is something for everybody, which is great in terms of choices for music fans – there are mainstream options, there are boutique options, every music genre is covered, there are festivals in the middle of big cities, but also in pristine, sparsely populated areas. One negative is that, sometimes, the lineups look quite similar to one another – particularly in terms of local acts. Another negative is that while in the past couple of years I feel the market has expanded by quite a lot, it didn't necessarily do so in a sustainable fashion.
What are the main sources of funding for a festival?
The only guaranteed income source is selling tickets. If you compare this to a festival's list of expenses – artist fees, transportation, accommodation, copyright fees, taxes, protocol, power, sanitation, stage equipment, sound, lights, personnel, amenities, cleaning and so on – you quickly realize tickets alone are vastly insufficient. Most commonly, the extra funding either comes from the local authorities (grants or commissions from the City Council or the Mayor's Office), and/or from private commercial sponsorships. A good business practice is to not ask your partners for money outright – many companies or institutions are less willing to part with their cash. However, they might be happy to pay some of your bills instead. Whatever works!
What do first-time festival organisers need to know in terms of logistics, budget, promotion?
Start small – really small. Start with a few local bands, and pay a lot of attention to their needs: respect their technical and hospitality riders, offer them all necessary info in a timely manner (their schedule, accommodation information, meal times, stage times etc.) and try to be a good host. If you manage to do right by them, it will be easier in the future to scale up and start bringing more famous acts – national and international. You don't want a bad reputation in the market.
Also – invest in a good stage, with all necessary equipment and high-end mixer, monitors and PA system. Get a great sound engineer, and hire the right people in the right amount: you will need stagehands and technicians to work alongside the crews of the artists. Set a very strict timetable for soundchecks and for performances. Enforce it. Sometimes the bands that we work with in management & booking would ask a festival organizer: "How much time do we have to play? How much time do we have for soundcheck?" and the answer is "However long you want, we're just happy to have you here!". No, that's not how it works at all 🙂
Lastly, be prepared to lose a lot of money. Festivals are a long-term investment that usually only reach break-even after a few years. Prioritize your investments – you don't need a killer lighting setup and LED curtains and fireworks if the bands play on computer speakers. You don't need 4 headliners in a row per night. You don't need branded merchandising if your audience has no toilets. Respectfully negotiate the artist fees. Look for barters – they might work better than you think. Invest a lot in marketing and PR, but do it wisely: sometimes a very good branding is more important than thousands of euros spent on Facebook ads.
Who is Living Rock aimed at and who is its target audience?
Lovers of authentic music, of all ages. There will be a lot of soul poured into every artist performance at Living Rock 2022, we can guarantee it.
What have you noticed is the behavior of the public when it comes to buying festival tickets for?
One thing that we noticed happening in the last 2 years since COVID is that people buy a lot fewer tickets in advance. They plan shorter-term, and most ticket sales happen in the 3-4 days before an event. I guess this is understandable, since people want to make sure the event is actually happening as advertised – and unfortunately bands abruptly canceling gigs and festivals because of illness or canceled flights is quite common today.