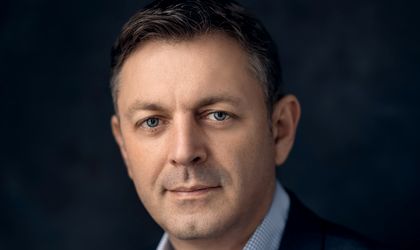 Petronius Secareanu, General Manager at Canon Romania and Bulgaria, sat down with Business Review to talk about how the company helps its corporate clients become more productive and collaborate more efficiently, in a secure manner, in the hybrid work environment.
By Anda Sebesi
Hybrid work has become the new normal for many companies. What kind of solutions does Canon offer in this segment and what are their main benefits for users and companies?
Our comprehensive portfolio of solutions and services for managing documents and information is designed to streamline working processes in any organisation, while facilitating employee collaboration regardless of the place of work. Canon's expertise and experience guide businesses through their swift digital transformation and enable them to easily extend their working experience from the office to the hybrid workspace through automated business processes and document management solutions, making it all more cost-effective and efficient and providing high levels of data security and compliance.
How does Canon help companies become more productive in the context of hybrid work?
According to Gartner, 82 percent of company leaders intend to continue allowing remote working as employees return to the workplace, while IDC expects that 80 percent of enterprises will adopt mechanisms to shift to cloud-centric infrastructure and applications, at a pace that is twice quicker than before the pandemic, while Quocirca states that 96 percent of organisations expect an increase in demand for collaboration services.
We support organisations in optimising their business processes, combining the traditional and the virtual to form a hybrid workspace where paper and digital documents coexist and are part of a new, harmonised way of working. Our leading and integrated ecosystem of hardware, software, and services is designed to support companies in their transformation journey, regardless of where their employees are working from. Whatever the situation and business landscape, we combine Managed Print Services and Workspace Collaboration solutions to help companies gain transparency and control over the entire document lifecycle and build a bespoke approach to support their digitalization journey.
What can you tell us about Canon's integrated experience titled The Road Show and its added value for customers?
The Canon CEE Hybrid Working Roadshow featured a converted truck with a modern business environment divided into 4 different hubs: Office & Co-working hub (satellite offices or subsidiaries/branches), Home hub, Mobile hub (locations outside of the office and the home, e.g., working from a café or a hotel), and In-house print hub (a print room located within the organisation). Canon experts guided visitors through each hub corresponding to real-life hybrid working scenarios in different business departments like HR, Accounting, Finance, and print rooms and presented the best solutions for managing documents and information to work more efficiently, safely, and collaboratively.
What are Canon's main business directions on the Romanian market?
Our focus on innovation increases productivity and quality for our customers while our expertise is driving technological advances across a range of industries that rely heavily on visual data. We are the only company in the world to have ranked in the top five for 36 years running, according to the latest ranking of preliminary patent results issued by IFI CLAIMS Patent Services, based on information issued by the United States Patent and Trademark Office. Keypoint Intelligence, the world's leading independent provider of testing services and analytical information to the document imaging industry, awarded Canon with three coveted recognitions at Buyers Lab (BLI) 2022: the "A3 Line of the Year Award" and the "Most reliable A3 Brand" for the exceptional performance and reliability of the hardware technologies used in Canon A3 multifunctional printers; and for the fourth year in a row, uniFLOW Online, our secure cloud-based printing software solution that enables businesses to track and control print, scan, copy, and fax activity across their entire environment, even if it spans across several locations, won the "Outstanding Cloud Management Solution" award.