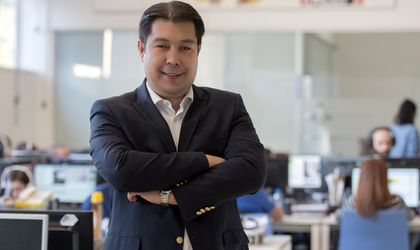 At the beginning of this month, Kanal D Romania celebrated 15 years since its first broadcast in our country, so, to mark the occasion, Business Review sat down with Fatih Salis, News and Internal Productions Director, for an exclusive interview in which we tried to find out more about the TV channel's journey so far and its plans for the future.
How would you describe the evolution of Kanal D in the 15 years since its launch?
The evolution of Kanal D was like a challenging journey, from which we constantly learned. The station came up with something different in the landscape of Romanian television and has attracted a very loyal audience over time. Today, we can be proud that millions of viewers watch the station's shows, as well as huge online communities were created around the station's brands. Today, Kanal D is in the top 3 televisions in Romania, often being on the first position in the ranking both in Prime Time and in Day Time.
Kanal D has evolved from a single entity, the TV station, to a Media Group, which now includes TV, Radio and Digital. Our content has diversified, adapting to new trends, and today responds to very different consumer needs, and the content can be accessed from any device (TV, laptop, tablet, phone).
From the very beginning, the station relied on a differentiation strategy and established itself as a trendsetter not only in Romania, but also on the foreign market. The Turkish series entered Romania, and not only, once it were broadcast on Kanal D. And when we proposed them to the public, the South American soap operas were in power; we practically dethroned this habit and imposed another one that was replicated in other countries, after the productions were successful at Kanal D, in Romania.
Also, the way of approaching the News, much closer to the viewer or the reality shows, such as "Bravo, ai stil!" or "Exatlon", they rewrote the recipe for success. A recent example of a show that was a revelation on the media market is "40 de intrebari cu Denise Rifai". It's a format that is based on a huge research, personalities from different fields are invited, people who are extremely interesting to the general public through what they said or done at a given time.
What did you find most difficult in all these years?
There were some very difficult "thresholds", periods that we managed to overcome only due to the professionalism and creativity of this team that forms Kanal D. I would mention the economic crisis of 2008-2009, when the advertising market collapsed. It was an extremely difficult period, but we managed to get out of it well. After 2009 we started to change the content strategy, to bring large international formats (such as "Vrei sa fii milionar?", "Gaseste-mi familia", "Roata Norocului", etc.), but also strong stars, and the results were not long in coming.
Another huge challenge was in 2011 when we started changing our business and content strategy, focusing even more on our own recipe, having a mix of internal production, international formats and Turkish series. Also, News launched a new approach on the market, the personal standpoint was really something new in the market, now there are other televisions trying to establish a closer connection with the public.
Turkish series and in house productions have become central pillars of the station's content, we also aimed to bring innovative productions to the Romanian public. We invested in the content of the News and in an closer approach to the viewer, coming in front of the public with relevant news, without political involvement.
Another important step was taken by Kanal D in 2019 with the acquisition of Radio Impuls, a local station that we turned into a national one and which managed, in three years, to reach the preferences of the urban public; the morning show "Dimineata nebuna" reached the 6th place in the top, at the level of the commercial public in Bucharest.
The most recent challenge was the pandemic period, which we managed to cross with very good results, at the same time managing to offer fresh content to viewers, but also to protect the health of employees, by taking care and implementing safety measures. It was quite difficult for our News team as well, but they are professionals and journalists that put their profession on the first place, it was important to inform correctly our public, to present them objective information, especially during this period when fake news exploded.
How has the pandemic affected you, how have you adapted in the past two years?
It was, as for all companies, an extremely difficult time. But we managed to cope with it and, moreover, we were also successful.
With this pandemic, we had to react quickly and rethink the flow of operations, so that the teams could work safely, and that viewers would continue to receive that quality content.
 Some teams worked from home, others from the field or from the office, we implemented the distance measures, wearing a mask, periodically disinfecting the workspaces and not only. We continued our mission to transmit quality information and entertainment to those at home, in all this time marked by uncertainty.
We offered fresh productions to those at home, especially since there was a great need for shows that would give people a state of optimism, but also that would inform them correctly. Kanal D News were also during the pandemic a landmark of correctness regarding the information and equidistance for those at home, especially in the context of the spread of the fake news phenomenon.
Are there any differences, similarities between the Turkish and Romanian audiences?
Compared to the TV market in Romania, the one in Turkey is huge, if we refer to the number of television consumers. Also, the advertising budgets are huge, compared to the Romanian market. Investments have increased the quality of productions and one effect of these investments is the way they have penetrated the whole world. There are a number of turkish formats, series, films that are broadcast in all territories around the world.
 But there are common preferences on both Turkish and Romanian viewers. This explains the huge success in Romania of some Turkish series or reality shows. I would mention here the appetite of both audiences for family life, for family values, but also for love stories.
Unlike the audience in Turkey, which is rather loyal to a show or star, in Romania, viewers are loyal to TV stations. Romanians still show loyalty to the brand they are attached to. In all 15 years we have built this connection with our viewers, we have cultivated a relationship that is based on shared common values, such as friendship, empathy, care for loved ones, the desire to be better, to push the boundaries.
What else is Kanal D going to launch, what can we expect?
Recently, Kanal D launched a new section of Morning News from 07:00 AM and also the morning show "Dimineata cu noi". There is an expectation from the public for such programs and we wanted to offer them both relevant information and that part of morning entertainment, so beneficial to those in front of the small screens.
Soon we will launch a production made entirely by Kanal D, "Casa Iubirii", a reality show, dating show very special. We will rewrite the way to make reality show. For this show, we created a space from scratch, transforming it into a real house, which would meet the real needs of the competitors. I emphasize the fact that this space, unique in Romania, is a hub, a center that ensures all production facilities at the highest technological standards. We are also in a straight line with the launch of a quiz show, presented by Dan Negru. It will be the easiest to understand quiz show in the history of television and it is from this accessibility that its attractiveness comes from. We are currently in the casting phase, but we will provide soon with more new details about the production.