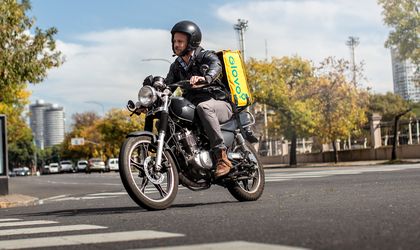 257 cities. 33 countries. All the big capital cities in EMEA. 9 countries in South America. This is the global coverage of Glovo, the Spanish delivery startup that has recently announced its entry on the Arad market, its 9th Romanian city, after Bucharest, Cluj-Napoca, Timisoara, Iasi, Brasov, Craiova, Constanta and Sibiu. The app is expected to expand to three new Romanian cities by the end of this year. In this context, BR talked with Victor Racariu, the general manager of Glovo Romania, and found out more about the company's plans and strategies.
By Romanita Oprea
GLOVO Romania in numbers:
13 million km travelled since May 2018 launch

10,000 registered couriers; 3,000 couriers active each month
How do you choose the cities for your expansion – what are the main criteria?
The main criteria are the city size and buying power, so of course, we started with the biggest ones. We want to expand to all cities that have a population of over 200,000 people. It also depends on how many potential partners we have in the city, how easy it is to find couriers, and how quickly we can find a person to manage operations in the city.
How have your services grown and why?
We have a very diverse product mix available in the app – supermarkets, shops, restaurants, pharmacies, drink shops, and we can basically deliver anything, as long as it weighs up to 9 kg and fits into the Glovo box. We also have very good delivery services (the average time for one delivery is under 30 minutes from pickup to handoff) and very good marketing investments on channels that have had the best return on investment.
What does the expansion to Poland mean to you and why did it happen at that precise moment?
Poland has become an incredibly attractive destination for technology startups who are starting to establish and build their technology teams, due to the country's technological history and prosperous economy. It represents a very good consolidation of our business in Europe, as we purchased a strong market player. Another very important aspect is that we opened our second tech hub in Poland. Poland is huge, we expect it to become one of our biggest markets very soon. Glovo will hire 40 new engineers and 50 tech and product experts, working mainly in the Warsaw office. It is expected that this will constitute half of Glovo's technical capacity, with plans for further expansion on the market.
Do you plan to expand to other countries as well?
Yes, we are always thinking of expansion, but also we want to consolidate our positions on the current markets. We have great examples of countries where we became market leaders in less than half a year, so these are the ones we tend to go for. Our ambition is to lead every market we enter and to provide a first class express delivery experience for our users, couriers and partners.
What do you offer that's different from your competitors, both in Romania and outside the country?
We can still move fast and adapt our strategy from one week to another, sometimes even in a few hours, depending on the current contact and long-term vision. This has helped us do a lot more with a lot less compared to our competitors.
Who does Glovo primarily target?
Everybody that needs something from the city. We want to be the Google of your city.
Name Glovo's top 5 cities in terms of numbers and product deliveries.
Bucharest, Timisoara, Cluj, Brasov, Iasi.
Do you target customers differently based on the cities in which they live?
Each city has its local heroes when it comes to retail, and we want to provide each user with products from the stores they know and love. Of course, national and international chains are crucial, but each city has its own golden stores.
Breakdown of the 5 most popular cuisines by the number of orders in Glovo's top 5 cities in Romania:
Bucharest: 20% Oriental / 18% Burgers / 7% Romanian / 3% Sandwiches / 3% Pizza / 49% Others

Timisoara: 16% Burgers / 15% Grills / 11% Greek / 8% Pizza / 7% Chinese / 43% Others

Cluj-Napoca: 17% Grills / 14% Pizza / 10% Greek / 7% Asian / 4% Turkish / 48% Others

Iasi: 19% Burgers / 15% Turkish / 12% Grills / 10% Pizza / 6% Italian / 38% Others

Brasov: 20% Lebanese / 18% Burgers / 12% Turkish / 9% Pizza / 6% Romanian / 35% Others
What are the most requested services and why? Are there differences between cities on this segment?
Food is by far the biggest one, followed by supermarkets, the "anything" option, and the courier service. For example, the courier category is a lot bigger in Cluj-Napoca than in other cities.
What influences people's consumption behaviour?
If a city has very high traffic levels, the courier category will grow a lot because nobody has time to travel around the city to deliver an envelope. One of the biggest influencers of demand is actually weather: during rain, snow or very high temperatures, demand increases significantly.
What changes have you seen recently on the market and why do you think they have happened?
The main challenge of this industry, in Romania and Central Eastern Europe, is finding couriers. The unemployment rate in Bucharest is around 1 percent, and we need thousands of couriers to handle the demand. This is, and probably always will be, our biggest challenge.
How much do you think the app will change and evolve in the next 2 years?
We will push non-food categories a lot more, such as mobility (scooters), laundry or who knows what other new ideas we will have during this time. Glovo will be a super app for customers.