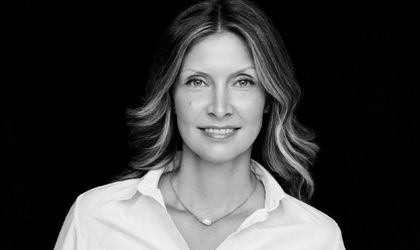 The last two years have been one of the most challenging ones in recent history, with companies having to adapt and be very resilient and strong in order to survive a never-before-seen situation. With no means to compare it to anything else.  Still, 2021 proved to be good for the Romanian marcomm industry, especially for those companies that knew how to drive the trends and be flexible. 
By Romanita Oprea  
BR talked with Tereza Tranakas, CEO at OXYGEN , about the year that just unfolded, pandemics, the agency's growth, innovation, as well as what she expects and wishes for 2022.
How would you describe the year 2021 for Oxygen? 
We've had a very active 2021, and I can refer to it as a recovery year after the pandemic stroke in 2020, when the entire advertising industry was hit hard. Last year we saw some positive signs of recovery giving us hope for what's to come. Our agency's achievements in 2021 were many: from innovative and award-winning projects for existing clients, to many new client wins for both our Bucharest and Cluj offices. At Oxygen, we have a fantastic client portfolio across many industries from telecoms, technology, appliances, energy, banking & finance, FMCGs, entertainment, gaming, real estate, heavy industry, fashion and more.  
The agency grew a lot and you had new great personnel additions. What has been the impact of those decisions? 
In spite of the uncertainty, in 2021 we chose to adopt a future-ready mindset and to continue our investments in expanding the team across all departments and disciplines. We strengthened our brains & muscles so that we are even fitter and better equipped to play and remain competitive in the big league. This has helped us win large new accounts such as Vodafone, Farmec or Tenaris, and ensure a high level of strategic communication consultancy across our client portfolio.  
I am grateful to my seasoned colleagues who have been with Oxygen for many years and have contributed tremendously to where we are today. The ride has not been easy, but it's been rewarding. And I am equally enthusiastic for the newer colleagues that have joined our team in the past couple of years, bringing their passion and drive to our agency.  
How hard was it to find the right persons? 
All recruits have to first and foremost share the same values that we do – respect, accountability, honesty, passion and drive, professionalism, willingness to evolve, and be team players. We search carefully for those that are the right fit with our team. It's not easy, but it's essential to keep the Oxygen spirit that has helped us grow thus far and be known as a trustworthy and reliable agency in the market. I aim to build a culture that centers on our commitment to a growth mindset for us an agency and for our customers.  
What role does innovation play  in your agency? 
We are in the business of creativity and strategic consultancy. Innovation in our industry, a services sector, means more about being in tune with the latest global and local trends so that we can propose the best and most suitable avenues for our clients. There is always an appetite for creativity, for being the first to launch campaigns using new technologies or channels. One example is our client Betano, for whom we launched the first video production shot in real time last year, using the most advanced video technology and animation techniques. This was a first in Romania, and the campaign was widely successful. 
For how much time do you believe we will continue see the impact of the pandemic on the marcomm industry in Romania? 
It looks like 2022 will be no easy feast. We are operating in a challenging environment if we are to look at macroeconomic indicators: high inflation, higher cost of living, huge costs of energy and so on. This not only affects our own pockets, but also has a significant impact on our clients' bottom lines. Marketing budgets may be impacted, it's still a year where prudence is indicated. At the same time, we see positive signs of recovery across the industry and I am hopeful that things are about to improve.    
How do you see the local advertising right now? 
Sizzling and resilient in the face of constraints. At the same time, I believe advertising has lost some of its appeal for the younger audiences, for potential new talents, and we need to keep it relevant for the new generations to come. They seek for purpose and advertising needs to do just that. We have to work harder to inspire and motivate them, to keep the industry engines running.   
In what type of pitches do you want to be invited in 2022 and why? 
We look for long-term partnerships that create mutual value. This is how we've built Oxygen for the past 14 years – a reliable, strategic partner that puts its heart in the business and delivers outstanding results. We are well-equipped to serve large and complex accounts – our team is always ready for new challenges.   
What do you believe to be the main trends for this year and why? 
Advertising with a purpose, sustainability, employee engagement, authenticity, creativity, mental health. There are a lot of opportunities to be explored by agencies together with brands, the playground is quite wide. But it all has to fall into place with the right scope – so no matter the trend, it has to make sense under the brand's strategic objectives and be sure to deliver the desired results.   
Name 2 myths that still hang around in the industry and they shouldn't? 
Advertising is no longer what it used to be, those big classic TV campaigns. Advertising is social media, PR, CSR and the mix of a multitude of disciplines. If you look at the majority of winning cases in the biggest festivals – they are not at all what we used to consider advertising. Perhaps that's why agencies like ours are more relevant in today's times – because we were not built on the traditional advertising myths. Creativity transcends all disciplines and channels – the big idea is more often than not, outside of clear lines.  
What is your goal for 2022 in terms of revenue, but also new clients, employees, etc? 
Our objective remains sustained growth for our agency and our customers. This year, we'll also continue strengthening our team in order to support the growth we are targeting. I would say that long-term success in our industry is not just about creativity, but the result of consistency and very hard work. I'm in it for the long-run. 
How would you describe yourself as an advertising professional and managing partner? 
Passionate, driven, fair, reliable – always with a heart for business. I love to work in our industry, and even +20 years from when I started, I never get bored. There's always something new, we're always learning something new, a new skill set, new platforms, working with dynamic people. We constantly develop ourselves. I consider myself lucky in this respect.