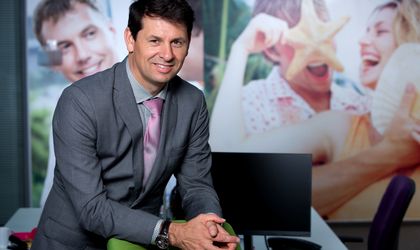 With many countries still keeping their doors closed to tourists due to the pandemic, Romanians only seem to be left with the staycation option – both to stay safe as well as to help the tourism sector, which has been hugely affected by the crisis. BR talked to Sven Marinus, the CEO of Sodexo Pass Romania, to find out how corporate employee benefits could make a real impact in the industry.
By Oana Vasiliu
The Sodexo Turist Pass was launched in 2018. How have you adapted it for 2020?
We worked to further develop the Turist Pass vouchers which had been available since 2009, and in 2018 we launched the Tourist Pass card to support digitalization efforts. Holiday vouchers are a great support tool for tourism in Romania and we have done our best to make them as easy to use as possible for consumers, at our partner accommodation units and travel agencies. At the end of 2019, we upgraded the card offer with a mobile option, which can be used with Apple Pay and Android Pay, greatly improving the consumer experience.
We have also upgraded the SodexoCard mobile app, making it easier for users to find a place to stay, and also including options to buy online from travel agencies and guesthouses which have a web presence. The Turist Pass is a great chance to get to know our country better and discover those special places and hidden spots that can become favourite destinations.
How many cards/paper vouchers did you issue this year? Has the pandemic crisis impacted employer benefits programmes?
We had record card issuance rates in this period, as tourism vouchers have been exclusively card-based since April, and meal cards issuance rates have also increased, with 85 percent of such vouchers being issued on cards.
The Tourism minister started a campaign to encourage companies in both the public and private sectors to grant vouchers to their employees, and we tried to respond to this request. We are also investing in B2B communication as a tool to recognise employees' efforts, while still offering compensations and benefits in optimal cost conditions. Many of our clients think that good employees need to be rewarded at all cost, but even more so for those working in difficult conditions.
Through the mobile application, which has been downloaded by almost 1 million users in Romania, we can promote new partnerships to enable Turist Pass voucher and card users to book holidays in Romania and Gusto Pass card users to place and pay orders at restaurants using their mobile phones. More than 100 partnerships are available today and the more recent ones includes digital travel platform booking.com and the mobilPay Delivery programme (for Gusto Pass holders).
How many accommodation units receive your Turist Pass? What is the most wanted type of holiday?
We have a very large network and partnerships with almost all travel agencies in Romania, which offer our holiday card users thousands of holiday locations to choose from. As for destinations, most people have chosen to book a holiday inside the country and I believe that over the coming year, most tourists will continue to stay local. The most popular destination for the summer is Eforie Nord, while Tasnad is the most wanted destination.
Has the number of companies offering Turist Pass benefits increased this year? How about the number of accommodation units taking this form of payment?
Both numbers have increased and we are getting more and more requests from guesthouses and hotels who want to introduce the Turist Pass payment option, because consumers are asking for this facility. We work with all the main travel agencies in Romania so they can very easily provide assistance and recommendations, but when people want to book or pay directly through the accommodation unit, we recommend that they contact us so we can set up the payment terminals.