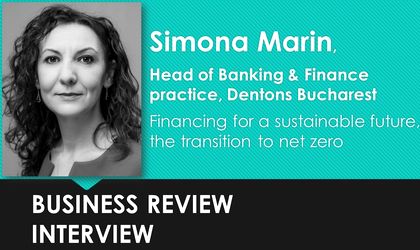 Simona Marin, Head of Banking & Finance practice, Dentons Bucharest, explains in an exclusive BR Interview the concept of sustainable finance, its importance, and how Romania can adopt this model over the next years.
What is sustainable finance and why is it important?
The United Nations' Principles for Responsible Investment state that sustainable investments are those which "seek to combine financial return with a moral or ethical return". According to the G20 and European Union principles, sustainable finance means incorporating environmental, social and governance (ESG) considerations into investment decisions, while also taking into account the longer-term economic sustainability of the organisations that are being funded, as well as the role and stability of the overall financial system in which they operate.
More specifically, environmental considerations means mitigating the impact of climate change, preserving biodiversity, preventing pollution and developing a circular economy. Social considerations means considering inequality, inclusiveness, labour relations, investment in human capital and communities, as well as human rights issues. Finally, governance means scrutinizing the decisions of an organisation in the context of social responsibility, ethics, the environment, diversity, labour chain, accountability, sustainability, values, community, transparency and fair trade. (https://ec.europa.eu/info/business-economy-euro/banking-and-finance/sustainable-finance/overview-sustainable-finance_en)
What are the EU's guiding principles in terms of sustainable finance?
In March 2018, the European Commission published its action plan for financing sustainable growth. Acknowledging the need to transform Europe's economy into a greener, resource-efficient, resilient and circular economic system, the EU action plan aims to reorient capital flows towards sustainable investment.
The financial sector has a key role to play in reaching those goals, by mobilising large amounts of private capital and directing it towards sustainable investments. The EU regulatory framework necessary to support such re-orientation puts ESG considerations at the heart of the financial system.
Does the EU and national legislation encourage sustainable finance and how?
Three EU regulations with direct, simultaneous applicability in all member states, soon to be backed by secondary EU legislation, combine to set up a comprehensive framework for sustainable investment.
The Taxonomy Regulation (Regulation 2020/852 amending Regulation (EU) 2019/2088), which entered into force on 12 July 2020, is the backbone of this framework. It establishes an EU-wide classification system (i.e. taxonomy) for businesses and investors to determine whether economic activities can be considered environmentally sustainable. It does so by setting performance thresholds (Technical Screening Criteria) for economic activities which make a substantial contribution to one of the following six EU environmental objectives:
1) climate change mitigation;
2) climate change adaptation;
3) sustainable use and protection of water and marine resources;
4) transition to a circular economy;
5) pollution prevention and control; and
6) protection and restoration of biodiversity and ecosystems.
Its provisions (including disclosure obligations) will apply from 1 January 2022, when they relate to climate change mitigation and adaptation objectives and from 1 January 2023, when they relate to the other environmental objectives referred to above.
The Taxonomy Regulation also imposes new disclosure requirements for certain financial services firms and large public-interest entities, building on existing requirements imposed through the Disclosure Regulation.
The Disclosure Regulation (Regulation 2019/2088 on sustainability-related disclosures in the financial services sector) entered into force on 29 December 2019, and its main provisions will apply from 10 March 2021 (unless modified by the Taxonomy Regulation, in which case the deadlines above will apply). The European Supervisory Authorities (namely the European Securities and Markets Authority, the European Banking Authority and the European Insurance and Occupational Pensions Authority) are required under the Disclosure Regulation to develop regulatory technical standards specifying the level of detail and the amount of information on sustainability investment targets to be disclosed in pre-contractual documents, periodical reports and websites of financial market participants.
Finally, the Low Carbon Benchmark Regulation (Regulation (EU) 2019/2089 amending Regulation (EU) 2016/1011 (BMR)) introduced a regulatory framework that lays down minimum requirements for EU climate transition benchmarks and Paris-aligned benchmarks at the EU level, to ensure that the activities relating to the assets underlying these benchmarks do not significantly harm other ESG objectives. The Regulation entered into force on 10 December 2019, but also extended the transition period so that pre-existing critical benchmarks can continue to be published until 31 December 2021, without applying for authorisation or registration under the BMR.
Has there been great adoption by the market of the sustainable finance model internationally and in Romania?
The financial community now recognizes climate-risk as a systemic threat to financial stability. Most banks already integrate sustainability into their core businesses by incorporating ESG considerations into risk management processes, product design, purpose statements and long-term strategies. Many large international financial institutions have pledged significant amounts in support of customers in all sectors to transition to lower carbon emissions.
The impact of the BP oil spill and the Volkswagen emissions scandal on those companies' share prices and reputations, showed that unmanaged environmental and climate risks, whether event-driven or occurring over a longer time period will hurt a company's performance and credit quality. With the COVID-19 pandemic bringing into sharp focus the importance of disaster preparedness and continuity planning, investors, regulators, banks and credit rating agencies will continue to look for ways to identify, price and credit assess ESG risks.
There have been considerable developments in environmental and climate change-related investment products, including climate bonds, green bonds, social bonds, sustainability bonds, trading in allowances under the EU Emissions Trading Scheme. At the same time, there is an increasing number of private funds investing in, and banks providing loans to companies developing solutions to climate change.
Since its inception in 1991, the European Bank for Reconstruction and Development (EBRD) has been investing in sustainable growth. For example, under the Sustainable Water Infrastructure Facility Framework, EBRD is co-financing alongside EU Cohesion Funds an extension and modernisation of the water and wastewater infrastructure and services of the regional water operator in Iasi County, Romania.
While the international financial institutions have been leading the way for years, nowadays commercial banks are also actively involved in financing the circular economy. Green Group, the largest integrated recycling park in Romania, has benefited from a sustainable syndicated loan made available by a group of four local commercial banks. Earlier this year Raiffeisen Bank Romania indicated that the bank will "contribute to the financing of Romania's sustainable economic development, including through investments in green projects".
What are the market standards and main guidelines for financing sustainably?
On 21 March 2018, the Loan Market Association (LMA), together with the Asia Pacific Loan Market Association (APLMA), published the Green Loan Principles (GLP), followed this year by two new guidance documents that aim to address some of the most frequently asked questions in relation to their GLP and Sustainability Linked Loan Principles (SLLP).
The GLP build on, and are designed to co-exist with, the Green Bond Principles of the International Capital Market Association, setting up a framework of market standards and voluntary guidelines that participants are encouraged to adopt across the green loan market.
What do we expect to see in terms of financing in the next period – what types and industries are most active?
The manufacturing sector has traditionally been at the centre of green lending, in the form of energy efficiency financing, but several other sectors are emerging as private investors are increasingly re-directing resources to sustainable projects, including real estate.
In the wake of the pandemic, uncertainty about available finance for real estate projects means investors in the real estate market will focus even more intently on green projects. Lenders and other finance professionals will play a key role by encouraging activities and practices which contribute to broader climate change mitigation goals. Such activities include, but are not limited to, innovative use of traditional building materials and design; energy production, management and performance technologies; low carbon heating systems and water efficiency technologies.
Green projects in the real estate sector will also need to take account of the building stock existing today and which will be around for at least the next 30 years. Demolishing existing buildings and replacing them with new green buildings may not be possible (for example, with listed buildings), nor cost-effective, nor environmentally sustainable. Projects which look to retrofit existing building stock to low-emissions thus making a substantial contribution to climate change mitigation efforts have the potential to qualify for sustainable loans, whereas a traditional refurbishment/capital expenditure investment would not be deemed as bankable.
Can you identify one pit-fall and one opportunity in connection to sustainable finance?
Greenwashing is increasingly a concern for investors because while many financial products are marketed as sustainable, it can be difficult to assess whether they actually meet sustainability requirements. In the context of green loans, greenwashing is used to describe situations where a borrower or a project held out to have green credentials may turn out to have presented inaccurate or inflated information.
The EU legislative framework described above seeks to protect investors by requiring detailed pre-contractual disclosures including how environmental or social characteristics are met, an explanation about how sustainable investment objectives are achieved and if an index has been designated as a reference benchmark, information on whether and how this index is consistent with environmental or social characteristics and the methodology used for its calculation.
Green securitisations could be one of the most effective tools for funding sustainable assets, aggregating smaller-scale products, like green mortgages, residential rooftop solar energy projects and SME loans for energy storage projects. Aggregation could generate an attractive structure and size for institutional investors, mobilising finance that would otherwise not be available for such smaller-scale projects. Although the recently revised European securitisation framework is still not sufficiently attractive to issuers or investors, its improvement would enable banks to securitise a growing pool of sustainable loans and free up the capital to be used for new sustainable loans. To encourage financing of sustainable assets and their subsequent refinancing through securitisation further review and improvement of the securitisation framework should be a priority for the EU legislators.