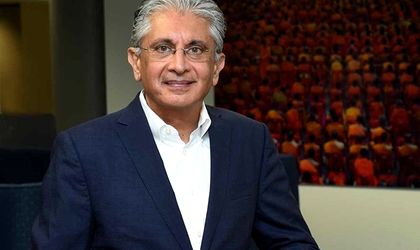 In April 2021, DocProcess opened a commercial office in the US, in Austin, Texas and appointed Salim Sunderji as the group CEO. Salim Sunderji became responsible for developing global partnerships and expanding DocProcess services in the United States, the United Kingdom, the Middle East and India. To find out more about the progress he made in his new role, and also his opinion about the Romanian tech market, Business Review sat down with Salim Sunderji for an exclusive interview.
After holding several C-level roles at international tech companies, you chose to lead a Romanian tech company. What attracted you to this new experience and how do you see the Romanian tech industry?
DocProcess has a great scalable solution with a global application as well as customers that are European companies domiciled outside of Romania.  It has a visionary founder Liviu Apolozan, and the team is world-class. I think Romania is a hidden gem slowly being discovered for its very large pool of talented technology resources. The world is very connected, and more and more companies care more about the solution that solves their business problems than where the software is built. What was the most important to me was if we have the right product, if there is a demand for this product globally, if the market is large enough, and if it has the right management team. DocProcess checked all these boxes for me.
You have chosen to open a new DocProcess office in Austin, Texas, a place which many experts are dubbing "the new Silicon Valley"? What is your take on this, and why did you favor Texas instead of the established tech hubs such as California or New York?
The US is the largest market globally, and it is still very nascent in terms of e-invoicing and purchase-2-pay processes. There is a massive demand for digital automation products after COVID-19, so it is an excellent opportunity for DocProcess to enter a growing market. We have chosen to set up a new DocProcess office in the US to be close to our customers so we can provide them with the best service. Texas is a business-friendly state, so it made sense to have our US headquarters here. In the last year, Texas has begun to gain ground as a new technology hub in the United States and is now referred to as "Silicon Hills", having been for many years one of the top 10 destinations for US technology companies.
As an example, between January and November 2020, 35 technology companies moved or opened new facilities in the Austin area, according to the Austin Chamber of Commerce. In addition, Austin has a wide range of high-tech talent, with the University of Austin being recognized as a top university in the US.
You have experience in very large and competitive markets such as the US, India, or the Middle East. How do you rate the chances of Romanian tech companies to enter these markets and attract clients based there?
In our case, we are ready to enter these markets after being well-tested in the European market. There is a growing demand at the global level for transparency from governments in terms of tax compliance. That is a huge opportunity to help companies and public institutions automate their workflows. So, we are well-positioned to respond to both the transparency and digitalization trends of governments and companies for processes such as e-invoicing, Purchase-to-Pay, Order-to-Cash or Contract Management.
For example, in December 2021, Saudi Arabia is planning to introduce electronic invoicing at a national level which is planned to further expand to electronic invoice validation by the government starting in 2023. Another example is Australia, which is considering implementing e-invoicing for companies in 2022. We believe more and more countries will implement a similar initiative to gain more transparency in the commercial activities in their country.
With the acceleration of digitalization coupled with the global need for transparency, this is the best time for us to access the international markets. Therefore, we focus on expanding at the international level, selling the services offered by our platform, which can support companies go through the process of digital transformation and interact 100% digitally in the future with suppliers, logistics and financial partners. The most significant benefit of our platform for any market is that it can be implemented without changing companies' work infrastructure or internal processes. Through our customized solutions, companies can improve and streamline their business. Also, our pricing model is predictable and transparent, aligned with the consumption rate. Here, I would like to emphasize that we are a high-quality solution provider at a reasonable price – our target market is medium to high companies.
Is there potential for a "Made in Romania" product to succeed in such well-established and competitive tech markets?   
Yes, there is a significant potential for a "Made in Romania" product to succeed in well-established and competitive tech markets. There is already an example in this regard, the listing of UiPath on the New York Stock Exchange, which should now be a driver for any Romanian company that wants to penetrate the US or any other international market. We live in an interconnected world, where companies do not look at where a product is coming from and what it can do for them to be better, sustainable and efficient. DocProcess and our platform ticks all those boxes and has all the prerequisites to succeed at the international level.
With very few exceptions, Romanian tech companies have struggled to break into the mainstream and attract important foreign clients. Is there a specific reason behind this, and do you see a "quick-fix" to this issue?
I believe that it is not about a "quick-fix" and somewhat a matter of these companies' long-term strategy and vision. It does not matter where a tech company is from because globalization offered something that we could not think of 30 years ago – the possibility to do business anywhere in the world. More recently, the COVID-19 pandemic also showed us what companies could do when they are digitally transformed, how easily they can connect anywhere globally, and efficiently deliver the necessary services, products, advice, results.
I think that Romanian tech companies have a bright future since they want to expand and go global.  They might need to bring partners that can help them implement their vision and strategy for expansion. In the case of DocProcess, that partner was the private equity fund, Morphosis Capital, which, apart from the infusion of capital, their expertise helped us in developing a new business and marketing strategy and establishing new contacts for partnerships and sales. This is just an example, but the opportunities for the Romanian tech companies with the right mindset, especially in the current context, are out there.  The key is to identify the right partners who can help the companies reach these markets faster and more efficiently thanks to their experience, know-how but also the capital.