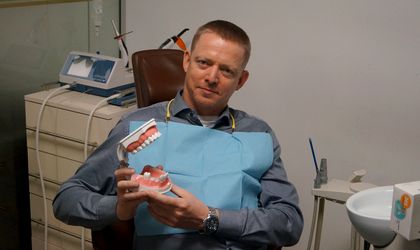 The MEDON.ro platform celebrated one year of existence this month, so we decided to sit down with its CEO Patrick Nordstjærne, a Danish expat living in Bucharest for the past ten years. Together, we explored the company's achievements during its first year, but also the goals, ambitions, and future plans of both MEDON and its CEO, Patrick Nordstjærne.
MEDON is celebrating one year, what can you tell us about its journey so far?
I can tell you that it has been my biggest personal challenge ever, but also one of my best scale-able ideas; demanding my constant focus and many many hours of work and sacrifices. Countless sleepless nights and frustrations of being trapped inside a speeding rollercoaster heading towards the unknown with little chance of changing anything.
We are only here today because of the team of collaborators behind MEDON | Medici Online, but also my family and dear friends who have contributed financially. I am personally indebted because of this, but I would do it all again if I had to.
A journey like ours proves what is up and down in this world, who you can trust, but most importantly it teaches you to think fast, act with determination and to keep your eyes fixed on the road ahead.
You've launched this business in complicated times to say the least, so how did you navigate the pandemic context, was it all about its challenges, or did some opportunities arise from it?
We first experimented with the dental domain back in 2016 through OlirO.ro and had some hard-earned experiences from this, which I went back to in late 2019, because I felt it was time. Business is essentially trial and error related to "potentially good ideas", people, money and most importantly "timing".
I was an Audit Manager when the IT Bubble burst in 2001, I was heading a Group Finance team within Medico in 2008 when we first heard about The Financial Crisis in Denmark from our US colleagues and I came to Eastern Europe in 2010 to manage the consequences for a large Danish real-estate developer. I know the face of chaos and the smell of fear and each time I saw how adversity shaped people and businesses.
I was in Denmark for my birthday, last year in March and we literally took the last plane home from Copenhagen before they closed down air traffic and the borders. I instantly knew it: Here we go again…
The next eight weeks that followed can best be described as a living nightmare: No partner payments coming in, no activity and no help from anyone. I could have turned off the lights and shut down the office, but this is not exactly my nature or how I ever think.
We were dead meat, no doubt about this. Years of work and dedication lost over night and with no warning or time to prepare. With our backs against the wall, we went ALL IN on the idea that "Medical will always have a future" – and maybe a bigger one during times of crisis. This is how the idea of MEDON and dental clinics essentially took off.
We can conclude that crisis became our opportunity, but it came at a huge personal cost and only because the opportunity was recognised at the time. And let me remind everyone reading this, that we managed without the help of investment funds, pretty well actually.
Studies have shown that dental health is somehow underestimated in Romania, do you have any plans to change this through MEDON?
I think the dental industry will do their part of educating the market, MEDON is not directly linked to this development even if we could be pushing it. We have created an online market place for expensive dentistry services where Mr. and Mrs. Romania can compare prices and get a better understanding of price vs. quality, their nearby alternatives and trustworthy doctors.
Our contribution is that we help to increase the market transparency and by keeping focus on the competitive elements between clinics, we indirectly end up promoting a combination of the best and most cost-efficient doctors and clinics on a national level.
I said, when we started this last year, that MEDON will potentially close 50 dental clinics in Romania, but in return we'll help another 100 clinics grow. My initial estimates were probably too low, but my conclusion is very clear: Only the optimising clinics that are good enough will be able to sustain themselves longer term at MEDON otherwise competition pulls them.
MEDON reached 150 partner clinics in 35 cities in just one year so you should be familiar by now with Romanian dentists. What are your thoughts about the quality of the Romanian dental professionals, their education, training, and practice?
I think this question needs to be split, because several of our partners in Spain and Denmark have confirmed the high professional standards of dentistry in Romania. Romanian doctors – on average – have a very good reputation in Europe, this is my impression also and it is confirmed by the fact that not a single Romanian patient complained to MEDON about the treatments received in the last 12 months.
Having said this, there are several differences between clinics – based on the size of the clinic and the city they are in. Bigger cities have much higher level of competitive intensity and bigger clinics have more doctors and offer a larger variety of services. The positive thing about the current development is that the cliché "Luxury Clinic" is dying because high-end technology has become affordable to most clinics.
I have a personal opinion related to "how" many of the clinics are being operated, a personal opinion about "how" many of the doctors are thinking business, patients and human beings. My hope is that MEDON can promote higher professional standards simply by filtering out certain clinics through natural selection. When I say "150", please note that several of them will not be returning to MEDON!
I usually say to our partners: "We cannot change the people, only our approach towards them!". We currently have roughly 70.000 unique visitors to our Romanian site and our campaigns target 2.200.000 potential patients – with or without teeth – each month, so don't even think about trying.
Recently you've also launched the MEDON Academy PRO. What is the aim of this venture?
Europe is fighting several overwhelming problems, and besides unemployment, health and climate, we can factually see that our aging populations will create problems too. The fact that working people retire and that we don't have enough young and well-educated people to take over – this is a particular problem within the health sector, because we expect our seniors to require more healthcare.
The problems will affect and widen the gaps between cities, towns and villages and the countryside will have even greater difficulties at attracting qualified labour. The idea that local doctors and clinics will have access to updated equipment and knowledge suddenly sounds very unlikely.
I personally consider all of this FACTS that we cannot deny and knowing this means that we need to become a lot smarter, a lot quicker. I think we can play a part in solving some of these issues because of our vast networks across Europe and not just – we are actively working now to set up a MEDON hub in Turkey, which is also known for its high medical standards.
Our MEDON Academy PRO is the concept and platform that we believe could help solve some of the mobility problems that I see in the horizon.
Do you think Romania can become a popular destination for the so-called dental tourism?
Not only do I think, I am 110% SURE, let me express myself like this! Look at all the big clinics, right now. Look at the consolidation and the huge investment activities headlining the last months. Everyone is expanding and the standards introduced are among this highest possible. This also indicates increased local competition, which benefits the consumers.
Many dentists across Europe will be envious when they see the development that is happening here, because they cannot compete with it! In addition to cheap prices and great doctors, Romania as a country also offers unique traveling experiences, let's not forget this!
Dental Tourism was a trend in Denmark for many years with patients going to the Baltic countries and Poland, but most recently this development has moved towards lower prices in Hungary and it will soon come to Romania. MEDON will take advantage of its entire European network and actively work to bring patients here on a larger scale as soon as the current COVID restrictions permit it.
I predict that MEDON could be bringing at least 1.200 patients to Romania in 2022, that's just 100 patients per month, coming to us from Scandinavia, Germany, UK, US and Canada. Sounds feasible, but we know that local doctors will make it hard for us. Even so, they cannot prevent it!
How about Romanian dentists who might wish to practice abroad?
Fundamentally, the opportunity is made available to any doctor in Europe who would register to learn and complete the modules required for each language – app. 6 months. However, moving experienced doctors around in Europe is not as easy as it may sound.
Yes, the money and benefits would be attractive to all Romanian doctors, but this is a career choice firstly and secondly a unique opportunity to see and learn new ways, share knowledge and experience a little bit of personal adventure.
An experienced doctor in Romania typically has family considerations to take into account also, which would complicate things a bit. This is why we opened up to doing rotations of 6 months. This would allow the candidate to "test the new employer" for 6 months before making a more permanent decision.
What are your future plans for MEDON, and how would you describe its end (main) goal?
We have a very clear and ambitious plan that is supported locally by some of the biggest players in Bucharest. Spain, France and then entering UK must happen this year and depending on the progress and timeline, we would consider making the jump across the Atlantic to US and Canada also – using the same chairs, tables and PCs while keeping our Bucharest office open until midnight.
Our transparent and fully scale-able Sibus model has shown its strength in Romania and Spain and from where I am sitting, it's pretty hard to see "how" local competitors will be able to compete with MEDON – if we assume that we can attract the attention of the patients where ever we go.
We end up assisting 5.000 Romanian patients in our first year! By this time next year, we'll be assisting 10.000 European patients per month.
My personal goal – our main goal – is to go as far as we can, to make IMPACT and to have a blast while doing it. I would hope that all the people we collaborate with will see their own personal long-term interest in making this happen. MEDON is a combination of some very good and simple ideas that will work in any market. Our location in Bucharest provides us with an endless number of opportunities that our competition does NOT have access to. I never tried to list a company at the Stock Exchange, I think this is my 2024 "plan" for MEDON. This would be a much-deserved reward for everyone working with us at that time!