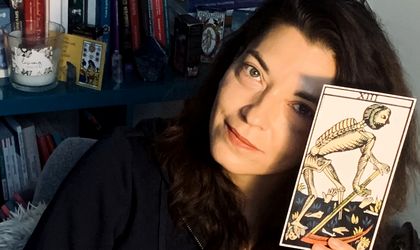 After launching the www.reimagine.ro platform, the full service agency Pandorra Story Style, considered this summer it was time for a new project – reIMAGINE Hub – the place where each one of us can reimagine his/hers best version. BR talked with Monica Magureanu, owner, and found out more about the concept and what they are setting as goals for the new business.
By Romanita Oprea
What determined you to launch the hub and why at that particular time?
We were inspired by the current context and times, by our professional activity but mostly by what happens to us all. Yes, we stay home, but we chose to reinvent ourselves, to use the time we received to start this project. #reIMAGINE #together is the project initiated by the team of super-heroes that you have known for 10 years as Pandorra Story Style, but it is, above all, an invitation for everyone to use their imagination, creativity, and personal experiences in a constructive manner.
We invited alongside us friends whom we met on the way, and we invite everyone to imagine and be creative. It is an invitation to play your cards, to continue the journey even if the landscape has changed, at least for the moment. In a context where we cannot control external circumstances, we also have the opportunity to reinvent or reinvent ourselves, to learn from what is happening to us, and to share with others. The reIMAGINE friends share with you from their lives, from their authentic experiences, and we invite everyone to do the same.
How is reIMAGINE hub different from other hubs on the market?
To start with the Hub meaning itself, "solid center of a wheel," 1640s, of uncertain origin, meaning "center of interest or activity or importance" first recorded 1858 in writings of Oliver W. Holmes, and originally especially of Boston, reIMAGINE HUB puts at its center the individual, the uniqueness of the human being and the quest for personal discovery. We are all different and that makes us special even in times when we doubt, when we feel discouraged or simply searching for something but not knowing how to phrase it or name it. ReIMAGINE HUB is about symbols and about putting together authentic experiences, life stories, coaching, and personal development sessions, workshops, and events dedicated to the ones that have accepted the challenge of the travel inside, of looking inside out.
I consider the hub market in Romania to be a very competitive and crowded one. What is your opinion?
As whole is a competitive market, I agree. Crowded, yes.
How do you consider that your expertise in marketing and communication is helping you in your activity with the hub?
Considering our future plans, expertise in marketing and communication is already helping us develop our communication strategy, future development plans, and useful insights for the products dedicated to companies.
Moreover, marketing and communication are about the people, and the idea of adapting and combining our more than 10 years' experience in the field of entrepreneurship, communication industry with systemic coaching, tarot, Birth Chart methodology, and others is an invitation for each person to find his own unique mix between professional and personal life, to find their own healing symbols and put them in their own experiences, authentic and sincere. reIMAGINE HUB is about symbols, since the etymology of symbol relates to syn-ballein (to reach together), and people experiences.
You declared that reIMAGINE Hub intends to be a dynamic space, very adaptable to the needs of each person or the collective ones, being inspired by what we feel each. How do you intend to do that?
As we have already started. We have a section dedicated to interviews and articles inspired by people's attitudes in their lives – from public persons to people like you and me (entrepreneurs, freelancers, working in corporations, pilots, actors, dancers, and so on). On reIMAGINE HUB, we plan to unite:
reIMAGINE your personal journey – a variety of activities, workshops on-line and off-line dedicated to personal development, and private sessions on request.
reIMAGINE retreat – periodically organizing recreation and creation events, another type of holiday where you can relax and choose from a variety of available activities and workshops (Yoga, Qigong, Reiki, Coaching, Tarot, working with horses, etc.)
reIMAGINE Festival – reunite international speakers in the area of personal development and wellbeing.
How are you choosing the themes and the coaches of your coaching sessions and workshops?
We currently provide dedicated workshops in the Birth Chart Methodology, a method developed by Greorges Colleuil, psychotherapist, philosopher, mythology, and symbol researcher, that uses Marseille Tarot to provide a tool that allows self-discovery or rediscovery. This is a fixed number of workshops, and people who decide to start will follow the path depending upon their personal views about the process's utility. Additionally, the themes come from our current participants in these classes – they provide us with feedback, subjects of interest, needs to develop specific concepts, etc.
The facilitators, including the coaches, will be selected based on our own experience with them. We will first be their clients.
As far as the sessions are concerned, we do not select the topics. The person requiring a private session will express their needs and reason for requesting the session, and we start from there.
How have you been received by the market so far?
Considering that we did not invest in advertising, I would say pretty well. That is the reason that made us decide to develop further. We have received many messages from people reading the interviews or the articles saying thank you for this cause, I recognized myself through that experience, thank you for a different perspective, and I would like to hear more of that.
With respect to our current students, their feedback is inspirational and gives us the trust to continue.
What are your expectations and goals for 2021?
For 2021 we plan to develop the platform and our selection of workshops, classes, and facilitators and set the grounds for reIMAGINE CENTER, a spa for the soul.
How are you reimagining yourself?
By always looking from the other side of the coin, still searching what is beyond that.
Where do you find inspiration in your daily life?
Everywhere – with my colleagues, with my students, with my horse, dogs and cats, talking to my husband about the day that is about to end, in my dreams, in my life. Inspiration is everywhere as long as we decide to see and as long as we choose to listen beyond words.
What is the best professional piece of advice you have ever received and why?
"If things go wrong, really, really wrong, just stop and put on some lipstick", in the words of a very special lady in my life, a lady that has gone through much in her life but every time she was down, she was putting on some lipstick. Why is it important? Because if I feel down or discouraged, and I do have these moments, I remember this phrase that for me it means that the change needed is never to be found outside myself, it is there, inside, and if I change the attitude or even more than that, the outside will change too.