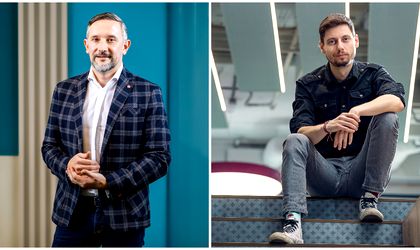 Today, Vox Property Group became the first real estate developer in Timisoara to digitize its leasing processes, through the specialized platform developed by Bright Spaces, a Romanian PropTech startup, that offers a complete digital showcasing and leasing solution for office spaces. To mark the occasion, Business Review sat down for an exclusive interview with the two executives involved in this new partnership, Mark Oancea, Managing Director at Vox Property Group and Bogdan Nicoara, CEO & Cofounder Bright Spaces.
Business Review: What made you want to implement the Bright Spaces solution at Vox Technology Park?
Mark Oancea (photo left): As a business hub, we've always embraced innovation and technology. Thus we've been supporting startups, hosting hackathon events and startup incubators for the last three years, and Bright Spaces caught our attention a couple of years ago at a PropTech hackathon. Their solution was spot on for what we needed in order to make the lease process more transparent and optimise the landlord-customer-broker relationship.
BR: After implementing your services for several clients in Bucharest, and even in the UK, Bright Spaces now comes to Timisoara. Is this an active goal, to also reach Romania's regional hubs, not only the capital?
Bogdan Nicoara (photo right): Yes, our plan is to scale both locally and internationally. Real estate hubs in Romania have started to focus more and more on technology and we want to contribute to their growth through our platform. Bright Spaces can be implemented for any building, no matter its size and location and being aware of the new trends like flexibility, work from anywhere, hub & spoke office model, we believe we can bring Bright Spaces digital benefits to buildings world-wide
BR: What other measures have you implemented at Vox Technology Park in order to deal with the current context, and how does Bright Spaces fit into all this?
MO: Most of the safety measures in our building were implemented a year ago as we were preparing for the returning of our tenants. These measures included high-capacity thermal scanners, disinfection points and completely redesigned traffic flows throughout the building. Also, we've optimised all common spaces for social distancing and a safer environment. During the pandemic, our potential and existing tenants were taking into account not only the safety measures, but also the capacity of the leased spaces in terms of employee density. We've successfully implemented Bright Spaces digital tool to easily configure office spaces for the exact needs of these tenants, with high and low density options right from the start.
BR: Until now, Bright Spaces seems to be dedicated to the office sector. Is the platform capable of servicing other sectors, like commercial, industrial, or even residential?
BN: We've seen a real need for such a solution in the real estate market and decided to tackle it. There's a lot of space for growth for our current product and we are focusing on meeting office clients' requests and even overcoming them through cutting-edge technology.
At the same time, it is more and more obvious to us that digitization will impact all real estate segments so we are considering expanding our business in the future and addressing them as well. As soon as we will identify the right way to customise our tech and implement it successfully in the other real estate verticals, we will make this information public.
BR: How did the pandemic change your approach towards new tech and what are the long lasting effects of these shifts for the office sector?
MO: The pandemic strengthened our belief that technology is necessary and can be used to improve our daily processes and tasks. On the other hand, we believe that these tools should be only complementary and will not replace our need to physically connect with each other. Using video conferencing has its benefits of course, but every team needs face-to-face interaction in order to be more creative and productive.
BR: You are the first business park in Timisoara to adopt this type of solution. Will you continue this trend; can you share some insights about this subject?
MO: We are definitely continuing this trend and will adopt smart digital solutions in the future as well. Some of these digital solutions are being developed in-house for property and facility management tools, as our group also has its own tech company. In addition, we enable IT academic courses in partnership with Zetta University, where students can get accredited USA degrees. Our partnerships with startup incubators, universities (Zetta, UVT, Innovation Labs) will continue, not just on the level of hosting events, but generating a proper environment for young talents and startup companies, as we did with the developer of XVision, Mindfully – back in 2018 with Vox Your Startup campaign.
BR: What's next for Bright Spaces, both in terms of product development and the markets you plan to enter?
BN: We want to introduce new features that will offer even more personalized experiences for tenants, speed up the leasing process and improve communication and data analysis. I am referring here to new features like personalised sitting plan, commute and CO2 footprint analysis and even deeper customised reports.
Regarding new markets, our goal is to scale our business in the UK and in other strong markets in Europe and after that to access other global markets such as the US and APAC. Our goal is to become one of the top of mind digital solutions for streamlining the leasing process in the real estate industry.
BR: Going back in time for a moment, Bright Spaces was born in April 2019 by winning the Real Estate Hackathon in Romania. How was the journey until now and how did the pandemic affect (or boost thinking about the accelerated digital transformation drive) your plans?
BN: Our journey has been incredible and I am grateful for our team, our mentors, clients, investors and partners who make everything possible. When we started, little did we know about the pandemic or the roller coaster we were about to experience in 2020. But we adapted quickly and even though the pandemic affected us, it also emphasized the need for such a solution. We were caught in a paradox: the need for innovative solutions like Bright Spaces just boosted while, at the same time, the budgets suffered from the work from home trend. The future is obvious: a digital layer needs to be there and help the leasing department focus on what is important – the Tenant – Landlords relationship and not the manual and offline tasks as before. Bright Spaces is just starting to grow and this pandemic shows how to be prepared for the unexpected, even from a digital perspective.
BR: The importance of a safe workspace became paramount these days, and innovations like Bright Spaces offer a solution for the viewing and leasing stages. How about the next steps in terms of a safe return to the office?
MO: Bright Space platform ensures a safe solution for most stages of the lease process and customers love to interact with it. As for the next steps, we want our tenants to feel safe to work in the office space, so we've opened up a vaccination centre in our building and we offer rapid tests for the employees in the building. We are also prepared to bring back Vox Assistance, a program we've started during the lockdown, where we assist tenants in need, using a dedicated team and electrical cars.
BR: On a related note, sustainability became equally important in the current context, what can you tell us about your activity and future plans in this area?
MO: In terms of sustainability, it is a focus point for us in 2021. Recently, both our office and residential projects have been shortlisted for BREEAM Awards 2021, although we didn't win, we are still extremely proud to be amongst the most sustainable buildings worldwide. Although we've developed both our office and residential projects according to the highest BREEAM standards, we also implement these concepts in our daily life. Thus, we use electrical cars and car sharing for urban mobility, dedicated waste management systems and more efficient maintenance for energy efficiency. We also have dedicated campaigns in order to make our tenants aware of their actions and consequences for the surrounding environment.
BR: You've talked about what's next for Bright Spaces, but how about what's next for the real estate industry in terms of new tech?
BN: Brick & Mortar is something well connected to the past, humanity having the need of bigger, taller, smarter buildings continuously. Now, this industry is looking to the future, shifting perspectives from captive to flexible, from localised to dynamic, from single owned to crowd shared and this means that we might be the lucky generation who will see the new way of doing real estate, the same way we are now facing the change in automotive, health, financial and food sector.
BR: Apart from real estate, are there any other industries you might be interested in developing new solutions for?
BN: Bright Spaces (as the name suggests it) was born as a real estate solution, to create that much needed digital layer on top of a very traditional, manual and offline sector. We are interested in the other verticals in real estate, as stated above, but we are not looking to other industries.
Real estate is the biggest asset in the world and still one of the least digitized. We believe our solution can and will be a real disrupter in this area, showing a new, more transparent, faster and overall better face of the Property World in the years to come.