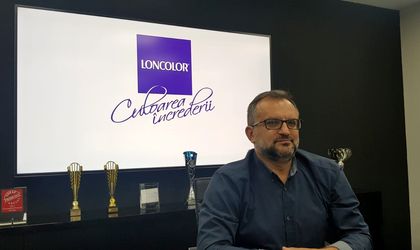 Loncolor, the Romanian brand and market leader in the hair coloring category, has been preparing for more than a year a large rebranding project for its most popular range in the portfolio: Loncolor Ultra. BR talked with Marius Nita, marketing and sales director about the details behind the launch, the new brand's image and how the pandemic impacted the brand and the marcomm industry.
By Romanita Oprea
How do you believe that the marcomm industry changed due to the pandemic?
The pandemic changed the entire world, all sectors of the economy and the way people relate, either one with the other, or in terms of the way they engage with brands. Therefore, we witnessed strong shifts in consumption patterns between categories, changed mindsets and reevaluated life priorities. The new context forced people and brands to take the leap towards digital, as it was the only link they had to connect with the world, a never before experienced context that accelerated the shift from offline to online behaviour in a dramatic way. The Marcomm industry had to react fast, changing the tone of voice in communication, addressing new business challenges in line with the changed rules and compliant with new restrictions. Moreover, all investments were re-assessed according to the new context. "Recalibrating route" was the mindset of the year for all marketers I believe, or at least it certainly was for us.
What about your industry? What will be the long-term impact?
The beauty industry was strongly impacted by restrictions, by the lack of social life, and teleworking. The haircare and hair dyeing industry missed some important moments during the year, and for the first time in the last years, this market contracted. We are confident that this year the market will recover and women will invest again in beauty products. LONCOLOR supports them on this path to rediscover their drive to feel beautiful and enhance their beauty, by launching 5 new LONCOLOR ULTRA shades, besides the 35 that already allured women to use, reaching a total of 40 shades available for them to choose, from black to red, from brown and violet to blonde and silver.
Also, in terms of shifts in consumption behavior, let's remember the lockdown forced women to rediscover their hair coloring skills at home. So, in this particular way, it helped in a way the self-esteem boost Romanian women needed to take the matter of their hair beauty in their own hands, so to speak. They rediscovered they could master the hair coloring process in all stages and this made them feel empowered. We, LONCOLOR, are proud of helping them not only by offering user-friendly products as we always have been, but by incentivizing them to try and dye their hair at home, including delivering at their doorstep everything they needed for that endeavour through our #stayathome campaign developed during lockdown.
What have you learned during this time and how did you adapt to the situation?
During this period of time we have learned that the impossible is nothing. LONCOLOR team geared up to solve any challenge having a positive mindset, being always solution oriented and very agile. We also learned that bringing hope and beauty to the world costs nothing, but means everything. We continued to send a positive message with all our communication efforts, being close to our consumers.
How hard is to keep the leading position in such a challenging industry?
When playing in the "champions league", performance is a must in all activities we run: from research to production, from logistics to distribution, from sales to marketing. And it is a day by day team effort. Nonetheless, we put our consumer at the heart of our business. All we did, we did for consumers: we launched new, innovative products such LONCOLOR EXPERT HEMP STYLE with a formula rich in cannabis sativa extract, rice protein and jojoba oil, we went up and beyond with our distribution efforts to be available everywhere for our consumers, including the aforementioned campaign during the lockdown by bringing their favourite colour at home, and last but not least we had a national consumer promotional campaign with great prizes during the summer. We put huge efforts to run relevant, attractive promotions that increased accessibility to LONCOLOR products because our products bring beauty to consumers life and boost self-esteem. We were inspired by our consumers' trust and we created new, modern, vivid packaging for the best-selling range in Romania: LONCOLOR ULTRA. Moreover, ANTONIA joined us as the brand ambassador, recommending all LONCOLOR ULTRA and LONCOLOR ULTRA DUO MAX shades.
How do you position differently than the competition?
Firstly, we are a Romanian producer, close to Romanian women since the early '90s, developing new products that respond to their needs. Secondly, we are dedicating all our efforts to meet their needs in every aspect, giving easy access to quality products, inspiring generation after generation of women to be self-confident. We are proud to be the market leader in volumes, having the widest distribution, both in urban and rural areas. But we also believe, we are more than the biggest seller, we most certainly must be the brand that truly touches the hearts of its core audience, or we would not have been where we are now.
Why precisely 5 new shades?
We launched 5 stars in a 5 stars range: LONCOLOR ULTRA, being inspired by our consumers' feedback. Within the new 5 shades, we included the Dark Chocolate (4.10), created especially for ANTONIA. The other 4 are the results of being always close to our consumers, listening to their needs, and capturing trends.
What is your target for them in the next two years?
As per all our launches, we are very confident that consumers will enjoy them, raising it in selling tops. We are happy to find out from consumers' feedback that all new 5 shades are very appreciated.
How important is for you the communication side?
As it is said, there is no non-communication. Everything we do, we do it bearing in mind that we communicate something about our brands and for our consumers: packaging, in-store communication, mass-communication, the dialogue with consumers directly and on social media. We strongly believe that communication must be a two-ways street, creating conversations with our consumers: our brand ambassadors, ANTONIA and ROXEN, help us roll-out our story and our consumers amplify it. Our packaging itself bare our message and our consumers resonate to it. For example, LONCOLOR ULTRA new modern, attractive packaging generated a great amount of positive feedback on our social media assets. Our TV commercials, the digital presence, and our interaction with consumers in-store and in social media, as well, all our campaigns create touchpoints for dialogue with our consumers.
What are your goals for the collaboration with Antonia and what are we to expect more this year from the collaboration?
We are indeed honoured that ANTONIA is our brand ambassador. When two loved, admired leaders work together, the whole world notices. Together with Antonia we want to restore the Romanian women's desire to feel like a star everyday and to strengthen their self-esteem. We are preparing a lot of surprises for the coming future for all ANTONIA and LONCOLOR ULTRA fans.