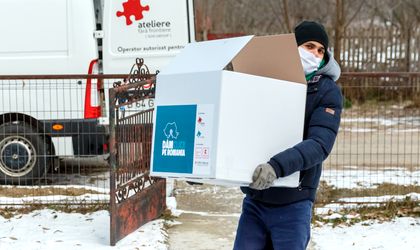 BR talked to Lorita Constantinescu, Business Development Manager at Ateliere Fara Frontiere, an association dedicated to supporting digital education in rural and disadvantaged communities, to find out more about the EduClick project, its objectives and the impact it has on the social and educational environment in Romania.
How was this project born? What are the objectives of the EduClick project?
EduClick is the first workshop created by Ateliere Fara Frontiere Association 13 years ago with the aim of providing digital technology to marginalized communities including schools, libraries, social NGOs and institutions, therefore, offering a fair education comparable to that offered in urban schools.
To be more specific, EduClick is a platform through which we collect and refurbish used computers, which we then donate to schools from vulnerable communities for digital education. The donated computers are used in several prospective educational programs, varying from the modernization of computer labs to non-formal education and online courses.
Our main objectives are to support education, the environment and the social field. With the Covid-19 crisis, our focus has been to provide computers to children in rural communities that do not have access to online schooling. When the pandemics began, one out of every three Romanian children did not have access to online courses, according to data. We facilitate the digitization of education by providing useful information to teachers on how to use the equipment to its full potential, through educational webinars with renowned teachers in modern teaching, in addition to the IT equipment required for T.I.C. or home education.
What types of WEEE can companies donate?
"We collect anything that has a battery and everything that plugs in," as one of our workshop colleagues put it. Businesses and individuals can bring all electrical and electronic waste that is no longer in use to our headquarters on Sos. Oltenitei, no. 105. If the quantity exceeds 100kg, we would come to collect them from Bucharest and the surrounding areas.
What is the impact of the project on the social and educational environment?
Talking about the social economy, through EduClick we have established a chain of solidarity through which people at risk of exclusion and marginalization can rebuild their future by working to rethink computers, which then reach children in vulnerable areas, all while being environmentally conscious.
The devices are collected and refurbished at the EduClick workshop, which has 14 vulnerable employees, people who are capable of working but need some time to adapt before entering the labor market. Long-term unemployment, domestic violence, addictions, disabilities, probation, incarceration, and homelessness are all problems that all workers face. We collaborate with them on social and professional levels, in order to help them stabilize and eventually integrate into the traditional labor market.
As for our educational impact, we can only measure it in figures. Over the last 13 years, we offered 20,000 computers giving access to digital education to 480,000 students from 2,500 schools and educational institutions throughout Romania. According to the local context of vulnerable rural communities, the computers we donate are essential in the short term for creating equal opportunities for children and adapting their skills to labor market demands. Long term, we ensured the consistency of students' studies and avoided thousands of cases of school dropout that might have occurred as a result of long-term absenteeism.
How many computers were reconditioned last year?
We released a call for proposals in the year 2020 to social partners and public organizations that work closely with students and teachers to assess where the greatest need for computers exists and to direct donations to those places. More than 400 schools responded to our submission, with the majority wishing to provide a TIC laboratory that was either non-existent or out of date.
The pandemic caused a shift in computer allocation. The 2150 computers donated in 2020 were distributed to schools, which in turn distributed them to students who did not have access to online courses. Teachers were the ones who decided where the devices would go because they knew all about the situation of the students who needed them.
What number of computers do you need this year to meet the needs of rural students? What are the plans for 2021?
By the end of 2021, our goal is to donate 4,000 computers, numbering that we started in October last year when the pandemic started. All these computers would cover the needs of 250 applicant schools and 30 000 beneficiaries. In order to refurbish 4,000 computers, we need to collect approximately three times more, approx. 10,000 used computers, because not all have the performance software that is requested.
Our project, however, continues in the hopes of expanding, collecting, and reconditioning more items in order to assist as many children as possible. And for that we need individuals, businesses, and sponsors to succeed in this effort, by giving us their used computers.
What does the company have to do it to donate IT equipment?
Companies can help us by either funding part of the cost of refurbishing and donating computers (collection, maintenance, testing, packaging, and direct delivery to the beneficiaries) or by delivering us used computers.
Ateliere Fara Frontiere is a WEEE-authorized collector and IT equipment refurbisher, holds an ISO certificate for management activity quality standards 9001 and 14001. We collect free of charge for more than 100kg. We have a registration form on educlick.ro that should be filled in and in maximum 48 hours we request by establishing a collection date and we release all the documents requested according to the WEEE legislation and the operations fulfilled.
What is the route of electrical and electronic waste after it has been collected from companies?
First, we have to say that EduClick is the only WEEE collector authorized by the Ministry of Environment for the process of refurbishing the computers. When we say reconditioning, we're talking about the following steps: evaluation – when we check whether the equipment meets the minimum technical requirements, and if it doesn't, we assess if it can be fixed. What cannot be repaired is sent for fractional recycling. Evaluation is followed by testing, when we check the functionality of each part. Data deletion with a highly specialized software, repairing by adding / replacing missing / defective components, installing the licensed operating system and just like this we have a brand-new product. The process is completed with the packaging and transmission of computers by courier to schools.
Romania's target for separate collection of electrical and electronic waste is 65% of the quantity of this type of products for sale. Are the computers you reconditioned reported to environmental authorities?
Ateliere Fara Frontiere is an authorised collector therefore we subscribe to WEEE legislation and we report to environment authorities our entire waste activities.
What happens with used and broken computers?
Computers that lack to meet the minimum reconditioning criteria and cannot be used properly are dismantled into fractions (plastic, metal) and sent to recycling capacities existing in Romania.