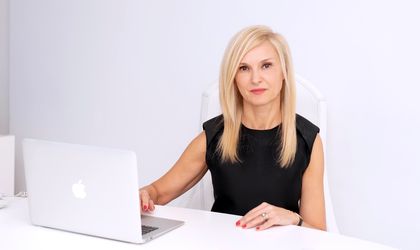 Top Line celebrated 25 years on the Romanian market, a period of time in which created and perfectioned the local beauty industry, by distributing technologies and top products for clinics and beauty salons and creating generations of specialists in this field of activity. BR talked with Diana Baicu, general director at Top Line, and found out more about the company's plans, but also about what it means to be an entrepreneur in Romania and be one of the first companies that start a certain field of business locally, the challenges brought by that status, the pandemic and many more.
By Romanita Oprea
How was the beauty industry in Romania when Top Line was launched?
This year, Top Line is celebrating 25 years of beauty in Romania. During all this time, we have created the local professional beauty industry by educating generations of specialists, hair stylists, beauticians, nail specialists, as well as hundreds of startups, salons and beauty clinics.
25 years ago, salons did not have qualitative professional products, even if the professionals had knowledge in their area. Our goal from the beginning was to work with top brands, to introduce and to develop them on Romanian market and, in the same time, to be the inspirational player in the beauty professional industry.
What was your goal back then and how did it evolve in time?
Since the beginning we had the same goal and we did not make any compromises, putting on the first place the quality of our products and of our services.
We relied on quality from the beginning even if the market was very price sensitive and our competitors were just trying to offer the lowest price.
We were the first to introduce to salons modern technologies for face and body, we created the first modern beauty salons and we introduced in clinics and salons professional products for home use, belonging to big brands internationally recognized.
All the products and technologies that we distribute have scientific studies and respect the health of the clients that use them.
How have your types of services evolved and why?
The company started from being a distributor of professional products and came to operate some of the most important brands in the world in each category. We developed our activity also in the medical field, in services and in retail. Now we are a group that has besides distribution, another important component, services and retail.
One of the basic characteristics of the company is flexibility and adaptation to the needs of consumers. In this way, we manage to overpass all the difficulties over the years: financial crisis, competition environment, pandemic situation etc.
Who is your typical customer?
We are addressing to beauty lovers that appreciate the quality of the products and the quality of the services. Our customer is always interested in novelties, being aware of the beauty trends and searching for them.
Our customer is, on one side the professional customer (hair stylist, aesthetician, nail artist, beauty professionals) and on the other side, the final consumer. For both of these categories we want to be "the only option" when is coming to qualitative beauty products and services.
One of our main advantages is the fact that we follow the international trends and we create beauty trends in the same time and in this way, we keep the interest of our customers and their loyalty.
How are you involved in educating the industry and its professionals?
We have our own Beauty Academy with a team of educators and collaborators and we are always working close to all the professionals teaching them the trends and evolve together as a One Team. We are investing in professionals and we are exposing them to internationals seminars and workshops (offline, when was possible, and now online via video conferences) and to local classes in our Academy and in their own salons.
What are your plans in this regard for 2021 and the next years?
We are committed to our strategy to develop the market and the beauty concepts and we haven't stopped our mission neither in the financial crisis, nor in the pandemic.
Everything we had planned for 2020, we managed to implement. We did not freeze investments during the pandemic, we continued our medium and long-term plans and we kept the launch plan without delays.
We have been digitalized from the moment we have understood the advantages of the internet and we are using online environment not only for sales, but also for presenting the concepts we promote and, of course, for our educational classes.
We used to do online meetings before the pandemic, so for us this was a smoothly adaptation. Moreover, we have brands that are natively suitable for online communication and Social Media.
How important is sustainability for your brand? Please explain.
We, as Top Line, follow this direction and we encourage recycling as well diminishing the waste. In our recent campaign, Top Beauty Trade Show, we had a dedicated corner for collecting and recycling beauty products packaging.
In this respect, we select in our distribution portfolio top brands committed to the same approach.
Therefore, major brands in our portfolio are already aligned to this direction long before this started to be a trend. From developing formulas with naturally derived ingredients up to 99% to zero carbon free emission in production process, the brands featured in our portfolio have a strong sustainability feature. Below you can find some examples of how our brands are implementing sustainability:
Babor, number 1 skincare brand in Germany and top player in professional skincare brands around the world, has developed the own forest near headquarter in Aachen where for each Babor product sold, a tree is plant.
Another good example in terms of sustainability is given by Kevin Murphy brand, that is collecting plastic from the oceans and use it in their packages. They have removed and will continue to remove plastics from the oceans and waterways at a 1:1 ratio for their packaging and they will continue to explore new methods, new partners and listen to new ideas to make sure their packaging leaves the smallest footprint possible for the next generation.
Academie Scientifique de Beaute Paris is another example for sustainable brand. They develop one of their main actives in partnership with local food producers, selecting from the raw ingredients the substances used in formula development, while their partners are using the rest of the product for food industry. Moreover, they run a partnership with Climate Partner Organization, activating in areas worldwide, sustaining environmental project.
How is it to be an opener for a whole industry?
We are proud to say that we were the first ones that did something memorable in the beauty industry. Of course, it was difficult to convince our customers about some concepts that did not exist in Romania, as the retail area in salons, for example. But, due to the fact that we were always and we still are a trustful partner, together as a team, we implemented successfully projects.
Despite the "rules", we will keep our believes and we will continue to focus on quality and on people.
What were the main challenges all these years?
Being the first on a market is a big opportunity, but always comes with challenges. Education was the most important challenge for us: education for professionals, education for beauty consumers, education for our partners and of course financial education of our partners.
What about the best moments?
The best moments are the ones that come after the struggling. After the storm, the sun will shine again. The difficulties of the market, the financial crisis and all the other tough situations helped us to be stronger and to build a stronger team. The best moment for us is the moment we realized we are stronger after tough moments. We overcame all the difficulties over the years, maintaining our market position, being financially solid.
The degree of indebtedness of the company has never been high, because all the steps we take, we calculate and are taken with minimal impact risks on the financial health of the company.
A great moment for us was also the moment we started to develop regionally and to become an important regional player, to be considered for all our suppliers, operating in Romania, Bulgaria, Moldova and Hungary, on all channels: salons and clinics, retail and e-commerce.
What were the most important facts you learned and why?
Success means dedication, it means always being flexible and having an open mind in front of the challenges in the market and also of the opportunities.
Success means respecting your partners and by partners we mean everyone we work with: suppliers, brand owners, customers, services partners, our employees.
If you were successful yesterday, it does not mean you are successful today and you will be tomorrow if you are not present in your team and you are not adapting to the market.
How were you impacted by the COVID-19 pandemic?
We were prepared before the crisis generated by the pandemic, on all distribution segments of the market, not only in salons.
We had a good e-commerce strategy, a distribution in retail and e-tail partners on the brands that were suitable for such a distribution, so that after the moment of confusion in the first 2 weeks of the pandemic, being flexible and having all the sales opportunities open, we managed to balance our business.
We have invested heavily in educating our people, especially in adapting to the online environment and developing online presentation skills.
The Management Academy was one of our successful projects last year for sales and marketing people.
You said that the inspiration comes from your consumers. Can you please develop more?
Our activity is built around the consumers. With all we do, we do it to help them and to solve their problems. We get inspired by their problems, as we are doing our best to come up with solutions and in this way our customers become our inspiration in providing excellent products and services.
What are the main trends in the industry right now?
There are many interesting beauty trends that are worth to mention, but the most relevant would be:
–              Less is more – high concentration of active ingredients perfectly balanced in easy to use formulas
–              Smart products – responding to more than one beauty objective
–              Clean beauty – not only clean formulas, but zero carbon free emission in production process and naturally derived active ingredients
–              Pro aging = well aging – to prevent the aging process and to assimilate the science of aging into the way of life
–              Technology – patent formulas and devices developed to stimulate the natural beautifying process: Fight for natural beauty!
You expanded your activities in Bulgaria, The Republic of Moldova and you intend to do it this year in Hungary as well. How do you choose the moments and the countries?
The consolidation of the commercial activity and the expansion of the business, as well as investments in logistic optimizations and digitalization were planned and executed in 2020, even if it was not easy during the lockdown period.
The company will continue its regional expansion, this year we open the Hungarian market, so we will become an important regional player, to be considered for all our suppliers, operating in Romania, Bulgaria, Moldova and Hungary, on all channels: salons and clinics, retail and e-commerce. We continue to consolidate all our processes and operations: we already have a logistics facility capable of delivering to the 3 neighboring countries in a short time.
Investments will continue in the infrastructure: continuing to modernize the logistics facility, operating system upgrade, e-commerce platform upgrade – we will have a modern e-commerce platform that can serve both the needs of salons and end consumers. We will integrate new functionalities, taking into account everything we understood from the pandemic: ex: the importance of online consultation, both by phone and video.
What does beauty represent for you?
Beauty means perfect balance between body, mind and spirit. Beauty comes from within.
We are offering beauty solutions, but if you do not care of your body and your life and if you do not find an equilibrium between all the aspects of your life, the beauty solutions cannot do wonders.
Respect yourself, your body, mind and spirit and you will be beautiful the way you are.
We encourage unalike beauty. Find your beauty within you, we are all beautiful!
How were the last 2 years from a financial point of view and what do you foresee for 2021?
The fact that we grow structurally every year, including the pandemic year, and we have balanced sales on each distribution channels, helps us be able to switch between channels without losing market share.
In case of a certain channel crashes (ex: 2020 lockdown when the salons were closed), we are prepared to move the sales on other channel and to have solutions.
We are a very financially stable company that has an extremely low degree of indebtedness and loans, being very solid in terms of cash. This is like a mantra for us and it helps us in all the difficult periods of the market.