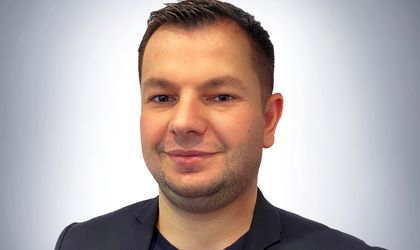 During the past 12 months, digital transformation has gained a lot of traction because of the pandemic context, so Business Review decided to sit down with Daniel Ilinca, the CEO of Softbinator Technologies, a company focused on cutting edge solutions in edtech, fintech, medtech, e-commerce, IoT, RPA, AI/robotics, and blockchain.
It's been 10 years since the Softbinator concept was launched, how was the industry back then and what can you tell us about the journey so far?
The IT industry back then lacked programmers. That's something you still hear on the news today. I saw things differently a few years ago when I started Softbinator and I still feel the same way.
Romania ranks 4th in the world for total medals obtained at the international informatics olympiads. We have very smart people in our country but the problem is we often lose them to other competitors in the IT field worldwide. Why?
The answer is pretty simple, smart people want to work on smart things. That was the reason why Softbinator started. Softbinator Technologies was set up with the idea of creating a place where brilliant people can work with state-of-the-art technologies on products that have a positive impact on society. After almost 5 years, we are still doing that and this makes me very proud of what we achieved as a team.  
What can you tell us about your activity during this past year, the 2020 results, and the challenges and opportunities created by the current context?
2020 was a great year for Softbinator and the company managed to achieve some amazing results:
A young company with a very young management/c-level team (under 32 years old) managed to convince Simple Capital (one of the well-known local VCs) and Bittnet (the only one public IT Romanian company listed on the main market) to join the company as investors and shareholders. After these two transactions, the company was valued at 8M USD and the Bittnet acquisition is considered one of the most successful transactions in IT in 2020.
Since the company was started (2017), the revenue has doubled each year, making it one of the fast growing companies in Romania.
The company is working only with customers from outside Romania, providing product development services to competitive markets where the real innovation happens: US (Silicon Valley, Boston, New York), Israel, UK, Germany and Singapore.
The profit margin (over 25% in average all times) makes the company one of the most profitable companies compared to the Romanian IT companies doing business in the same field.
The company has an active M&A activity and it is constantly investing in startups with the same mindset – "Build tech for humanity".
More than 15 people (around 20% of the employees) teach at the University of Bucharest, Computer Science Department and during the past years they managed to help the faculty upgrade its subjects related to web or mobile development and also product development. Besides upgrading the current courses, the company proposed new courses like Advanced Web Frameworks and Android Development. Also, the company invested and created the only one fully dedicated laboratory to mobile development in the faculty.
The company donated over 100.000 USD in order to support educational programs in Romania, being the main sponsor for several events organized by some of the most active local NGOs and organizations: ASMI, LSAC, SISC, Innovation Labs, Frends, Rotary, Narada, ANIS.
  What are your plans, goals, and vision for 2021 and beyond?
Softbinator Technologies had evolved strongly for the past couple of years, we doubled our annual income and we maintained the growth from 2020. The accelerated evolution we have experienced this year, together with the perspectives created determine us to focus on growth and development. We are considering opening a sales office in the USA to facilitate the connection with current customers but also to create a timely development environment with other customers. At the same time, recruitment will play a major role in the company's future plans, which aim to increase the team by 60%.
Who are Softbinator's clients, what is their profile and where are they from?
Softbinator Technologies's clients are from all over the world. Europe, Asia and America are the continents we put on our map. Currently, Softbinator is working with a significant number of customers, from big names: a big sport car producer from Germany, one of the largest smart wearables company from USA, UiPath from Romania/USA, to medium-sized companies and innovative startups mostly from Israel (the startup nation) and USA (Boston and San F/Silicon Valley).
It's hard to set a profile for our clients because we work on products that are very diverse, but the main thing that all of them have in common is the fact that they use the latest technologies and have a real impact on day-to-day life.
Your areas of activity are quite diverse, from Blockchain to FinTech, and from MedTech to EdTech. How do you see each of them and how are you managing all these different projects?
We treat solutions as our own products and we believe autonomy, mastery and purpose are the keys in having self-driven teams. When developing a product, there is no such thing as the perfect plan – actually, prototyping and fine tuning is the way to go. We guide our customers into this journey and we never treat the solutions we build as projects.
We don't execute conventional project-based contracts. Instead, we believe in a close customer collaboration, focusing on fast delivering working software as the only measure of good progress. As long as a product exists its "To Do" list will be active. Applying the right technology and using the latest trends helped Softbinator build its reputation in being cost-effective and efficient for its customers and that's why all the current customers are engaged in a long-term partnership.
Some of the products you developed have a strong gamification component, is this something you thought was lacking on the Romanian e-learning scene?
E-learning gained very much popularity this year because of the pandemic. There were and there still are things that can be improved in this field. I am glad that together with Equatorial and Dan Berteanu, Softbinator Technologies had the opportunity to work on products that have such an impact on companies that value continuous learning and improvement for their employees.
You are also involved in investing in promising tech startups, what can you tell us about this dimension of your business?
The energy and the passion that motivates people to lay the groundwork for some brilliant ideas are the reasons why I love startups. I am an active investor in the Tech Angels community and last year Softbinator participated in Innovation Labs, where we helped young minds set the basis of their great ideas. I've currently invested in over 10 startups, from Romania and the USA. When it comes to investments, I value most the time and the effort we put into the ideas we believe will make a difference, not the numbers. Softbinator Technologies is preparing some exciting news for 2021 but more information will be made public very soon.
What are the main trends, both technological and product-wise, a tech company should follow these days?
I have always been a big fan of agile culture. I think it is essential in a company, regardless of the field, to have this agile environment. The last year has shown us how important it is to be flexible and to be able to adapt as quickly as possible to the new requirements and I believe that companies that until now refused to work agile have started to take important steps in this direction. Product-minded development combined with an Agile mindset is the way to go.
I don't think I have to say that blockchain technology and cryptocurrency are the hottest subjects right now. Everyone is trying to jump on this train and things are starting to change in many directions. We already buy goods with crypto and my feeling is that it will go crazy when people will officially get paid with crypto – looking forward to hearing one of the Fortune500 companies officially announcing this.
For now, we are watching companies like Tesla buying huge amounts of Bitcoin, Canada approving crypto ETFs and the USA getting close to making it happen too. But the most interesting from the technology perspective is related to applying blockchain in the other industries and solving the trust problem in a lot of use-cases.
Blockchain is not the only one superstar in the tech space. AI and quantum computing are also rocking the stage. All these things are changing the world at hyper-speed.