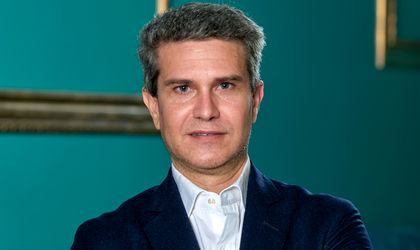 With USD 500 million invested since 2017 in its Otopeni factory, and a further USD 100 million planned investments in the 2022-2023 period, Philip Morris International is a company with a clear vision, to deliver a smoke-free future, and Romania has a central role in achieving this, says Daniel Cuevas, Managing Director Philip Morris Romania, in an exclusive BR interview.
Business Review: PMI is currently undergoing a company transformation; how is this reflected at Philip Morris Romania?
Daniel Cuevas, Managing Director Philip Morris Romania: Romania has a central role in Philip Morris International's strategy to deliver a smoke-free future. Both at international and local levels, we are making tremendous progress toward this end. We are fully committed to replacing cigarettes with science-based, less harmful alternatives like IQOS as rapidly as feasible.
Since 2017, Philip Morris International (PMI) invested around USD 500 million in the production facility in Otopeni, transforming it into a state-of-the art factory that produces reduced-risk products (consumables for IQOS) and exports them to over 54 countries on 5 continents. The factory in Otopeni is one of the three such factories in Europe, along with those in Italy and Greece, and one of the eight that exist worldwide.
The latest technologies implemented in the factory and over 1,200 very well-trained employees confirm the importance that Romania has in the overall strategy and in developing and making available breakthrough products that are smoke-free and represent better alternatives to continued smoking.
We are doing our best in making our colleagues understand the role they are playing and how thankful we are for their adaptability, talent and hard work.
But this is not a transformation we can achieve alone. We need key opinion leaders from our society, like politicians, but also journalists, to be much more vocal in understanding and explaining the difference between traditional cigarettes and available scientifically substantiated better alternatives.  We need to trigger this debate in society as people have the right to know that these alternatives exist and that is the science behind them. With this support and by providing accurate information to the public about these products versus conventional cigarettes we have the chance to improve the lives of millions of adult smokers. We need governments to continue promoting innovation in this space and to put into place regulatory frameworks that help those adults who would otherwise continue to smoke to switch to these better alternatives. Frameworks similar to the one provided by the Food and Drugs Administration in the US.
BR: The transition to a smoke-free future is probably the biggest shift in the history of PMI and the tobacco industry as a whole; why has PMI chosen to spearhead this transformation and what are your goals and strategies?
DC: PMI is firmly committed to delivering a smoke-free future and our goal is to become a majority smoke-free business by 2025. In addition, we intend to employ the capabilities that have been built in support of our smoke-free products to expand our portfolio beyond tobacco and nicotine. This is a natural evolution for PMI that will further transform our business.
Why are we doing this? Because it's the right thing to do. More than 1 billion people worldwide smoke cigarettes and, according to the World Health Organization, there will still be more than 1 billion smokers in 2025. We want to provide those adult smokers who do not quit with better options than continuing to smoke and a sensible plan. In a world where smoking is a fact of life, we cannot simply ignore the compelling scientific evidence: scientifically substantiated less harmful products are now available to adult smokers who otherwise would continue smoking.
Our commitment is strong and the result of many years of careful deliberation, backed up by a substantial R&D program. Since 2008, we've spent more than USD 8.1 billion on research, product and commercial development, production capacity, scientific substantiation, and studies on adult smokers' understanding of smoke-free products. We are conducting extensive and rigorous studies to demonstrate that, compared with smoking, switching to our smoke-free products can result in a significant reduction in the risk of smoking-related diseases.
As we advance toward our bold vision of a smoke-free future, we are setting an ambitious goal: We aim for at least 40 million current adult smokers to have switched to our smoke-free products by 2025. Adding in those who quit tobacco and nicotine altogether, we estimate this would reduce the number of PMI cigarette smokers by a total of 55 million in that timeframe. In other words, we intend to reduce smoking rates almost four times faster than the target set by the WHO. We have the ambition to generate 50 percent of our net revenues from smoke-free products by 2025. Following these, we believe that cigarette sales could end within 10 to 15 years in many countries.
BR: On your appointment, you made a clear commitment to accelerate the IQOS products. Now, 9 months into your role as Managing Director of Philip Morris Romania, what can you tell us about the progress of this objective?
DC: To achieve a smoke-free future and a smoke-free Romania we need to accelerate the pace of change for adult smokers, and society in general. Adult smokers must have access to accurate and science-based information about better alternatives in order to choose them. So, one important point on my agenda is to increase awareness about smoke-free products in general, besides the commercial objectives and indicators. I will give you some data to support this.
An international survey conducted by the research company Povaddo, at the request of PMI, showed that almost 8 in 10 of the survey's respondents agree that adult smokers who would otherwise continue smoking cigarettes should have access to smoke-free alternatives and accurate information about them. This is supported by 87% of current smokers. More than 6 in 10 exclusive smokers would be more likely to switch to a better alternative (such as heated tobacco products) if they had clarity on how these products differ from cigarettes and the science behind them. This data is supported by a vast majority of smokers (91%) who have switched to a better alternative and stopped smoking and who confirmed that having accurate information about how these products differ from cigarettes was an important factor in their decision. Unfortunately, 4 in 10 survey respondents who have seen or read something about smoke-free products in the past six months received unclear or conflicting information.
In Romania, the level of misinformation about alternatives that have the potential to be less harmful, such as heated tobacco products, is very high, which has the consequence that very few adult smokers switch to these products. By comparison, in countries such as Greece or Italy, with similar infrastructure, the degree of the switch to these products is much higher, compared to the number of smokers.
For example, few smokers know that nicotine is not, as it is generally believed, the primary cause of smoking-related diseases. The vast majority of harmful compounds found in cigarette smoke, which is generated by combustion, are the primary cause of smoking-related diseases. This is a scientific truth that many people do not know.
Regarding the commercial objectives and indicators, in 2021, we continue to be the leader of the heated tobacco products segment on the Romanian market, where we hold approximately 80% of the category starting with the second quarter of 2021. In Romania, consumables for IQOS represent 4.3% of the tobacco and heated tobacco products market, reported for the same quarter.
BR: You've previously held several roles at PMI in countries such as Spain and Italy; what can you tell us about the Romanian market, compared to those in Spain and Italy?
DC: In my opinion, the Romanian market is very similar to the markets in Spain and Italy. Both Romanians and Italians love innovation and design and want the best for themselves and their families and they tend to be early adopters of anything that is a real innovation. They are curious and open to new things if they are really improving people's lives.
Another similarity between those markets is the fact that adult smokers are concerned about the health effects of smoking, but the vast majority do not quit and are looking for less harmful alternatives to cigarettes. The recent growth in the heated tobacco product market is evidence of this demand. We know that many adult smokers are looking for scientifically substantiated smoke-free alternatives that are a better option than continued smoking and are sufficiently satisfying so that smokers willfully switch to them.
BR: What can you tell us about the scientific innovation dimension of PMI and Philip Morris Romania?
DC: Since the beginning of our transformation, in 2008, PMI invested more than USD 8.1 billion into the science and research of developing smoke-free products. Today we employ more than 930 world-class scientists, engineers, and technicians to help us.
We are a company that believes in science and technology. This is what we relied on when we decided to replace combustible cigarettes with smoke-free products as soon as possible, for the benefit of smokers, people around them and public health. We are fully committed to doing so and we are shifting our R&D and marketing expenditures away from cigarettes. In 2020, 76% of our commercial efforts and 99% of our R&D were dedicated to our smoke-free products.
We continue to develop new products and platforms that meet the needs of our adult consumers, such as IQOS ILUMA, the latest and most innovative addition to our growing portfolio of smoke-free products for adults who would otherwise continue to smoke or use nicotine products. IQOS ILUMA was recently launched in Japan.
Our focus remains on transitioning the business from cigarettes to smoke-free alternatives, while leveraging our capabilities to expand our portfolio beyond tobacco and nicotine, as announced earlier this year. It is not our intention to become a pharmaceutical conglomerate. This is a natural evolution for PMI that will deliver not only on our continued commitment to achieve a smoke-free future, but also in developing and commercializing scientifically substantiated beyond nicotine products and solutions that improve people's lives. The recent acquisitions are aligned with this vision. Some of the initial areas of focus we have disclosed include botanical well-being products, as well as respiratory drug delivery applications. These proposed acquisitions would fully leverage PMI's existing capabilities in life sciences, product innovation, and clinical expertise related to inhalation.
The vision of a future without cigarette smoke is very ambitious and means revolutionizing an industry. Almost all of our research and development, as well as most of our commercial investment, is dedicated to smoke-free products. And we are making rapid progress towards this future.
BR: Over the years, PMI has made important investments in the Otopeni factory; what can you tell us about this and are there any plans for further investments?
DC: Since 2017, we have invested around USD 500 million in the factory in Otopeni – one of the biggest investments in the industry and in the economy. Nearly USD 100 million has been invested this year alone. In 2022-23 we plan to invest an additional USD 100 million in transforming the factory to produce even more advanced reduced-risk tobacco products and to achieve the goal of becoming a carbon-neutral factory by 2024.
BR: Developing on the last question what makes Romania an attractive country for PMI to invest in and what are the risks in the future that you are considering that might affect PMI planned investments?
DC: Romania has been a very attractive country for PMI to invest in, as shown by the strong commitment to develop our business here in the past 20 years. There are many reasons why PMI decided to invest in Romania: very well qualified people with strong academic and professional backgrounds, an emerging economy with a lot to offer, topped by the admission of Romania into the EU. Romania has shown in the past 20 years a very strong wish to develop and become one of the most attractive countries in the EU to invest in. However, there are risks that we consider in the present and that can affect not only our investments but the overall foreign investments in Romania, and here I am referring to the stability of the political class, the predictability of the fiscal and regulatory regime. As you know it is very important when you decide to invest as much as PMI did, and to continue to do so, that things will not change overnight. The legislation should be predictable and encourage investments, as it creates jobs and contributes to the overall wellbeing of the Romanian people and the development of the state.  Investors are very attracted by a stable and predictable legislative system. Our investments are on long term and that is why predictability plays a crucial role. Swift changes in legislation are putting off investors and discourage them to look at Romania as an attractive country to invest in. We want to be a trusted partner of Romania and have an open dialogue with everyone, leaders, journalists, scientific community, so that together we to continue making Romania better.