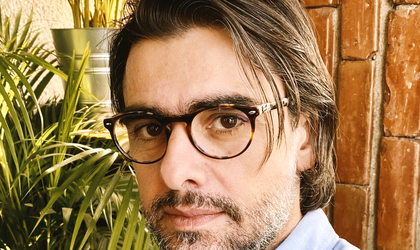 Today, the world is powered by data. With the growing pace in technological developments, data has become an integral part of people's lives. At the height of this digital boom comes the launch of Digitas Romania, Publicis Groupe's Connected Marketing agency. BR talked exclusively with Calin Buzea, Managing Director & CTO, and found out more about the agency's positioning and plans in Romania.
By Romanita Oprea
What place will occupy Digitas in Publicis Romania's portfolio of agencies?
Digitas is the Connected Marketing agency built on the principle that there are better ways for brands to connect with people and people with each other. We are a separate brand, a unique full-service structure including media, with a strong legacy in digital business transformation.
We will add to Publicis' plethora of services Digitas network data driven, creativity and digital solutions. Our team will also serve as a center of excellence for all Publicis Groupe Romania.
The agency will strengthen the services that Publicis Groupe Romania provides, taking the data offering to the next level and delivering advanced capabilities, including predictive analytics.
Why did you feel the need of launching the agency in Romania as well and why now?
This year, the pandemic inflicted new behaviors among all of us, and we needed new and more complex approaches from marketers. Millions of us stayed inside for weeks, we've heavily turned up digital all of a sudden.
Now, consider the customer decision journey: how did it look 12 months ago and how does it look now. People staying home, each of them with their particularities, their sociodemographic, their online and offline attributes, but all of them digitally connected. We have digital at core. Consequently, we infuse digital strategy and creativity on all deliverables, being them either TV, radio, OOH or social content.
As we've been looking for more complex digital transformation solutions for our clients' brands and products, it was the perfect time to launch Digitas.
How do data and digital go hand in hand these days in your opinion? How important is it to have relevant and strong data in creating the best strategy for a brand communicating in online?
Data is digital and digital is data. It starts with the consumer, with real people. Real people are more diverse and more complex these days than ever. Only through data analysis of their behaviors we'll be able to understand them, to propose them our messages, to sell them our partners' products and services at the right time, at the right moment and in the right place.
Being part of this global structure will enable us to build for our local partners solutions based on a 360-degree world markets knowledge together with a collaborative international network made up of more than 4,000 experts, competencies, tools and solutions.
What will Digitas offer differently than the other departments and agencies you have specialized on digital and data in the communication group you are representing?
We come with integrated solutions tailored on brand's objectives, and I stress out integrated solutions. We put together competencies of our people, from all over the network: data driven creativity, data driven strategy & analysis, data driven media scenarios and technical solutions, all in one.
What are your wishes for Digitas Romania in the upcoming future?
Delivering above expectations to our existing partners and to the future ones, to attract new business, but also new talent.
In the press release you said that the agency will take themarketing campaigns to the next level. How do you intend to do that?
Through data. For marketers and brands there's still a lot to understand on how to use data in their marketing activities, especially on our market. There are businesses' internal data sources that are ignored or even not known of, and/or external data that is overrated. Each activity has its own specificity that has to be understood and corelated with the right additional attributes. There's no one size fits all, so what we propose to our partners are tailored solutions for their objectives based on our combined digital resources and know how. Based on facts.
What do you perceive to be the main challenges?
Marketers should consider data sources and data structuring for the right objective(s). One peril they encounter is data vanity, data for the sake of data which is a huge faux pas in the process. It can send you on the wrong path. That's where we can help and where we do our Unicorn magic.
We know how to structure data, what to corelate and how, we'll help them choose the right objectives and resources, we'll bring data and creativity together which some consider it to be a paradox.
You declared that Digitas will act as an excellence center for the local group. How did you select the 22 experts in your teams? Did you hire new people?
We have build our team based on experience and competencies and we'll continue to do so. We are now a team of professionals who understand digital from the digital business transformation through data creativity perspective: consumer digital experience, digital strategy, data analysis and visualization, technical & innovative solutions, UX & CX, machine learning, AI, project management, storytellers & content creators, designers, media, programming, etc.
And there are more, some that are being built as we speak.
How would you characterize Romanian digital marketing industry now?
On fast forward. Like I've said in the beginning, Romanian marketers feel the need of enhancing their game. This pandemic, work and education from home, brought us new perspectives that we'll have to consider more carefully from now on. Data is getting "thicker" to swim through so they need more and more complex digital solutions to step up their business.
How have clients' needs developed and became more selective during the last two years?
Last two years? It's such a long time. Let's take the period starting March 2020.  How fast they had to react to lockdown, how fast they needed analyses, data to look at, to base their decisions upon. How fast could evaluate their spendings vs their prospected results. Should they move their activity in online? All of it? Just some of it? How would they build their scenarios? How would they look at their competitors and at their customers? How do they react?
For business decisions they need data, they need trials, evaluations. They need real time communication solutions, or as close as real time. And we know how to help them with all of that.