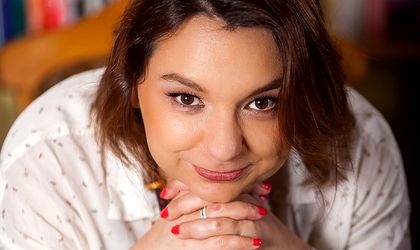 With over 18 years of corporate communication experience, including 10 in crisis communication, Ana Maria Diceanu believes that every challenge is a doorway to a better her. BR met with Diceanu to discuss the launch of her agency – Brain 4 Strategy – and the organization Global Women in PR Romania.
By Romanita Oprea
What are the hardest decisions you have taken professionally so far and why?
All decisions prove to be difficult when they involve change. The hardest decision I have made was starting a consultancy agency in my forties. I strongly believe that everything is possible, especially when you have a strong mind, a reputation you can be proud of and a good network.
I often listen to Jack Ma speeches (Alibaba), and one thing he said stuck in my mind. He said that between 30 and 40 you can start something on your own. After 40, just do the things you are good at. I missed the window of opportunity of 30-40, so I am doing something that I am good at but with energy because I feel 30 years young, not old. I've been working in this industry for almost 19 years, I love doing it and I really believe that PR is both the queen and king of any communication strategy for any brand, company, person etc.
What about the best decisions?
The hardest decision was the best decision.
When and how did you know you wanted to be a professional PR consultant?
It is interesting that you ask this. During my sabbatical at the beginning of the year, my husband reminded me in a discussion that when he met me, I was dreaming of traveling and offering advice to companies all over the world, so I think that was the time when consultancy came to my mind, eight years ago.
You can say that it is always good to be true to your dream!
The decision I made was somehow dictated by the market. During past and present interactions with clients I realized that there was an ever increasing need for a more holistic approach to reputation management and risk prevention. What we see now is more a reactive, general approach and does not respond to the long-term reputational needs of a company.
Once the idea started to grow in my mind and I realized I had to do this on my own, guided by my own set of professional standards, the path was clear to me. The driver of this idea was my expertise and doing the things I am good at.
What are your main wishes and goals for your new professional road?
The main goal is to grow the reputation and need for PR consultancy. PR is mostly seen as a profession where everybody writes press releases, does some Facebook and talks to journalists. When clients come to a PR agency they are mostly looking for media visibility and community growth on Facebook. What I would like to see happen in Romania is an increased need for PR strategic consultancy and for consultancy to be properly remunerated.
My other wish is to help companies get over the idea that crisis planning is something difficult or something we do after a crisis hits. To survive the times we live in, companies must be immunized against any type of crisis, any type of issue that might leave them without the trust of their clients and partners.   
Consumers are constantly struggling with what brand to trust. Trust is like the currency of reputation; brands buy trust from consumers who are so reluctant to sell their confidence. And, at the same time, trust is expensive. Companies must think more about how to make the consumer sell their trust-coin, and less about selling their products.
Reputation is key. A strong reputation is the lifeline of a brand, especially now when everybody can attack and promptly accuse a brand at any given time with great ease.
I would like to change the paradigm in which crisis communication is pictured, mostly reactive. Therefore, we bring a 360-degree range of services in this field – from crisis manual development, crisis simulations, crisis management procedures to crisis impact measurement. With the help of a market research company we have developed a digital tool to measure, in real time, awareness among consumers during a social media crisis.
What do you intend to do differently? 
I would like to get more involved in the growth of the PR industry as a whole, in proving its value through both what I deliver to my clients as well as what I can do for the growth of next generation PR people. Quality is key!
What will remain the same?
The professionalism and expertise… The same brain applied in a different context.
You are specialized in crisis management. Do clients in Romania understand better the importance of this sector and the importance of prevention?
I have seen some changes in the prevention area, but not as many as I would like. Most companies invest in crisis prevention after a crisis happens or if they receive a specific task from HQ. I have looked at the recent crisis situations of some brands, most of them unfolding in social media… And I strongly believe that a crisis consultant involved sooner in the situation would have made a huge difference. Companies are not used to asking for help in crisis situations and, unfortunately, some still think that if they don't communicate the situation will go away and be forgotten. But Google has a very good memory.
After a crisis the company should look at what started the crisis in the first place and build a plan, do training with the employees, communicate to front desk employees the importance of a correct relationship with customers etc. Although we can see some planning here and there, the after-crisis strategy is almost nonexistent.  
Have you seen any changes in recent years in this regard? Why?
There have been some positive changes in crisis planning because the number of crisis situations, especially with social media, has increased. The fake news phenomenon has also "helped" in this regard; it has added a new scenario in the crisis plan. So companies have started to wake up and do some training and write some crisis manuals. But this is valid only for big brands, international companies; if we look at Romanian entrepreneurs, crisis prevention is the last thing on their minds.
How did you choose the agency's name and what does it represent for you?
If we have the brain to develop a solid strategy and take time to properly implement it, results come quicker and are more relevant for the business. So, let's brain for strategy.
How is Brain 4 Strategy positioned in the local PR industry scene?
We can be a good partner for companies and agencies alike. Perhaps it sounds unrealistic for the Romanian market, where everybody is competing against everybody, but I really believe that the expertise and consultants we can bring to the table can benefit a company and at the same time can help any given agency to deliver additional strategic services to its clients.  
How has your experience so far helped you in putting the basis of your agency?
Bringing a vision to life is never easy, but it is therefore very rewarding.
During my career I have worked for a big corporation, for a regional PR agency and for the last 12 years at an entrepreneurial PR agency… So I have seen all the angles of PR consultancy at work. All these experiences will help me overcome anything I will encounter.
At the same time, I know that if I deliver to clients the same value and expertise I have shown in the past, the agency will see growth.
Who is your target-potential client?
We have know-how to serve clients from various industries. We have expertise in the strictly regulated pharma industry, in the tech industry, retail and FMCG as well as in B2B industries. In our consultancy team we also have experts in shareholder communication and M&As.
What advice would you give Romanian entrepreneurs, when it comes to their communication?
An entrepreneurial business is like a baby… So I say to them what we all know: that all babies have a higher rate of survival if they are vaccinated against different diseases.
Investing in crisis prevention is not a nice thing to do, it is a must.
PR helps build trust and reputation with investors, with banks, with business partners, with employees and customers. We must not forget that people trust more information from a journalist than what they read on a company website or see in an advert – and by the way, over 50 percent of internet users have ad blockers, but they most certainly read news online.
How would you characterize today's Romanian PR industry?
What I love about the PR industry is its dynamics. You never get bored and you are never stuck in a routine.
The PR industry has switched from media relations to direct to consumer and social media, from video to live streams, from earned to paid and back to earned media.
I believe that now PR is searching for its lost identity, it is fighting again to regain its rightful place in the communication mix. In this regard, proving value, measuring what matters is becoming key for PR. This is why I wanted to be the first PR person in Romania certified AMEC.
So the main challenge for PR now is to prove its value to the board. If we stop measuring vanity numbers and start measuring what matters and what is important for the business. I strongly believe that the newly launched PR professionals association will help in this direction.
Looking more specifically at the Romanian PR industry, we have creative people, strategic people, experienced people… We are a full-grown PR industry. We just need to look more closely at the leaders of the industry, make them visible to the younger generation, and thus increase the overall quality of PR services. As an industry we need to develop a code of conduct, we need to make sure that quality is understood and delivered by all practitioners. The PR industry has its own issue of employment, we fight the same dilemmas of any other industry – finding the right people for the right job.
With 50-plus PR awards won with her coordinated teams, Ana Maria Diceanu says she tries to make sure that every idea, strategy and campaign meets KPIs, brings the proper ROI and ensures a strong position for the brand/company in the market. Her first and greatest love is crisis management with 30 crises managed in the last three years. She is also constantly organizing crisis simulations, media training and developing crisis manuals for companies in various industries. She has worked for clients such as: SAB Miller, FrieslandCampina, PepsiCo, Henkel, GSK, AVIVA, Omniasig, BCR Erste Bank, Banca Transilvania, HP, OMV Petrom, E.ON Ruhrgas, Sensiblu, Boots, Urgo, Pierre Fabre, Holcim, and Rompetrol.