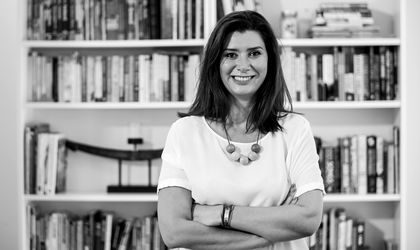 Through this Covid19 period it has become clear that remote leadership and team collaboration requires more trust and with it much more understanding of emotional intelligence. Our roving business reporter, Colin Lovering sat down with Alina Banescu, founder of EIROMANIA and asked her to explain a little bit more about what emotional intelligence really is and how this is becoming a priority in the workplace.
What is emotional intelligence?
In recent years there has been so much written about emotional intelligence, and a lot of emphasis put on it within our current context. Let me start by saying that Emotional Intelligence is not rocket science. The fact is that the nature of being human means that we all have a level of emotional intelligence which is either more or less obvious in our daily lives. As the father of EI, Daniel Goleman once said "people are emotional beings who sometimes happen to think". So Emotional Intelligence is what makes us human. It's about being able to recognize emotions (ours and other people's) and make smart choices in using these emotions for better outcomes. A more in-depth definition, is looking at emotional intelligence as a way of making intelligent responses to negative feelings, and using specific skills to generate positive emotions in self and others through being present, empathetic, genuine, resilient and empowering in our behaviours as often as possible. Emotional intelligence is the ability to make emotions work for you, instead of against you.
Can emotional intelligence be measured or learned?
Yes, EI can be measured and learned to a certain extent but that shouldn't be the only question we need to ask. We can be the most Emotionally Intelligent person in the world, but I we sit in a dark room and stare at the walls it hardly makes a lasting impact. The point is that irrespective of your present levels of EI, it really about how we demonstrate it or "show up" in the world as well as the choices we make to develop it. With a little bit of help everyone can become even more emotionally intelligent.
Some people might argue that EI sounds a bit fluffy and 'emotional" for the world of work. How do you respond to this?
There are so many misconceptions of EI. The reality is the world of work is emotional. It's impossible to leave your emotions at the door when you walk into the workplace or indeed when working from home nowadays. Due to the physical structure of the human brain, emotions are a core part of our being. Emotions unavoidably inform our thoughts, actions and decision making and influence how we respond to them and this has a profound effect on our relationships and performance. Functional/technical knowledge will always be a foundational requirement for any job or industry. Where emotional intelligence comes in is knowing how to use technical skills in different environments, how to adapt to change, and how to engage team members.
There's a lot of evidence out there on how EI improves performance. As an example, a recent (2019) Capgemini global study – Emotional intelligence– the essential skillset for the age of AI – found that 60% of organisations, on average, attested to benefits in the excess of 20% by having highly emotionally intelligent employees. Top benefits for organizations include enhanced productivity, high employee satisfaction, increased market share, and reduced attrition. Employee benefits include greater wellbeing, reduced fear of job loss, more openness to change, and the safeguarding of human jobs from machines. They also found that organisations can achieve returns up to four times higher by investing in EI skills.
What about those who challenge the "importance" of EI?
Less and less nowadays. With the undeniable levels of evidence, we're bound at some point to accept realities. With emotional intelligence, it's sometimes easier to experience it, than to rationally trying to make sense of it. Let me give you an example – we've all (at some point in our career) have met someone who we've perceived as a great influence or a bad influence on our motivations, self-beliefs and engagement levels. In fact, I would encourage anybody reading this article to try out this simple exercise.
Take a piece of paper and draw a line in the middle. To the left write the name of the worst person you've ever worked with, for or around and on the right the name of the best person you've ever worked with, for or around. Using a scale from 1-5 (1 being significantly less than others and 5 being significantly more than others) write down your answers to the following questions:
How are these people:
Demonstrating awareness of their mood and emotions
Making others feel appreciated
Open and honest about mistakes
Making ethical decisions
Managing their emotions effectively in difficult situations
Helping create a positive work environment
In totaling their scores, you're most likely to see the differences between people's levels of demonstrated emotional intelligence in the workplace. If you're further asking yourselves the question – how did these people make you feel, you're starting to feel the levels of demonstrated emotional intelligence on your own sense of personal value, motivation and engagement, confidence and overall feel-good factor, to name a few.
I would encourage a further reflection moment to consider those around you and how you "show up" for them.
Is EI more or less relevant in these uncertain times?
When it comes to EI, some of the buzz words at the moment are resilience and empathy – and these are core components of EI. The social and economic changes and associated levels of internal stresses and external pressures make EI not just relevant but critical. Any EI development programme will go hand in hand and would be easily integrated with other initiatives of improving productivity, agility and adaptability, fostering creativity and developing leaders.
I personally can't think of a time when all of these listening, showing empathy, building trust, adaptability, stress management, managing conflicts, positive influence, authenticity, resilience have not been important. Just that the current context has accelerated the need for broader company levels implementation.
Alina Banescu is the founder of EIRomania, who's purpose is to help build positive emotional workplace cultures in Romania. They offer a range of Emotional Intelligence and cultural assessments, workshops on applied emotional intelligence, leadership, resilience and relationship building and individual and team coaching programmes. www.eiromania.com or email her directly at alina@eiromania.com