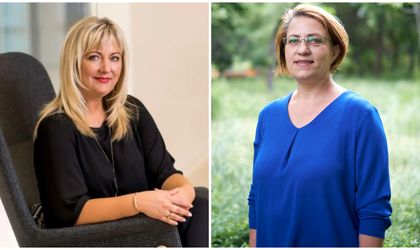 In September 2020, VELUX announced its new commitment to become fully carbon neutral (Lifetime Carbon Neutral) by its 100th anniversary in 2041, and to achieve this the company announced a partnership with WWF. To find out more about the partnership and VELUX's ambitious goal, Business Review sat down for an exclusive interview with Noemi Ritea, Marketing Director Romania & Moldova at VELUX, and Orieta Hulea, Country Manager WWF Romania.
Recently, the conference "Nature on the plus side – Windows to the future of business" took place, a conference held by WWF Romania in partnership with VELUX, how do you see the future of business in Romania?
Noemi Ritea: Considering the climate and nature crisis, is urgently needed to act now together in order to build the future. That's why all businesses should be more and more focused on sustainability actions, applied in all sections of their activity, so at the end to be considered the new way of working. Collective efforts, accelerating the development of new technologies and stimulating actions through partnerships, alliances and support, all will bring a massive difference in how businesses will look like in the future. In our eyes, if all of us have the same objective, the future will look bright!     
Orieta Hulea: Dramatically reducing future carbon emissions alongside removing CO2 from the atmosphere by protecting and restoring natural habitats is key to securing a sustainable future. Sustainability and environmental, social, and governance (ESG) issues are increasingly recognised as opportunities for businesses to create value from the climate transition. By cutting emissions from their operations and throughout their value chains, companies who set science-based targets are driving the adoption of renewable energy and funding the solutions of the future.
Plans for the future start with the past. VELUX and the World Wide Fund for Nature (WWF) aim to seize carbon dioxide, which has reached a historic threshold, and achieve CO2 neutrality in 2041. The Science Based Target Initiative (SBTi) has established that the targets are in line with the plan to limit global warming at 1.5 ° C, established by the Paris agreement. What does it mean for WWF and VELUX?
Orieta Hulea: Through this innovative 20-year partnership, WWF wants to spread hope and inspire companies to follow the example of the Velux Group in taking responsibility for both their future and past environmental impacts. The Velux Group has joined the Science Based Targets initiative, committing to reduce its own CO2 emissions as well as from its entire value chain. This is in line with what climate science points out is necessary to limit global warming to 1.5°C above pre-industrial levels. On top of its decarbonization efforts, WWF and VELUX Group will drive conservation results based on our shared interest in protecting and restoring forests globally.
Noemi Ritea: We are very proud to say that we are among the first companies that take responsibility for both past and future carbon emissions. This commitment is very ambitious and at the same time is representing a huge responsibility. In order to reach the targets, we aim to do that by capturing a total of 5.6 million tonnes of CO2 through forest conservation projects around the world – the equivalent of the VELUX Group's total historical emissions from 1941-2041 of 4.5 million tonnes of CO2, plus the 25% safety buffer. Besides these measures, we add actions based on which we will make business in the future, in order to reduce our own emissions, an example is the partnership with Schneider Electric, a leader in renewable energy, and more will follow.
But this is not only our responsibility, how we all together live our lives and act in the following 10 to 20 years, will determine the future of all life on Earth. If small steps are made by everyone in these directions, we will see big improvements in the future.
How can entrepreneurs or members of a company propose and register the business in this approach?
Orieta Hulea: Science-based targets show companies how much and how quickly they need to reduce their greenhouse gas (GHG) emissions to prevent the worst effects of climate change. Setting a science-based target is a five-step process (sciencebasedtargets.org):
Commit: a company/entrepreneur submits a letter establishing the intent to set a science-based target
Develop: the company/entrepreneur works on an emissions reduction target in line with the SBTi's criteria
Submit: presents the target to the SBTi for official validation
Communicate: announces the target and informs stakeholders
Disclose: reports company-wide emissions and tracks target progress annually
How did VELUX employees receive the company's new sustainable policy? To what extent does eco-corporate policy improve employees' environmental behavior in their personal lives?
Noemi Ritea: Our employees have had the WOW effect when the sustainability initiative was presented and were also excited about the strong partnership with WWF. Employees and customers, at the same time, are increasingly aware of what's happening to our planet and within the environment, we are living in now. So, for our employees, this commitment makes them proud to be part of such a company that is taking actions about changing the way of consumption which will not affect the environment in a negative direction.
Several studies showed that approximative 40% of the Millennials mention sustainability as an important factor in the decision to choose an employer, so we can say that our employees already have this willingness to improve their personal behaviour as well. In the same time the company is integrating principals regarding diminishing the climate changing effect by even small various examples in their daily professional work which can be replicated in their personal lives, such as: – print less, use more daylight and less electricity, planting trees, etc.
Partnerships between NGOs and companies are beneficial to nature and to both parties. What advice do you give to those who want to make such partnerships?
Noemi Ritea: We found in WWF partnership the proper organisation to achieve this promise to the world. I would recommend finding the right partner that has the same objective and the same willingness to achieve the goals together. Long-term partnerships have the benefit of developing strategies further and improving the behaviours within their companies so that they will be an example for others and in the end to look like a domino effect in a positive way. Those companies that are unable to conclude partnerships with NGOs, can act in other ways. Any action is important for a sustainable future for all, and more important is to take responsibility for our decisions.
Orieta Hulea: WWF seeks to work with those who have the greatest potential to reduce the most pressing threats to the diversity of life on Earth and together find solutions to conservation challenges such as biodiversity loss and climate change. The corporate sector drives much of the global economy, so we consider that companies also have a specific responsibility to ensure that the natural resources and ecosystems that underpin their business are used sustainably. Companies are also primed to lead on rapid adaptation and on the innovative solutions needed to drive change. We believe that together, we can transform whole sectors and markets for the better, changing behaviours and driving conservation results that would not be possible otherwise.