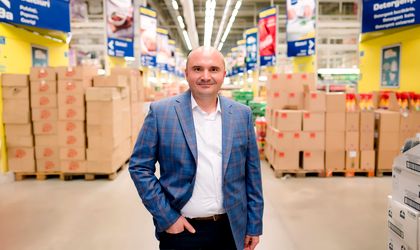 Adrian Ariciu, CEO at Metro Cash&Carry Romania, tells Business Review about the ways in which the pandemic has changed the retail scene and how the company has adapted to the new normal, and talks about the challenges he has faced in his leading position during these difficult times.
By Anda Sebesi
How did Metro adapt to the pandemic and what measures did it take to ensure business continuity?
It's safe to say that the pandemic has had an effect on every sector and that most – if not all – companies have been forced to rethink their business models and improve operations on all levels. For METRO Cash&Carry, ever since the state of emergency was instated, the safety of our employees and customers has been a top priority. We observed and adopted all the measures imposed by local and national authorities and made sure that our stakeholders were being updated with the latest relevant information.
In terms of our business continuity plan, the wholesale business model has proved to be a viable option for the communities in which we operate, as our main responsibility is to be a reliable source of business for traders and hospitality business owners. We have had to secure competitive prices and the availability of a wide range of products, and we configured the supply chain in partnership with our suppliers to ensure flawless execution, with no interruptions.
We did face some stock-related issues in the beginning, which showed us how important it was to set up solid partnerships with our suppliers. Together, we found the best solutions for every business partner who has chosen METRO for the supply of food or non-food products.
We turned our attention to a centralised ordering system and a more efficient delivery system to maintain competitive prices for our customers, as well as to the distribution of goods in our stores. At the same time, we are focusing on digital transformation to keep up with our customers' lifestyle, as digital tools are becoming indispensable. Despite the difficult context, the number of hospitality customers has remained constant, while our total number of customers is increasing through more small proximity shops which are  supplying essential goods to communities and have a good opportunity to be the top choice of end customers.
How does Metro support small businesses?
LaDoiPasi is our franchise model for small and medium-sized traders. Through this model, local entrepreneurs get the opportunity to manage a professional format under a recognised brand, with the full support of our specialists. By affiliating with the LaDoiPasi franchise, store owners have access to consultancy on all areas of their business (branding, marketing campaigns, competitive pricing, etc.), at all times.
We understand the important role that independent businesses play in the community and the fact that they are the main driving forces of the economy. As such, during these difficult times, METRO Cash&Carry has stayed true to its business principles of supporting and promoting independent businesses. This year, for example, we organised the fifth edition of the Your Own Business Day event, aming to increase the visibility of different local businesses and give clients the opportunity to support their favourite restaurants or coffee shops or discover new ones and enjoy their special offers.
To what extent has the pandemic affected your business considering that you have high exposure on the hospitality sector, which has been hit hard by the restrictions?
The hospitality sector has been strongly affected by the crisis: turnovers have decreased significantly and a full recovery will most likely take about two years. However, the number of customers in this sector has remained constant for us.
We support our partners by providing our expertise as well as training courses in hospitality, considering that hotels and restaurants have been struggling with labour shortages. We also focus on the continuous development of our own labels dedicated to hospitality customers, such as the Metro Chef range, which was created precisely to make such businesses more efficient and optimise costs with higher quality products.
On the other hand, convenience stores have so far mostly benefitted from the changing retail environment, as consumption habits have changed and people have been shopping closer to home. We now have about 60,000 resellers, and the number continues to grow.
How has the coronavirus pandemic changed your company's approach to its customers?
First of all, we have taken all the essential safety measures to make sure that the virus is prevented from spreading around our shops and storage areas, but also inside our headquarters. We have also obtained the DEKRA certification, the standard for reliable locations, which testifies that our measures are in line with recommendations from the World Health Organization and local authorities. At the same time, we have made every effort to eliminate any bottlenecks in the supply chain and to be as efficient as possible in terms of logistics.
As for the ways in which we support our partners, we communicate with them as often as needed to confirm that we are in this together, that we are fully committed. We have put a lot of focus on digitalization and on giving them access to digital tools that can really help their activity, such as Mshop. The platform, which has been accessed by several thousand customers, allows them to place online orders and have them delivered within 24 hours from any METRO store. For restaurants specifically, we have also provided an online booking solution, as well as useful information on how to easily and efficiently transition to home deliveries.
What can you tell us about Metro's strategic plans for 2021?
We will continue to follow our ambitious development plans. The expansion of the LaDoiPasi network is one of our growth pillars, and we aim to reach 1,500 stores nationwide in 2021 and 2,000 by 2023. Improving logistics and delivery services and digital transformation are the other pillars. Our biggest achievement this year was finalizing the process of consolidating the distribution centers into a one roof concept. METRO Romania lease this one-roof platform in Stefanesti, a class A Plus energy efficient location valued at EUR 40 million that was built using the latest technologies and it helps us streamline operations and ensure the continuous flow of goods.
Last but not least, we will continue to invest in training for our employees as the evolution of every team member is essential in building a thriving company culture.
You were appointed Chief Executive Officer in the middle of the pandemic. What are the top issues you need to address during these difficult times as a CEO and as a leader in order to ensure the sustainable development of Metro's business as well as permanent engagement from employees?
I set very clear short- and long-term objectives from the very beginning, but the pandemic has indeed changed some of the priorities. The main challenge was and continues to be ensuring the safety of our clients and employees, so we rigorously check that all the anti-COVID measures are being implemented and followed at all levels.
Another challenge was switching to working from home and making sure that we maintain a normal, efficient workflow and that our employees remain engaged. In this regard, we do our best to communicate as often as possible, keeping everyone up to date. We have also been organising a series of interactive online teambuilding exercises so that people can still connect to each other. Of course, supporting our partners has also been both a challenge and priority. During these times, it is important for us to use all the tools and know-how at our disposal to help local businesses adapt and survive in the new normal.
You have extensive professional expertise both in the retail sector and abroad. How will you make use of it at Metro Romania?
I've been with the company for over 20 years now. I started my career here and during this time I've had the opportunity to learn how different layers of our business work. I've also had the chance to contribute to the business development of METRO Cash & Carry Ukraine. So now I can use all that experience and in-depth understanding of our company to further consolidate our position on the retail market, together with a great team.