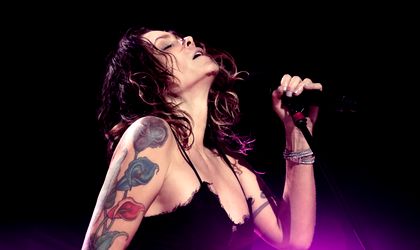 In a small resort situated in the historical region of Oltenia, where nature and music aficionados seem to perfectly synchronize, one of the greatest international voices, Beth Hart, returns with "High five Romania", a series of five live concerts in a row in Brezoi Summer Camp.
Beth Hart is that kind of artist who throws down her cards, shares her darkest secrets, and invites you to join her for the ride, in a musical journey that warms hearts. 
This year, Romania receives five live performances of hers in the small mountain resort of Brezoi, where for a while now happens Brezoi Summer Camp. If you didn't yet book the tickets, you still have the time: Beth Hart performs on August 12, 14, 18, 20, and 22 in the cozy, yet amazing atmosphere of Brezoi Summer Camp. 
You are one of the few international artists who is performing in Romania in these uncertain times. How was this pandemic period for you? 
Horrible, horrible. Take me an hour minimum to just this one question to list why and I'll just give you a few of the obvious. Millions of people were dying then. Millions more were denying that it even existed and calling it a hoax. And then in my country, the political divide was like never that I've seen anyway in my lifetime, so much so that I thought there was going to be a civil war, like seriously. Terrified that my husband was going to die. My mother was going to die. My dad was going to die. That my family, friends, the band. 
Of course, I was missing touring. That was not even the thing that was freaking us out. It was the whole world that was going to die. And then it was hopeful. When I saw people in my country and countries around the world marching in the name of equality, that did give me a lot of hope. So that made it better for a minute. But then it also made it sadder because for so long, we deny that that even is existing when it clearly is ridiculous. Since the beginning of time, it's like I don't know when we're going to get over that inequality thinking.
A lot of my anger, things I went to therapy for years and years. I felt like any of the help I ever got out it was like I never even did therapy. It was like I went back to feeling like a young teenager filled with anger, huge self-doubt, shame, confusion, no trust. So just an absolute bitch is what the pandemic was like for me. So there we go.
You say in interviews that your songs represent you and come from deep and emotional places of your heart. Did you feel that this pandemic made you even more vulnerable and sensible?
Absolutely, yes. However, I think because I was smoking so many cigarettes, drinking so much coffee, I was also taking a diet pill called phentermine and I made myself really manic. So I was writing a lot that I thought was good work and deep work. And then when I finally had to stop smoking and stop the diet pill because I was so manic, I had to for my own health, I realized that much of the work that I thought was good work was actually crap because I was in grandiosity. And then when I started to calm down, I started writing other things that I noticed were from a freer place, more open-minded, more experimental.
But lyrically, my usual in terms of going and talking about the subject matter, that's painful. And I think the reason why I have a history of always doing that is the whole reason why I ever went to the piano in the first place as a kid. It wasn't, "Oh, I want to be a famous star". One day it was because I want someone or something up there as the piano, God, whatever you want to call it, to help guide me and make me feel less afraid, make me feel comforted. And the only way I know how to seek comfort is to try and seek the truth, try and confess everything that I feel about myself and about the world that I wouldn't normally confess to someone because I wouldn't want them to judge me for it. But when I'm writing, I don't think about that. I just think it's a quiet and safe place. So I go there. 
I kind of like the idea of you're heartbroken when something like that happens in your work, but there can be a blessing in that. It forces you to find some other way to be creative. And also it's very humbling.
How it's like to be back touring internationally?
So we're not technically touring yet, what we are is we've shown up here in Romania, we've been at one hotel the first night we arrived, and then we were driven to the second hotel to begin our rehearsals with the band. And that has been the best. Oh, my God, it's been a reunion with my crew because I got to have a reunion with my band at home a few weeks back before we left to prepare for these rehearsals.
You return to Romania with a series of concerts, not just one performance. The festival is considered rather small, but the festival-goers are really into live music and this connection with nature. How is Summer Camp Brezoi for you?
But coming here, what's so wonderful to me about Eastern Europe and Romania is the people are very huggy, feely, kissy, touchy, and I am such a sap for that. I can't get enough of that. I love hugs and kisses and real hugs, where you can feel someone's heart beating out of their chest. You hug them so hard. And I feel like that happens here.
With someone with your career and background and taking into consideration the pause that everyone had to take due to the pandemic, what are your thoughts on the current landscape of the music industry?
I don't know. I only know from a few of my friends that tour and play a lot that everyone was thinking that maybe we wouldn't even be getting back to working for five years. Some people were saying maybe never again. So everything was kind of up in the air. 
So, of course, there were a lot of people fearing how are we going to make a living. How we are going to live without our friends that we're used to making music with. How we are going to be able to deal with not getting to be in the world and in traveling and getting the honor of visiting different cultures and playing music for different cultures. That's the best thing in the world about touring. You get to see that other people all over the world have totally different ways of believing in the gods. They believe in the food, the family, the way they interact. Everything about that. That is the gift of touring is the honor of getting to be with other cultures and having to say goodbye to that. That, I think, was for at least for myself and for some of the other people. I know that tour. That was very heartbreaking. 
However, on the other hand, necessity is the mother of invention. So like for myself, I started getting more involved in film and a desire to write for film. So, I kind of like the idea of you're heartbroken when something like that happens in your work, but there can be a blessing in that. It forces you to find some other way to be creative. And also it's very humbling.
You have been compared with the anger of Nina Simone, the bluster of Janis Joplin, and the hurt of Billie Holiday and Etta James. Can you imagine and describe a duet with all of them? What would you sing and why?
Well, first of all, I would never, ever in life do a duet with any of them because I would be terrified. I would vomit and then I would pass out. There's no way ever I would feel worthy of, let alone God, not singing with them. But I wouldn't even be able to shake their hand and say hello. I wouldn't I get way too starstruck. These are some of my many heroes. I'm way too neurotic and I have way too low self-worth to feel confident enough to even shake someone's hand. And I'll give you an example. I remember Scotty and I, we got to go and honor Buddy Guy at Kennedy Center Honors, which is this thing they do every year where the president comes for that. And it's a TV show and one of the dinners for the event, Bill Clinton was there. And my husband said, let's walk over and say hello to Bill Clinton. And I say, you're crazy. I say you can't go do that. He's our ex-president. You can't do that. And my husband, he's not cocky at all. He's just very down-to-earth and confident and lovely. And he walked right up to Bill Clinton and I was like hiding behind Scottie. And we talked to Bill Clinton and it was so cool. But I was just shivering. 
When I was younger, I used to really panic and think, "well, that's it, it's over. I can't write anymore and maybe I never really could write". And maybe that's why it's gone now. But as I got older, I began to see that writer's block is not the only natural, but it's necessary.
In one interview, you explained how was the process to take a break from writing. For all those artists who struggle, what's your advice?
I don't know why I said in an interview I took a break from writing. Maybe I was referring to writer's block because I never, ever, ever want to take a break from writing. I'm always wanting to write, but sometimes I get blocked. When I was younger, I used to really panic and think, "well, that's it, it's over. I can't write anymore and maybe I never really could write". And maybe that's why it's gone now. But as I got older, I began to see that writer's block is not the only natural, but it's necessary. And a friend of mine who's a wonderful writer named Rune Westberg, he explained it to me once. He said, "your well needs to be refilled". So when you're in the block, it's because your wealth of water has been depleted. So you need to have a little faith, a little humility, take a step back, get involved with something else, like go listen to other artists or get into gardening or go watch some really great films or just get out and be of service, go do some service work, get out and do something other and experience life and be affected by others.
And there's so much happening in the world as we know it all times. So allow yourself to get out of yourself and allow the world to refill your well and then the writer's block should pass and you'll have something to pull from. 
Another great way, though, from me and my experience when I have my own writer's block is to reach out to another writer and write with them, do a call-write and Rune is someone who I love to write with. And it seems like this guy never has writer's block. He's like, amazing.
Either get out and let the world refill you be humble, know that it's natural for the writer's block to take place. That's a nice thing to do. But trust that it's not gone. It will return. And if you have a project where your label's expecting you to have material turned in, you can try reaching out and working with other writers. And that can be very comforting, as well as a great opportunity to learn new ways of writing music, arrangements, lyrics, melodies, all that.
This interview with Beth Hart was facilitated by Chimcomplex, one of the official supporters of Brezoi Summer Camp 2021. Photo courtesy of Beth Hart's official Facebook Page.