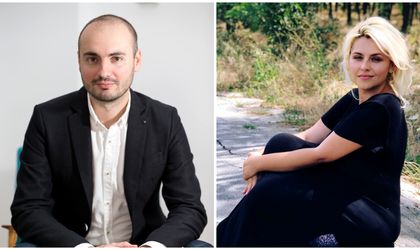 Bergenbier's Bogdan Jianu, Senior Brand Manager, and Elena Ion-Bălescu, Brand Manager, sat down with Business Review for an exclusive interview about the company's sustainability path, its recycling strategy, and the "Ziua Bradului Ovidiu" reforestation campaign.
By Anda Sebesi
Business Review: What does sustainability mean for the Bergenbier brand? 
Bogdan Jianu, Senior Brand Manager: For Bergenbier brand, sustainability has been a constant value for some years now. It is aligned with our company's vision and the CSR component of the brand has come naturally. We have incorporated the environmental element in our marketing campaigns since 2017 when together with NGO Plantam Fapte Bune, we planted approximately 150,000 pine trees, one of the biggest CSR actions from a beer producer. For us, sustainability means care, friendship, empathy for people, the planet, the environment, and responsible drinking. The Bergenbier brand promotes these values for our consumers through the campaigns that we are planning and executing.
BR: What can you tell us about the measures that Bergenbier took this year in terms of recycling packaging? 
Elena Ion-Bălescu, Brand Manager: As responsible brewers and friends of the environment, we have noticed that, in some cases, only the PET bottle ends up being recycled and not the cork, which unfortunately is thrown in household waste or ends up in green sites. We wanted to help prevent this and be one of the first producers aligned to the EU Directive of Single Use Plastic. The teams worked intensely to find a reliable solution: a type of PET bottle with an attached cap that will help the efficient recycling. It was a joint effort, of all teams, especially from our colleagues in the Ploiești Brewery. We are confident that, starting this year, together with our partners and consumers, we will take an important step in the direction of sustainability, in line with the company's business objectives.
BR: This summer Bergenbier launched the Ovidiu Fir campaign and this fall the company started to plant the first trees as part of this campaign. What can you tell us about this initiative and its impact for the community and environment?  
Elena Ion-Bălescu, Brand Manager: Indeed, this year Bergenbier launched the "Ziua Bradului Ovidiu" campaign, contributing to the repopulation of fir seedlings in Romania, succeeding in bringing to Ovidiu Fir tree the first friends promised in the summer promotional campaign. Through the planting action started in Bucium, Alba county, together with the association "Plantăm Fapte Bune", 5,000 spruce saplings were planted.
Bogdan Jianu, Senior Brand Manager: This is a continuation of the "Te răcorești și reîmpadurești" campaign started five years ago, which had the result of 150,000 fir saplings planted. With "Ziua Bradului Ovidiu", Bergenbier created a bridge between the everyday story of the consumer and the isolated fir tree in need of help from friends. By simply purchasing a Bergenbier beer, consumers are responsibly enjoying a cold-aged, filtered beer with naturally fermented CO2, and also supporting the brand's effort to bring more fir trees to the forest by actually planting the trees.
Elena Ion-Bălescu, Brand Manager: Bergenbier S.A. sustainability strategy is detailed at prieteniresponsabili.ro and our consumers can always check bergenbier.ro to find out about our brand's campaigns.