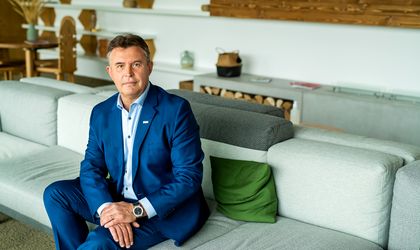 Bosch Romania managed to get through over the pandemic year with positive results, mitigating the short-term impact of the health crisis. The company's consolidated sales grew by 3 percent to RON 2.2 billion, while its employee count reached 8,160. Business Review talked to Mihai Boldijar, General Manager of Robert Bosch and Representative of the Bosch Group in Romania, to find out more about what the company did to overcome the crisis.
By Aurel Constantin
How did business develop for the Bosch Group in Romania in pandemic year 2020? What did the company do in response to the crisis?
Despite the pandemic's short and medium-term effects and the lack of predictability dominating the business environment, the Bosch Group achieved remarkable results in Romania. All our business segments have performed better than expected. Last year in March, when the lockdown began, we managed to rapidly mobilise all of our existing resources and developed several working scenarios designed to secure the continuity of business operations. As a first move, we enforced various preventive and protective measures that helped us safeguard both the physical and mental health of our employees and switched to remote working wherever the job description allowed it. In our manufacturing operations, measures were adapted to the nature of the activity. In terms of extra measures, we installed thermo-scanning gates at both our manufacturing sites and we shifted working schedules to avoid overcrowding. In mid-April, we decided to temporarily ramp down our local production activities and implemented the Kurzarbeit solution as well as the furlough scheme – a decision that helped us secure the jobs of all our colleagues and ensured a smooth and rapid return to business as usual. In the second half of 2020 we ramped up production, which helped boost the pace of our manufacturing operations and led to the creation of extra jobs. Today, I am happy to say that as a result of the remarkable efforts made by the entire organisation, the extraordinary commitment and resilience of our more than 8,000 colleagues, and also by virtue of the support and understanding of our business partners, we have succeeded in overcoming the immediate effects of the pandemic and ended 2020 with RON 2.2 billion (EUR 448 million) in consolidated sales and RON 6.8 billion (EUR 1.4 billion) in total net sales. Moreover, we remained committed to our plans and further consolidated our position in Romania by investing over RON 487 (roughly EUR 100 million) during 2020. This is the type of progress that gives us confidence for the current business year.
What are the main business drivers for Bosch in 2021? How will this year's expected economic growth help the company?
In these turbulent times, everyone is talking about change: in business, politics, society. For Bosch, change and evolution have always been omnipresent in all business segments. We see pursuing and embracing change as being not just about readjusting and recalibrating our core business, but also about transforming challenges into new business opportunities. In terms of climate change, for instance, our response has been to pursue carbon neutrality, and by the end of 2020, all 400 of our worldwide locations had become carbon neutral. There is still a long road ahead, but we are already harvesting upon our progress, while staying true to our beliefs and promises, providing lasting technological answers to environmental questions. The pandemic? Well, we saw molecular diagnostics as a growth area and it paid off. IT and AI? Our answer is industrial AIoT by Bosch. Connectivity, electrification, hydrogen, and alternative fuel-cells are the megatrends we're using to build our medium-long-term business case and they are acting as main business drivers for 2021 as well. Embracing change is what gives us stability, and as the economy slowly recovers, we will probably see the Bosch business on an upward trend once again. We will continue to focus on the megatrends of the moment, and on making the most of everything that comes out way.
Which are the most important strategic directions at the Bosch Group level? How is the push towards digitalization being applied in Romania?
We are making great strides here, but I find it relevant to highlight the fact that digitalization goes hand in hand with sustainability. In 2020, for example, Bosch sold some four million connected home products worldwide – household appliances, power tools, heating systems, and smart home devices. In Romania, too, the Consumer Goods business sector performed well last year, with the Bosch Power Tools division registering a double-digit growth on all product segments, and the Home Appliances segment (BSH) continuing the trend of recent years by also achieving double-digit growth in 2020, for both large and small domestic appliances. Moreover, in the Industrial Technology sector, Bosch Rexroth, is a reliable partner for energy efficiency projects, offering customers smart industrial solutions such as CytroBox, a compact hydraulic unit that can be easily integrated into connected manufacturing facilities and requires up to 80 percent less energy than conventional drives. Additionally, we're making good progress in digitalizing in-house operations and processes, starting with the HR department and going up to our Bosch Service Solution division in Timisoara, which is already running multiple programs in the realm of digital transformation, offering tailored software solutions using new technologies like Robotic Process Automation or artificial intelligence, which increase service quality and delivery efficiency. Needless to say, our factories have been using Industry 4.0 solutions for a while now. We're very fond of the connected life concept and I am convinced that with the help of AIoT, we are making our own mark on the digitalization megatrend.
Can you tell us about Bosch Romania's involvement in local education projects?
Bosch is actively involved in many education projects in Romania, and our aim is to support young talents in their career path and attract them into working with us. Our commitment to education is growing constantly and over time, we have managed to create strong liaisons between the company and several prestigious educational institutions, both at the higher education and pre-university levels. I would like to emphasise the achievements of last year, when the Cluj Engineering Centre and the Babes-Bolyai University in Cluj-Napoca launched a new Master's programme called "High performance computing and big data analysis," and our Blaj plant officially launched the Bosch Academy – a programme conducted in close collaboration with the University of Targu Mures, providing students with a wide perspective over the latest trends in the automotive industry. Likewise, our plants in Cluj and Blaj have both inaugurated some inspirational study areas within the campuses of the Technical University in Cluj-Napoca, the "1 Decembrie 1918" University of Alba Iulia, and the "George Emil Palade" University of Medicine, Pharmacy, Sciences and Technology from Targu Mures, while the plant in Cluj continues its long-term collaboration with the Technical University of Cluj-Napoca by equipping an Industry 4.0 laboratory and training qualified staff for the future of work. As for pre-university programmes, the dual school system continues to be greatly successful. Since 2013, about 500 high school apprentices have received market-oriented vocational education as part of the dual school programme we are conducting at our plants in Cluj and Blaj. On the other hand, we're looking closely into sciences like economics and related fields, and in this context our division in Timisoara, Bosch Service Solutions, recently launched the Controlling Academy, an intensive paid programme for Master's degree students in the fields of finance, management, accounting, and computer science.
Before the pandemic, Romania was dealing with a workforce shortage. What's the situation like today after so many things have changed?
Labour shortage continues to be one of Romania's greatest problems, but the context is wider than just the overall lack of personnel. We are talking about specialised and qualified workforce, professionals with skills which are suitable for different industry sectors. Regardless of the current situation and the fact that some companies have found themselves in the position of reducing staff, we're still seeing many young people leaving the country to pursue opportunities abroad. We're facing an exodus which I believe cannot be stopped unless large organisations and the public sector work together. What Bosch and other multinational companies are doing nowadays in the educational sphere, both in the university environment as well as in the pre-university cycles, has much to do with keeping talents in Romania and offering them decent jobs, with real opportunities for growth and development. We've managed to find a solution for the closing of vocational schools – one of the biggest obstacles to finding specialised workforce – through the dual school programme I mentioned earlier, and we've made significant investments to expand the project in both our Cluj and Blaj plants. Nevertheless, it is vital for authorities to get more involved.
How do you keep your employees motivated? Do you offer them specific benefit packages? How are all these benefits received?
In terms of employee engagement, I see trust and transparent communication as the most important incentives. The past year has proven that trust is something that works better when it is offered, not gained, and that the best way of successfully navigating through turbulent times is active communication. We trust our colleagues to work in the best interest of the organisation, and we rely on their judgement and decisions. On the emotional side, we truly want them to feel safe, motivated, and appreciated at their workplace, so we are constantly working to improve the benefits package we offer, adapting it to their current needs and requirements. Of course, their health and safety are top priorities and we've been very focused on these lately, from offering private healthcare subscriptions to all our employees even (before the pandemic) to the more recent opening of our own Bosch Medical Centre in Blaj and a COVID-19 vaccination centre in our Cluj plant, where all our colleagues working in the Cluj area were offered the vaccine, as part of a collaboration with local authorities.
Concern for the environment is still on the rise. What actions has Bosch taken in this regard and how do you intend to make the company and its products more sustainable and environmentally-friendly?
Bosch is pressing ahead with its climate action targets as planned, and I've already mentioned the fact that the company's more than 400 locations worldwide have achieved carbon neutrality. This was a major milestone for us and it turned Bosch into the first global industrial company whose locations no longer have a carbon footprint, and that includes our manufacturing sites in Romania. We also plan to cut 15 percent of CO2 emissions along our entire value chain, from suppliers to customers, by 2030. Compared to the level recorded in 2018, this goal represents a decrease of 67 million metric tonnes of carbon dioxide emissions. We are pioneers in sustainable manufacturing in Romania, too: we have already implemented a series of projects focusing on energy efficiency and energy consumption monitoring at our plants in Cluj and Blaj, replaced all lighting systems with LED technology, and we are now purchasing electricity from 100 percent renewable sources. Furthermore, the manufacturing unit in Blaj has recently started to produce its own green energy by installing several photovoltaic panels that actually generate an amount of green energy that's equivalent to the electricity consumption of 50 private homes.
Where do you see Bosch in 5 years? Which business sectors do you believe will experience major changes in the coming period?
We see Bosch bringing something unique to the table, as we are already able to combine broad domain knowledge with expertise in IoT and AI, and the result is AIoT. Connectivity provides knowledge about the way things are used, and if we use artificial intelligence methods to evaluate this knowledge, we can develop new features and services, which in turn multiply the benefits our products offer. This enables us to close the gap in the value creation cycle between our engineers' and our customers' daily lives. One way to look at it is that this daily life becomes a productive part of our development work. For example, in the future we will be able to use cloud algorithms to dynamically estimate an e-biker's arrival time based on empirical values rather than just on a static map. Using field data to develop additional customer benefits will become a core competence for Bosch, and our stated aim is making Bosch a leading AIoT company.