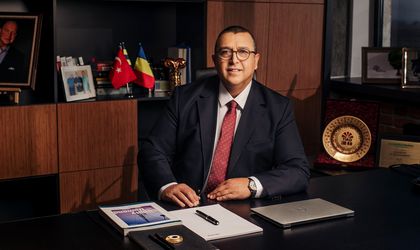 With investments in sustainable production worth over EUR 175 million in the last five years alone, Arctic has a strong commitment to a greener future. Murat Büyükerk, the CEO of Arctic, sat down with Business Review to talk about the company's vision on sustainability.
By Anda Sebesi
What is Arctic's outlook on sustainability?
Sustainability is a key component of our business strategy, as responsibility for the environment and for society rank among our top priorities. Arctic's mission is to democratise technology, investing in the development of energy-efficient products and environmentally friendly production methods. Equally, we are committed to giving back to society by creating positive change and supporting the communities we are part of.
What have been the company's most important investments in sustainability initiatives?  
Let me begin by saying that I love Romania. It is a very good place to live and do business and I am happy to have found here a friendly business environment, great resources, and dedicated, responsible people. I sincerely believe that the country has a huge potential to attract investments and become a leader in all sectors. Since I was appointed CEO in 2018, my team and I have managed to implement investments worth over EUR 175 million in sustainable production in Romania.
I am proud to have contributed to uncovering Romania's potential in terms of smart manufacturing with the construction of our washing machine factory in Ulmi, Dambovita, through an investment of over EUR 165 million. In recognition of its effective on-site sustainability measures, the plant in Ulmi has been awarded Sustainability Lighthouse status by the World Economic Forum one of the few of its kind in Europe. Thanks to the advanced systems it integrates and the efforts we've made, energy consumption per product decreased on average per year by 17 percent, that of water by 25 percent, and Domain 1 and 2 greenhouse gas emissions by 22 percent, in line with the Arçelik Group's environmental objectives. 70 percent of the water used in the production process is recycled and reused, thanks to a state-of-the-art treatment plant. The factory uses 100 percent green electricity, while the factory's "digital twin" model automatically adjusts lighting and optimises cooling and heating systems.
We have also invested more than EUR 13 million in the modernisation of the Gaesti factory, with investments aimed at increasing efficiency through digitalization, particularly by increasing the degree of automation and improving quality control. Arctic also opened a regional parts hub in Arges County that currently serves more than 70 countries. From our point of view, Romania has a strategic role at the intersection of three large markets, which makes it ideal both as a production hub and as a centre for coordinating logistics activities.
How important is it to educate consumers on sustainability issues?
The power we have as a business community to inspire behavioural changes represents a huge responsibility, and we must rise to the challenge. The newly launched Arctic Foundation aims to actively contribute to the creation of a sustainable Romania by raising awareness on sustainable development and launching dedicated educational programmes. We have implemented our first project, ,,Reshaping the Romanian Pride" campaign, with a focus on offering affordable alternatives to some problematic and widespread consumer behaviours. We've implemented numerous sustainability-related projects inside the company as well, from training sessions during new employee induction to team volunteering activities.