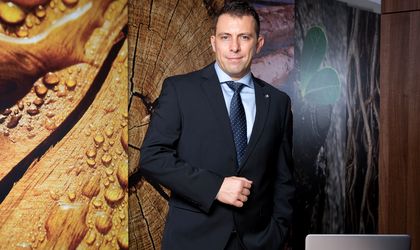 Andrei Hostiuc, Deputy General Manager at Apa Nova Bucuresti, a Veolia company, sat down with BR to discuss the company's approach to sustainability and how it intends to become the benchmark organisation for ecological transformation in order to assure a sustainable future for the coming generations.
By Anda Sebesi
What is Veolia's purpose and how is it reflected in its business practices?
Veolia's Purpose has been conceived as a long-term vision and it is more than just a statement. It is a compass that helps us stay on the right path, a balanced and shared approach to continuous improvement that aims to benefit all stakeholders, based on the fundamental approach around sustainability and its utility for the planet, society, and future generations. Our Purpose is being implemented through the Impact 2023 strategic programme, guided by a vision of multidimensional performance, with the ambition of turning Veolia into the benchmark company in the field of ecological transformation.
Veolia has made a public commitment to give the same level of attention to all dimensions of its performance: economic and financial, commercial, human resources, social, and environmental—with the stated priority of seeking a balance and the maximum positive impact for each of these dimensions, which form a whole. It is difficult to balance out the impact of the different dimensions of the Group's performance, but it's more relevant than ever in today's world. This is our ambition.
Our Purpose is a path to excellence. This requires each of us to be coherent and transparent: coherent in our decision-making, aligned with the company's official strategy, and transparent in the way we publicly report on our actions and performance, but also on the challenges we face.
How many of the Sustainable Development Goals does Veolia address, and how?
Our strategic programme, Impact 2023, is built around multidimensional performance. We have defined objectives for each performance dimension, to reach a total of 18. These objectives are aligned with the 17 Sustainable Goals defined by the UN, directly impacting 13 of them. Impact 2023 is being implemented through multi-annual action plans, which also include financial and resources components. All investments and new projects are analysed in terms of their impact on our multidimensional performance commitment and thus on their contribution to the sustainable development goals as well.
What does ecological transformation mean for Veolia?
It means decisive structural choices and solutions that make ecological transformation possible, leading to the resourcing, reuse, and reduction of natural resources. We also intend to be a more an important player in the local resource loops. As a world leader in natural resource management, Veolia has the capacity and expertise to provide the solutions needed to meet the challenges of our times. On the journey to becoming the benchmark organisation for ecological transformation, our company is committed to accelerating the implementation of existing projects while generating tomorrow's solutions.
We strive to adapt our production and consumption patterns to environmental rigors by placing ecology at the core of every process, assessment or decision. This is the only way we can develop revolutionary, coherent solutions that are capable of mediating environmental impact with the help¬¬ and to the benefit of stakeholders, from employees and partners to local authorities, producers, and the civil society.
Reducing the environmental footprint of all our activities and creating the proper conditions for the preservation and restoration of biodiversity are integral parts of Veolia's strategic plan to restore the balance of natural resources and achieve sustainability by 2023.
What can you tell us about Veolia's mission to become a champion of ecological transformation?
Our mission means providing our public and private customers worldwide with long-term win-win innovative solutions that facilitate access to essential services and natural resources and efficiently resource, reduce, and reuse those natural resources. The improvement of our environmental footprint—as well as that of our customers—is central to our business model.
For Veolia, becoming a benchmark organisation for ecological transformation also means going beyond having a lower negative impact, particularly in terms of carbon. As a key player in climate change mitigation, the company also helps cities and industries adapt to the consequences of climate change (identifying water stress risks, recycling water to limit pressure on resources, etc.). Two KPIs related to greenhouse gas emissions (GHG) have been selected to measure performance: emission reduction—through the progress of its investment plan to gradually eliminate coal in Europe—and emission avoidance. Our goal is to reduce GHG emissions by 15 million tonnes of CO2 worldwide by 2030.
How important do you think it is for Romania to adopt a circular economy model? 
According to the latest public information, the European Commission's third assessment of the implementation of environmental legislation among the Member States put Romania in last place, so the adoption of the circular model in Romania is necessary at this point. In my opinion, there is good potential for the embodiment of circularity in the Romanian economy in the following years, especially considering the EU regulations in the field. Therefore, we strongly encourage the establishment of local circular economy loops that will strengthen supply chains and bring positive results in terms of the use of natural resources.
What are some of Veolia's circular economy solutions?
We implement nature-inspired programmes that are based on bio-indicators, green infrastructure or green management and have the potential to raise awareness among employees, customers, decision-makers, and communities about the company's activities and how they can be adapted to protect the environment.
In terms of new ways of building the green economy, another approach integrated by the Group relates to increasing our capacity to supply high-quality secondary raw materials that meet producers' needs and to generating energy from renewable fuels or incinerating waste. Our solutions include making beer from wastewater, making energy from coffee grounds, recycling plastic from the food industry, transforming wastewater into potable water, and producing energy from biomass or sludge.
Water is a limited and indispensable natural resource. How is Veolia involved in protecting it? 
Our business is fundamentally linked to the environment, and protecting it remains our top priority. We have always been committed to minimising the environmental impact of our activities by developing new technologies and providing examples of best practices, staying true to our values through actions that protect nature.
Locally, in order to protect this vital, exhaustible resource and to maintain the sustainability of its services, Apa Nova, a Veolia company, has substantially reduced consumption in the drinking water collection, production, transport, and distribution processes, as well as in the collection, transport, and treatment of wastewater and stormwater since taking over the concession. Specifically, we have reduced the amount of raw water extracted and consumed from natural resources by more than 63 percent since 2001. This means we have avoided the waste of more than 124 million litres of water.
What are Veolia's plans in Romania?
As far as our local entities are concerned, we are focusing on the company's development in both operational and financial terms, with clear objectives: streamlining, reinventing, and consolidating traditional activities, designing and developing innovative solutions, and anticipating tomorrow's essential needs.
About Andrei Hostiuc, Deputy General Manager at Apa Nova, a Veolia company
He joined Apa Nova in 2009 and currently coordinates the activity of the company's teams to ensure rigorous compliance with the 23 Service Levels stipulated by the Concession Contract and to pursue strategic sustainable urban development projects.