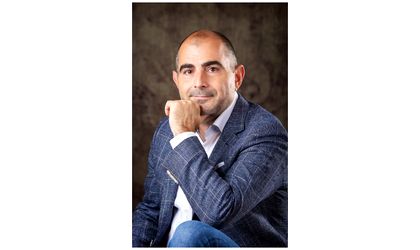 METAMINDS, one of the main integrators in Romania of IT&C solutions and security for infrastructures and applications, recently announced that the financial results of 2022 exceeded estimates and the company is still expected to grow even further in 2023. To find out more about the story of the Romanian company established in 2015, we sat down with Andrei Cruceru, co-founder & President of the Board of METAMINDS.
How would you describe the development of the Romanian cyber security market in recent years and what are the prospects for 2023?
Let me start by quoting an official EU document stating that cyber-attacks "besides being among the fastest-growing form of crime worldwide, are also growing in scale, cost, and sophistication."
For businesses that want to thrive in a global digital economy, this translates into increased additional risk and, so, they should prioritise securing the resilience of their digital infrastructures and services. No wonder then, that in the 2022 Gartner Board of Directors Survey, 88% of board members classified cybersecurity as a business risk.
This would explain why, if we speak in terms of revenue the market is expected to generate in Romania – according to Statista – "the Cybersecurity market is projected to reach US$161.00m in 2023", showing a constant increase against previous years and expected to reach US$273.40m by 2027, according to the same source.
For Romania specifically, there is considerable growth potential for the market, coming from the Public/ Government sector, where we have seen an acceleration of major EU-funded digitalization projects aimed at upgrading or creating resilient digital infrastructures for public infrastructures and services.
Additionally, the new Network and Information Security (NIS) Directive (the NIS2), effective this January 2023, has expanded its scope of application with more stringent legal requirements for organizations.
This will lead, I think, to increased demand from the B2B and B2G sector for cyber security services and solutions in the following years.
Where is Romania in terms of cyber security, compared to other European states?
There's no clear line separating cybersecurity from other IT&C areas of expertise. We know this, maybe best, as expert integrators of complex IT infrastructures and security solutions. It's essential that we all look at it as part of an ecosystem encompassing everything digital for a country's society and economy.
And from this perspective, in a highly digital global economy, Romania lags far behind competitive countries, including the resilience of some of its infrastructures and services. While we have the most IT specialists per capita in the world and one of the highest internet speeds, we rank last in Europe in terms of what means to be a digital economy and society (DESI) – digital public services, adoption of digital technology and digital infrastructures, digital skills or Internet use.
Even more aggravating, perhaps, is that we haven't seen any significant improvement. For the past years, Romania has ranked among the worst performing EU countries according to the last DESI report, for all digital progress indicators mentioned above.
But on the positive side, we have a lot of room to grow, to use the most advanced technology solutions and expertise on the market to make a change for the better in Romania. Unfortunately, from a human capital perspective, we are faced with an acute shortage of expertise in both Romania and the EU. (In key areas such as cybersecurity or data analysis, there are constantly hundreds of thousands of hard-to-fill vacancies. – The 2022 DESI report).
This is a challenge that companies like METAMINDS can address for someone wanting to build a solid career in this field.
The best place to become an expert is in companies such as METAMINDS  – we have some of the best experts in the country and in Europe, working in some of the most complex projects for critical national infrastructures.
Are Romanian companies and state institutions more exposed to cyber-attacks considering the proximity to Ukraine?
The recent conflict on the Ukrainian territory is only one type of cyber threat. The stakes and the case for resilient and secure digital infrastructures is much larger than that.
The world will continue to evolve around technology. Our lifestyle as individuals and the long-term evolution of the society and organizations depend on how we integrate and use technologies in a safe and sustainable way.
As I was saying in an interview in December last year, states and organizations of all types and sizes – private and public – need to include the security of their data and digital infrastructures into the long term strategic plans. That is because their mere existence has technology built into their DNA as organizations of the future.
And, while cyberwarfare has been front center since the war started, the most frequent cyber threats are still linked to ransomware, malware, social engineering and threats against data (ENISA, 2022). METAMINDS has some of the top expertise and solutions for this type of challenges. We never had a vulnerability problem with any of our national projects in critical infrastructures so far.
What are the main solutions available to companies to protect themselves against cyber-attacks? To what extent do cyber security solutions manage to keep up with the accelerated development of technology, but also with the number of cyber attacks that are more and more complex?
Technologies or practices by themselves are neither good or bad. In itself, cyber security is a set of technologies, processes, and good practices meant to protect. Cyber expertise can be put to good or bad use. It essentially depends on what you do with it. Artificial Intelligence, for instance, has become a cyberthreat when put to use for disinformation and deepfakes.
METAMINDS provides the expertise and the tech solutions to design, implement and support advanced infrastructure solutions with a clear focus on securing the operational environment. So, stability and security are and will continue to be core to what we do for organizations.
How did the activity of METAMINDS evolve last year and what are your estimates for the current year?
We have a solid business that has constantly adapted to market challenges. We have learned to be flexible both from a commercial standpoint and from a technical approach to our client projects.
Despite a rather complex and volatile international backdrop, METAMINDS continues to be very well positioned to meet market and customer needs effectively and efficiently, while keeping a positive outlook on our sustainable growth objectives.
We will issue a financial report soon that will confirm we have exceeded our financial predictions and that will help us support our development plan with a new business line.
The Cyber security industry is projected to grow given the higher number of cyber attacks. How did the business strategy of METAMINDS change to meet the market needs in this new context?
Scalable structures and security are part of our DNA and embedded within the client projects since day one. METAMINDS has a vast experience in orchestrating IT architectures and cyber security solutions with the latest technologies in the industry. Since our inception in 2015, our technology partners have constantly awarded our industry achievements for complex national projects.
That's why we also decided to transition to a more flexible and efficient management structure. As a result, we have redefined our corporate governance model, to attract investment that will support our development plans. Aimed at accommodating a growing number of customers and the company's plan to set up new business lines, the new management structure includes a non-executive Supervisory Board and an Executive Board of Directors.
I will be presiding over the Board of Directors and oversee the company's sales activity on a daily basis.
The expertise of the Board of Directors will translate into enhanced-quality services and results. As always, we are very well positioned to respond swiftly and efficiently to our customers' needs at global industry standards, as well as to scale up our development plans and support the diversification of our business lines.