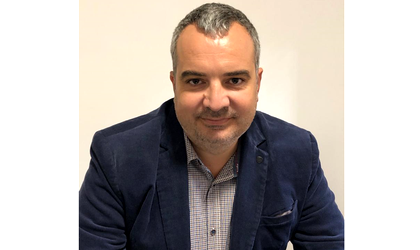 Business Review sat down for an exclusive interview with Andrei Cantaragiu, CEO City Garden Development, to talk about his company's latest residential project, Bonton Luxury Villas Pipera, but also about the recent evolution and future trends of the luxury residential market.
Your residential project, Bonton Luxury Villas Pipera, recently started its second phase of development; how was this project born in the first place and how would you describe the initial phase of development?
City Garden Development has over 10 years of experience on the Romanian real estate market. Over the years, we have developed several residential projects located in the central area of Bucharest and in the Pipera – Voluntari area, such as City Garden Pipera, 21 Downtown, Apollo D'Or.
The Bonton Luxury Villas project was conceptualized to address the needs of people looking for a premium home and an investment opportunity. It features 66 modern and well-designed units in an exclusive community that will provide all family members with everything they need within a walking distance – a gym, swimming pool, 900ha of forest, and the best schools.
The first phase of the project consists of 36 luxury houses and a private club equipped with a swimming pool and a fitness area. About 65% of this phase is currently contracted. Last year we sold more than a villa per month, which was a very good result.
What are your objectives for the second phase of development?
The second phase of development, consisting of 30 villas, was launched in February. Our objective is to complete the entire phase by the end of 2022. At the moment we are in the pre-sales stage, that is selling before the houses are completed. This offers potential clients the possibility to contract a unit at a 10% discount compared to the final price.
Northern Bucharest has seen in recent years a few other luxury residential projects developed; what makes Bonton Luxury Villas stand out?
The Bonton Luxury Villas project has a few unique features that stand out on the luxury residential market. The exclusive compound offers some of the largest homes available on the market, designed to accommodate the needs of extended families (kids, grandparents, live-in nannies, pets).
A two-storey luxury villa has a total area of 353 – 442 sqm including up to 7 rooms, a living and dining area, 4 bathrooms, and 6 dressing rooms, along with ground floor gardens and generous terraces. In addition, buyers have the option to install an interior elevator, which is an exclusive feature available on the housing market.
Furthermore, the project benefits from an excellent location, in close vicinity of the best international schools (only 200 m from the American School) and nearby Băneasa Forest, one of the most attractive leisure areas for families.
At the same time, residents have quick access to shopping centers such as Băneasa Shopping City, to Pipera, Voluntari, and Aurel Vlaicu office areas, as well as to the center of the capital and Henri Coandă International Airport.
Did you notice a change in Romanians' buying preferences in recent years when it comes to residential properties?
There has been a change in Romanians' buying preferences when it comes to residential properties. Clients are now more educated and demanding about their standard of living. They are willing to invest in a more spacious home that also offers them extra amenities such as a garden or a home office. While before the pandemic few people wanted to buy a house, the demand for houses has grown by a third in the last two years and I believe this trend will continue to increase.
What was your biggest challenge in this project?
Our biggest challenge is to manage the problem of building materials and energy prices without passing on the costs into the final prices and without delaying the delivery terms.
We have been dealing with these challenges since last year, but the war in Ukraine has aggravated them. In recent months the prices for iron, concrete, and other building materials have spiked, and available stocks are decreasing. As a result, we are considering a price increase for the villas of the second phase, as the materials we use are of the highest quality.
What are your thoughts about the evolution of the luxury residential market in 2022 and in the future years?
The political and economic challenges amid the war in Ukraine indirectly affect the luxury residential market. Many developers have put on hold new investments due to uncertainties related to building material costs and supply chain disruptions. Also, in the first quarter of the year, we had several clients that decided to postpone their transactions even though they had the money to make the purchase.
Despite the current situation, I believe the luxury residential market will maintain its growth trend, but at a more moderate pace compared to 2021. The interest in high-end residential properties remains high. Furthermore, many people are looking for alternatives to protect their savings from the market volatility, and real estate is a profitable and safe investment. Around 40% of our clients are investors who will earn an 8% annual yield from renting a villa in the compound.
Most real estate developments these days have a strong focus on sustainability; how did you approach this at Bonton Luxury Villas?
The Bonton luxury villas are built according to the principles of a passive house, which is an international standard for sustainable architecture. The structural walls are made of reinforced concrete with a 15 cm layer of expanded polystyrene, which provides good thermal insulation. In addition, the high – quality aluminium and glass windows limit heat loss. The underfloor heating ensures even heat distribution, and each room is equipped with a thermostat, which allows the temperature to be adjusted. Due to these sustainable solutions, our residents can reduce their energy consumption by 15%.