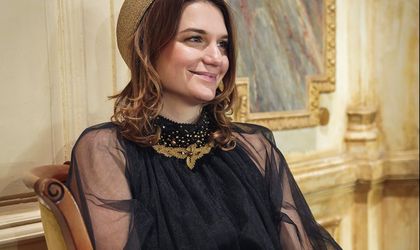 If you use Instagram, you may already be aware of the @aiciastat project. Ana Rubeli is an actuary who is passionate about stories and dedicated to promoting culture, history, and heritage through this project. Business Review went behind the scenes with her to find out more.
Who is Ana Rubeli and what is "Aici a stat" for those who don't know about the project?
My corporate job has only stirred my passion for discoveries. I am an actuary seeking to calculate probabilities and find the expected value of buildings and lives as a whole. The mathematics behind my actuarial knowledge can go hand-in-hand with the mathematics behind historical buildings and heritage.
I was eager to find out and minimise the probability that our national heritage would perish, would disappear. And this opened up a whole new universe: my personality as a cultural storyteller. I have studied three majors and got two Master's degrees: Actuarial Sciences in the Netherlands and Heritage in Romania. 13 years ago, I studied Communication and Finance. Very indecisive, aren't I? This is why I work with possibilities and probabilities.
My corporate life has led me to a wonderful journey of leading a team of more than 80 actuaries and consultants in the services industry. During my two maternity leave periods, I found my second (complementary) workplace: the street, the city as a whole. I love wandering the streets and learning the unknown stories of historical buildings. I like the fact that I can document my discoveries while I'm walking around with my children. It was especially easy when they were babies, and now we adapt the rhythm and the places depending on their preferences as well.
Unfortunately, Bucharest has suffered a lot, especially during the communist decades. My utmost pleasure is uncovering the beauty beyond decay that lays at every corner. That's why I have embarked on a mission via #Aiciastat: to restore the emotional connection between the city's inhabitants and its ruined but beautiful buildings.
How did your social media heritage project start?
The project started out of curiosity. Ever since I can remember, I have constantly asked myself "why," "what is actually going on here," "where does this thing come from." So, a whole new world was generated by answering this simple question: "what kinds of stories might be laying around, hidden behind the walls or surfaces of heritage buildings?" I used to write long stories about places I had visited or about landmarks and destinations on my personal account, and I was happy to see the multitude of reactions: my friends encouraged me to continue. I wanted to create a separate identity, an alter ego, where historical buildings, the people who built them, who loved them, their architects, their constructors would become "rockstars." And this is how #Aiciastat started to come to life.
What were your expectations when you started Aici a stat, and how did they evolve over time?
My expectation was purely to create an alter ego, and I thought that only my friends and inner circle would read my posts, which are usually lengthy, factual, and historical. I had no idea that it would become the phenomenon it is today: being read by more than 40,000 followers and generating cultural dialogue.
As soon as my account grew, I started to feel a lot more responsibility on my shoulders, striving to bring more added value, to improve my photography skills and my research. I have decided to get a Master's degree in heritage and cultural resources at the Bucharest University and put more resources into my journey of promoting Romanian heritage. I have seen the real effect and impact of my posts: I am being told that people visit the museums that I recommend, that 6 people have actually enrolled in the Heritage degree I pursued myself, that some are reading the books I've suggested, and that others are creating heritage-related pages on social media.
The nicest testimonials I hear are about the passion my posts uncover: the passion to admire old buildings, to look around for valuable decorations behind a rotten façade, to respect our city more. Some have told me: "you are an influencer!"—and while initially feeling a tremendous pressure, I am now very pleased that #Aiciastat has became a cultural generator and I hope to grow it even more in the future.
And after the beautiful online story of #Aiciastat, I have decided to also take it "offline" and founded a cultural NGO in order to be able to create projects with more impact. I have a lovely team of volunteers, I have started organising architectural treasure hunts, classical music events in historical places, and heritage tours, and I hope to engage more individuals in this quest to promote our heritage.
Did you aleways have an interest for cultural heritage? 
I remember my very first trip outside of Romania in my childhood, at Ephesus in Turkey, where I devoted 5 Kodak films to "bare rocks," as my mother called it, a bit disappointed: "Rocks, rocks, rocks. Were you alone? Why am I not seeing any other people or other interesting things?" Looking back, I would say this experience and my films full of ruins were the earliest signs of #Aiciastat—or at least of my desire to explore, live, and tell stories about heritage.
In more recent times, I can talk about October 2018, when I took a beautiful trip around the vineyards and villages in Vrancea, near Focsani, to discover a monography of Costesti village, which provides very few indications about the former mansion of a famous writer, Duiliu Zamfirescu.
As #Aiciastat had been simmering in my mind for quite some time already, I decided to make this into the first story for social media. It took 3 hours and 5 car scratches, give or take, to find the mansion after following the brief clues in that lovely monography. Initially, we discovered a stunning abandoned mansion surrounded by vines, beautifully lit by the October afternoon light, and I believed I had nailed it. However, asking a few villagers cooled off my enthusiasm: that was only the home of a so-called "Matasaru boyar, a kind man," chased off by the communist regime and the nationalisation of the 1940s. The delicate nature of the scenery and the nostalgia of this chronicle made me change my mind: this was going to be my first story on #Aiciastat. The goal of talking about lesser-known heritage artifacts was nailed down. We did also find Duiliu Zamfirescu's place in the end, which became my second story. Since then, the heritage world unfolded with #Aiciastat posts about the people who lived in different places and their life stories.
Are there any other similar initiatives on social media? Who else should we follow?
Yes, there are a number of similar initiatives. Some are focused on history and the stories of buildings, while others present beautiful images that create awe and emotion around heritage buildings. For example, I recommend following @cronicaridigitali, @fadinggems, @istoriaperazatoare, @dela.sat, @ileanapartenie, @itinerar.bucurestean, @constanta_veche. I also like aggregators of photographs from other content creators, such as @romania or @bucovina_mea_frumoasa.
How do you conduct research for your page? 
For some historical buildings, I go the National Archives or the Municipal Archives to carry out extensive primary research, while for others I use books from my large collection (of which I am very proud: more than 5,200 volumes, including three huge shelves dedicated to history, architecture, and heritage). If I don't have enough time, I use credible online sources. I always use more than one source and try to back up my posts with relevant information, citing the sources (as none are infallible).
Why is it important to know the history of these buildings?
I believe one cannot save what one does not understand. Romanian heritage is in deep need of saving, but there are very few people who care about it. In order to care, you need to understand it, to create an emotional bond with it. And one way to create this emotional link is through stories. People are curious: who built this house, why does it look like this, when did this happen, what did daily life look like back then, who loved whom in this house, what did they eat, what did they wear, what did they like or dislike. I try to stir up this curiosity by investigating the stories beyond heritage facades, hoping to make people appreciate historical houses beyond the value of the land that they occupy.
How do you select the buildings that you present on your page? 
When we talk about built heritage, we have in mind three aspects of value: historical (how many years has this house, wall, ruin, church, etc. been around), architectural, and memorial-symbolical. I tend to tackle the third aspect more than the others. A building becomes famous due to the value one attaches to it and the feelings it provokes. First, I started writing about lesser-known buildings with famous owners, in order to challenge the public to explore more. Later on, my community asked me to also write about more famous buildings (e.g. the royal palace, the athenaeum, etc.). Nowadays, I am quite "selfish," if I may: I choose buildings that get my attention when I come across them. If I feel awe, somebody else may feel it as well, right? In a nutshell, I select the buildings quite randomly, often influenced by my own carpe diem.
 

View this post on Instagram

 
How many buildings/histories have you collected since the beginning of the project?
I have documented approximately 700 stories: some on a general (or I might call it "macro") level, tackling cities or larger heritage areas, while others were dedicated to particular buildings or people who inhabited them. I have a special place in my pocket (pun intended) for micro-stories, where I talk about various ornaments on buildings, a specific wooden frame of a window or even a terracotta apotropaic figure guarding the entrance of a special house.
Do you have one particular story that impressed you more than others?
Since I tend to live in the present moment—for the past, luckily, I have my archive—, the stories that impress me most are the recent ones. "Recency bias"—don't we all suffer from it? However, one of the stories that truly impressed me was related to Monica Lovinescu and her apartment in a block of flats on Kogalniceanu Avenue. In fact, this year is Monica Lovinescu's centenary, therefore the impact of stepping into her apartment (and her father's) at the beginning of this year was very powerful. After reading her journal, I acknowledged the importance of her work at the Free Europe radio station; I felt numbness and despair, while also feeling hope and joy about the fact that there were a few people (including Monica and her husband, Virgil Ierunca) who made their voices heard from behind the iron curtain. I believe her books, and her entire heritage, are essential for our culture and for the younger generation.
It seems like it's quite a trend to present old buildings/heritage projects on social media. What are some dos and don'ts in your view? 
I love the fact that posting buildings and talking about heritage has become "a thing" on social media. It was actually one of my goals upon starting #Aiciastat: to generate a cultural dialogue around heritage and its value and importance to us, the inhabitants of a fragile city.
In terms of dos, I would say the sky is the limit—creativity is key on social media and we should all let ourselves (and our imagination) wander around every corner of historical buildings. In terms of don'ts, I have three pieces of advice:
Don't copy what you see others doing; try to bring a fresh perspective in order to bring value to our hyper-saturated social media feeds;
Don't use heritage only as ornament, as background;
Don't (only) take information from Wikipedia; try to find new, fresh sources.
We will all have a lot to gain from these initiatives, and so will our heritage and culture.