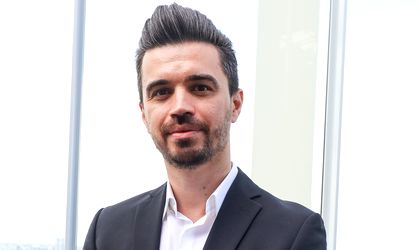 Alexandru Nen, IoT solutions and smart city architect at Telekom Romania tells Business Review about the company's involvement in smart city solutions and explains why Telekom decided to invest in the development of an infrastructure for electric vehicle charging.
By Anda Sebesi
As a telecom player, what is the reason behind your decision to invest in the development of an infrastructure for electric vehicle charging?
Telekom Romania offers its customers and civil society benefits and services that go beyond the area of traditional telecommunications products that add value to their business thus transforming the company from a player on the telecommunications market into an integrator of ICT solutions. At Telekom, customers can find, in one place, all the systems they need for their companies. These solutions are aimed at customers who want to optimize costs for their business, increase the security of monitored objectives or reduce the effects of pollution.
At the same time, as a technology integrator, Telekom aims to support all companies in the continuous understanding of the tools they have at their disposal, in accessing and using them.
The Smart City Solutions is a strategic business development direction for the Deutsche Telekom Group with Electric Vehicle Charging Solutions playing a very important role in the Portfolio. We are acting as a solution provider for this type of projects.
Electric Vehicle Charging is an integral part of the growing e-mobility value chain, and can further enhance local and regional mobility concepts. To enable interregional mobility without "range anxiety", it is essential to develop not only a local but also a regional and nationwide network of EVC. Implementing a convenient EVC infrastructure will furthermore expand the use of electric vehicles in a city. This, in turn, helps a city reduce its carbon footprint while helping policymakers and authorities pursue environmental protection goals with traceable information.
What is the novelty that you bring throughout this investment/project?
Electric Vehicle charging (EV charging) from Telekom offers a smart and comprehensive solution for all cities and regions that would like to set up and operate a charging infrastructure. Telekom takes over the planning and construction of the highly modern charging infrastructure systems as well as the associated electric installation and maintenance. A software for the operation of charging stations and for end-user management is included in the scope of services.
We bring the expertise of the implementation of many EV Charging projects across the entire Deutsche Telekom footprint from small communities to major cities with the use of various technologies on the European Market best fit to the specific use cases.
What are other smart city projects /solutions that you developed in Romania?
We have several smart city projects implemented or currently in the implementation phase:
Energy Efficiency: Smart Lighting, Solar Power Energy;
Public Safety and Data Collection: Smart Video Surveillance;
Urban Mobility: Smart Parking;
Waste Management
Urban Area Revitalization: Smart Public Furniture – Benches, Trees
Smart Public Administration
And we are looking to expand even further with additional solutions in the Energy Efficiency, Urban Mobility, Smart Public Administration Projects.