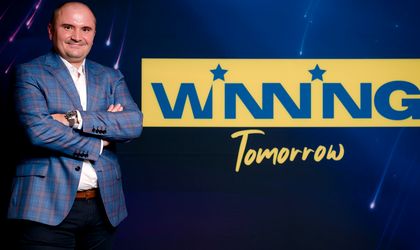 The resilience of retail business models or concepts amid different crises might be what makes the difference between success and failure in the future, as uncertainty could be the keyword for both the business environment and society. From this point of view, Adrian Ariciu, CEO at Metro Romania, says that a customer-centric approach—a business model that Metro has adopted too—,which focuses on customers' needs and expectations, is crisis-resistant.
In an exclusive BR Interview, Adrian Ariciu also talked about the expansion of LaDoiPasi franchise network, Metro's accelerated digitalisation process, and how Metro and the local retail market have fared in 2021.
How did the Romanian retail was this year and how was this registered in sales?
By December 2020, only a small number of companies had regained or almost regained their February 2020 sales levels. With the reinforced isolation measures in early 2021, this trend was partially reversed. Most of the recovery has been regained as time passed. The slight increase in sales this year has led to a somewhat stable level for Romania. METRO ended 2020, the year marked by the Covid-19 pandemic, with a turnover of 6.1 billion lei, 5% higher than in 2019.
In my view, wholesale thrives when there is passion, competence and trust, plus reliable cooperation. As a company, you can only succeed if you act with the same passion as when you entered the market. For the METRO team, this year, despite its difficulties, has registered an increase in almost all levels. For example, the LaDoiPași franchise network, developed by METRO, continued to expand at a rapid pace, reaching 1.700 stores nationwide. Thus, it is currently positioned as the largest network of independent stores in Romania, with the aim of reaching 2.000 stores by 2023. This increase also came as a result of convenience retailing development, which has generated good figures, especially during this period, when people preferred to do most of their shopping very close to their homes.
How did the consumption behavior of buyers change during this period? Has the behavior been maintained since the beginning of the pandemic?
Our business model is customer-centric, focused on customer needs and expectations. Indeed, there are different dynamics depending on the type of consumer, but we believe that in the current context our business model is crisis-resistant, because it is based on simple things. From competitive prices to ensuring permanent availability of products. These simple things, which seem trivial, work best in crises. That's why I'm confident in our business model, which has proven to be successful in a difficult context. Not only in Romania in times of crisis, but also in other countries.
As a key driver of retail transformation over the past decade, e-commerce is already growing rapidly and is more visible than ever. With the Covid-19 pandemic which accelerated the digital transformation of the market, our company has influenced changes in consumer shopping behaviors, changes which I believe will become a habit or more precisely the new normal. Among the digital services METRO offers to its customers, I can mention DISH and DISH ORDER apps for HoReCa businesses, Mshop platform for order and delivery services, or METRO App that helps any professional customer to manage their shopping list or invoices much more efficiently.
Almost in all retail categories, consumers are making more online purchases than before the pandemic. This has forced retailers to quickly rethink the way they operate. What we are seeing on the Romanian market now is already a transition for some players to models like "buy online and pick up in store".
How hard/easy is it to "keep" the customer in the store nowadays, given the economic uncertainty generated by the coronavirus pandemic but also the internal developments of economic and political instability?
Customers may be quarantined or isolated, but that doesn't mean we can not stay connected with them and continue to provide excellent services. We've all realized by now that social distancing, while good for public health, is detrimental for small businesses. The traffic dropped considerably after the
pandemic outbreak, as more and more people chose to stay at home and self-isolate. Many entrepreneurs are concerned that the impact of COVID-19 will be more profound and long-lasting than anticipated. As a result, retailers in every industry are looking for ways to keep their customers by having fair prices and volume-based deals. This is the only way they will be able to get the attention of reseller customers in one form or another.
Romania has registered consumption growth in recent years, especially food consumption, and it is assumed that this consumption will continue to evolve in the future, perhaps not at the same accelerated pace. There is a fantastic opportunity to create added value in products developed here, by which I mean processed products. That is why I am sure that consumption will increase even if inflation continues and affects food prices. But as online shopping becomes more widespread, shop or small restaurant or cafe owners need to stay competitive and proactively encourage customers to shop or come to restaurants; for example, people prefer to see the fresh products, to choose them and the atmosphere in a restaurant or café is incomparably more pleasant than eating ordered food at home.
Where do you stand on sales compared to predictions made last year/earlier this year for 2021?
We rely heavily on HoReCa customers, where we have about 20% of sales, but especially on reseller customers who contribute 60% of sales and 20% of sales from other small businesses (offices, associations, kindergartens). We currently have several tens of thousands of professional customers, which means that we indirectly serve up to several million people. I can say that one out of three professional retailers makes their purchases from METRO.
So far in recent years we have had double-digit growth and next year we hope to have a double-digit increase. At the same time we have seen an increase in consumption and although we have increased our number of consumers compared to previous years, they have been much more willing to experiment. Overall, we have seen an increase in the number of professional customers at METRO, but there has been a slight slowdown in the frequency of purchase, obviously due to a reluctance to frequent crowded places. The pandemic also created major fluctuations for HoReCa, where the behavior was strongly influenced by government measures leading to closures and openings, a factor that has greatly affected the market, lacking predictability.
Which product categories had the best/highest sales?
METRO stores are primarily aimed at professionals in the independent reseller and HoReCa sectors, and their purchases in METRO reflect the purchases of the end consumer. We noticed that among the most requested products during the pandemic are basic food products, canned foods, water, non-alcoholic beverages, sweets, biscuits, cosmetic products, detergents, as well as cleaning products. Cleaner traders are also seeing an increase in sales, probably due to the fact that as people spend more time at home, following strict hygiene laws, they pay more attention to their home environment.
How do you see the evolution of the retail sector in Romania next year, taking into account two scenarios: the continuation of the pandemic at the same pace (intermittent waves) or its extinction at some point next year?
Consumer attitudes, behaviors and buying habits are changing and many of these changes will remain after the pandemic. While shopping is now focused on basic needs, people are shopping more consciously and embracing e-commerce. To manage isolation, consumers are using digital to connect, learn and play and will continue to do so. I don't think this situation will stop suddenly, but we need to improve it together and learn together how we can help independent businesses thrive, especially in uncertain economic times.