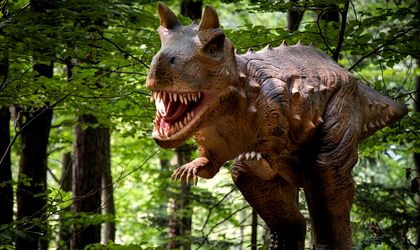 More than 2 million visitors have crossed the threshold of Dino Parc Râșnov in its six years of activity. Since its opening in June 2015, the largest dinosaur park in South-East Europe has doubled in size to 3.5 hectares and recorded a turnover of RON 5,449,155 in the first half of 2021, managing to recover after a difficult 2020, when the park was closed for two months. To find out more about this unique tourist attraction in Romania and the investments which went into it, we talked to Adrian Apostu, the manager of Dino Parc Râșnov.
This year, you crossed an important milestone at Dino Parc Râșnov, 2 million visitors since the opening. What can you tell us about the journey so far, its ups and downs, challenges, achievements, etc?
Two million visitors represent, indeed, an important milestone. It's a milestone that makes us both happy and responsible. Dino Parc Râșnov has grown a lot since its opening, and it has evolved spectacularly: the surface of the park and the number of dinosaurs has doubled and the number and intensity of the attractions have increased a lot.
Recently Dino Parc Râșnov was ranked in 50 European attractions for families, an extraordinary achievement for such a young brand. Of course, there have been many challenges along the way, culminating with the pandemic, but together with our visitors we managed to get over everything and put our park on a correct, ascending trajectory.
The park was closed for two months in 2020 for obvious reasons; how did you navigate this period and how did you manage since the reopening, did business bounce back up, or are you still in a period of recovery?
The time when the park was closed due to the pandemic was a very difficult one, not only logistically, but we were so sad to see the park lacking the most important thing: our little visitors, the sincere joy of the children.
However, we took advantage of this "break" by developing the park, and also for a refreshment. With unwavering confidence that well-done things will always be appreciated, I risked the development card and during the time when the park was closed we raised the level of investment. Moreover, we managed to keep all the staff, without affecting their income. Now I can say that I acted correctly, because as soon as the legislative conditions allowed us to reopen, the visitors turned to us again, in even larger numbers.
What were the biggest investments for Dino Parc Râșnov, both before and after the pandemic crisis, and what is your future investment plan?
Our most significant investments, both before and during the pandemic, were related to the acquisition of our largest dinosaurs (one measuring almost 50 meters long and one over 11 meters high). We also focused our actions to increase the level of interaction, so appreciated by children – for example, we built a volcano which has eruptions, followed by a platform that simulates various earthquakes, caused by natural causes or by herds of dinosaurs.
In the near future we want to invest in an educational concept, focused on dinosaurs and their descendants who have survived to this day. It is a complex concept, which includes both living animals and exhibitions.
What are the main attractions for visitors in Dino Parc Râșnov?
The biggest attractions are, of course, the dinosaurs, followed by the interactive volcano, the 9D and 360° cinemas and the scientific exhibitions.
What can you tell us about the new website you've launched this year?
Indeed, this year we have developed a modern, very attractive website that keeps us in touch with our fans and also allows us to sell online tickets (this section was very appreciated in the pandemic) and soon enough, our customers will be able to buy souvenirs as well.
Speaking of online platforms, during the pandemic many tourist attractions launched digital viewing platforms for people to be able to enjoy the experience from their homes. Is this something you considered, or considering in the future?
The charm of our park is almost ineffable, but you must be here to feel it.
However, during the time when the park was closed, we offered online guided tours of the whole park, which were very appreciated. It remains an area of ​​development that we will continue to think about.
How would you sum up 2021 for Dino Parc Râșnov and what are your plans for 2022?
2021 was not the year to return to normal, as I expected, but it was an interesting year indeed. The pandemic challenges continued but I think we managed to adapt quite well and overcame it.
At this moment I can already say that 2021 was the best year since the opening of Dino Parc Râșnov in terms of the number of visitors, exceeding 2019 by about 5%. From the perspective of 2022 we already know for sure that the pandemic will continue, so we will continue to try to adapt to this situation. Of course, we will continue the investments, we have in plan some ambitious projects that we want to launch in the spring.