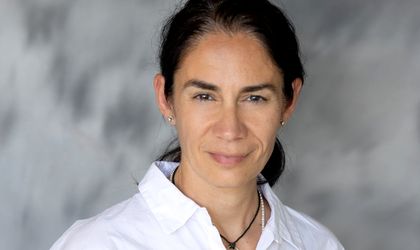 Romanian PR's top accolade, the Romanian PR Award, celebrates its 20th anniversary this year as a daring and stubborn project that has managed to bring together under the same rooftop communicators, valuable competitors, enthusiasts, and hundreds of PR professionals. Business Review started a series of interviews with top PR personalities that have been working in the industry for more than 20 years and that made a big impact on it. How it was and what is expected from the next chapters, you are about to find out.
With extended experience in PR of over 29 years, Alexandra Dinita launched Free Communication in 2001 and since last year is the president of Public Relations Global Network (PRGN), one of the biggest global network of independent communication agencies that gathers over 50 organizations on 6 continents.
By Romanita Oprea
How would you characterize the evolution of the Romanian PR industry?
We had a rather late start, considering people have actually been strategically placing PR stories since late 1800. But we did quite well, we were fast learners and fast achievers, we've worked hard and we quickly managed to proudly compete with any other professionals worldwide. Looking back, it's almost unbelievable what a basic start we had and how many changes we went through. I'm very proud of us, the whole Romanian communication industry.
How was it when you started?
It was almost nothing. No PR universities or schools, nobody to teach us, it was learning by doing, discovering what, when and how we need to do, sending press releases by fax machine, calling journalists on the desk phone, paging them when they were late at press conferences, where we were guarding the gates like true bodyguards to keep "fripturistii" away. We always laugh now when we remember those times, it was such a different world.
What determined you to choose PR as a career?
I think PR chose me at that moment. I was studying architecture and urbanism, I was in the first year when I've got my first job in PR. It was in 1993, almost nobody knew exactly what was this about, but it was very sexy and mysterious to say you are a PR professional. I was looking for some interviews just for fun and by curiosity, I didn't intend to really get a job, but I've met someone who actually convinced me to take it in just few minutes. He was also my first mentor and probably the most impactful one during my professional and personal life as well.
What were its most interesting years, in your opinion and why?
Hard to tell, we've lived in the last 30 years as others in many lives, professionally. That's why any year, any day, any moment was interesting to me. We've been through times with no guidance and resources in the early period, then through economic crises, pandemic, war… I honestly can't remember any moment without challenges, any moment when we were bored at least a bit. No, it really was an interesting time, all the time.
What were the main changes in the last few years?
The last few years changed the industry a lot, even before the pandemic – and it all has to do with systemic shifts in the public sphere, from social justice to climate change and from narcissistic glamour to meaningful empathy. A few examples – the transformation of media events from press conferences into press experiences, the absolute dominance of visual communication over written communication in social media, better adaptation to counter the fake and malevolent communication in a world where everyone can make its voice heard, particularly with ill intent.
How would you characterize the industry right now (creativity, budgets, strategy, etc)?
As always, in one of the most dynamic environments, tides are ever shifting.  However, I can identify a few consolidating pillars right now:
A growing search for social purpose (brands going beyond their commercial raison d'etre and aspiring to a more righteous voice in the public sphere; the public expecting better offerings with lesser resources; communicators such as ourselves finding common ground and language between them)
Creativity goes through a "bonsai" phase, as opposed to the "baroque" communication we had in the 2010s. Saying as much as possible with less, reaching out to the essence of what needs to be communicated. Creativity itself, I believe, needs a training in philosophy and conceptual thinking.
Budget-wise, we brace ourselves for a few tough years, as a global recession seems to knock on everyone's door, with governments spending more and banks braking in. We must be able to do more with less.
With ever-shifting ground, the only viable strategic approach nowadays is "adapt to survive, innovate to thrive". It is not strategy-on-the go, it is accepting the fact that things are changing so fast that change itself is the only ground one can rely on.
What would you change in the industry and why?
Some 70 years ago French existentialist thinker Malraux was predicting that the 21st century will be a spiritual one – or it will not be all. By "spiritual" he meant various forms of religious thinking and worship. The first two decades of this century tend to prove him right – but with broadened semantics for "spirituality". We witnessed the rise of digital technologies as an almost religious universe; we witnessed the rise and fall of consumerism as a spiritual endeavor; we are witnessing the "market of ideas" becoming a place to sell extreme visions under the guise of "disruption" and "vision". And many more "new spiritual" aspects of our life which we tend to approach as absolute truths.
What would I change in the industry? I'd invite any marcomm player to reflect deeper on these new spirituality values and act accordingly. Then the change would follow.
What were and still are your main goals for your agency?
Lately, I often had the feeling we live in a strange world, where the strong landmarks we used to have are now so much diluted. In such a world, more than ever, we need a solid ground, true values and genuine human connections to turn to when we need to move further, when we face new challenges, difficulties or doubts. I do believe we've managed to build such a groundwork. It proved it can face the times – any times – preserving and growing the values and the deep human connections established from the very beginning. And that's why I think that, beyond having a shared purpose to build a better world – one with new, strong landmarks – we also have a purpose to further build a better life for us as individuals and as business owners. This is my main goal, for myself and for my team.
What changed through the years for you and your perspective on PR? Why?
The industry and the world always change, but for me the core things are pretty much the same. I'm still very curious and ready to learn, I still have dreams and plans and ideas every day. I still love what I'm doing, despite difficulties that the constant change, entrepreneurship and life itself put us through. In fact, many times when a difficult day is over, I think to myself how lucky I am. If you want to grow, you have to put yourself in difficult situation every day and I am lucky to have a profession and a career that do this by default.
What are the main challenges right now in your opinion, in the industry?
Understanding the only way to grow and move to the next level is by investing in pursuing higher objectives and accomplish them in a better, more professional way and that more resources are definitely needed for that.
How are you surpassing them at Free Communication?
I think we're going through these challenges successfully thanks to one of our greatest achievements – the creation and consolidation of a core team of professionals, all of them experts in various fields, assisted by a younger, more curious and ever-connected team of juniors and interns. Their constant interaction has broadened a lot our grasp of the present and our visions for tomorrow. So yes, "a good team" is the answer.
What still inspires you and gives you drive and joy in PR and why?
Almost 30 years went by just in a blink of an eye. For me, it was a special journey in so many ways, with so much to do, so much to feel, so much to learn. If I'd have to pick up just one thing out of this incredible journey, this would be the amazing power of togetherness I have felt all along the way. Being with people who challenge and inspired me really changed my life and I truly think this is what always inspired me along this ride.
Box:
Her best year in PR so far and why
Definitely 2020, the first pandemic year. It was a year of changes and creation – and we adapted to the global transformation. We created new virtual ways, channels and platforms to keep us together, to preserve and develop our special connections and relationships we've built in the past 20 years. We have strengthened our financial status and designed a more efficient resource allocation process. And many more things that maybe would not have happened without such a wake-up call that year was, for all of us.
Best year for the Romanian PR industry
Growth comes by going through tough times, not through easy ones. Same year, because it was one of the most complex and challenging ones by now. It was a good opportunity to think about everything we have experienced, about how much we still don't know and can't predict, about the lessons learned and, even if we were quite nervous about whatever was to come, to dream about a different future. I think 2020 was a year of clarity and reckoning for everybody in the industry.