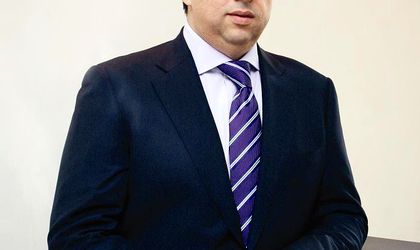 Cristian Nacu, president of South Eastern Europe's Private Equity Association (SEEPEA) and partner in Polish investment fund Enterprise Investors provides some insight into the activity of both organizations, their plans for the future and the hot investment domains for private equity funds on the local market.
Otilia Haraga
Give me an example of when SEEPEA has lobbied the Romanian authorities during your term?
Recently, the EU introduced a law for the regulation of the private equity and hedge funds market. This must be implemented by all member states in their national legislation. We will try to contribute to the creation of this legislation, which should be done in conformity with the EU law but also adapted to the Romanian context. However, the main directions have not yet been defined.
What are the criteria for a company to become a member of SEEPEA?
It must be an investment fund which operates in the territory of eight countries that are part of SEEPEA: Romania, Bulgaria, countries from the former Yugoslavia. They can also be suppliers of services, consultancy firms, law firms or audit firms. More recently, we have been trying to attract banks as members.
What domains would be hot for a private equity firm in Romania?
Private equity firms generally focus on sectors in the consumer industry. They either offer financial services for the end user, are manufacturers or retailers. Generally, our firms are linked in one way or another to the end user. This is also because Romania is a relatively large market compared to the neighboring countries, which makes it more attractive, but also because these firms are generally more dynamic.
What is EI's investment budget for 2011?
There is no allotted budget at the level of each country. Traditionally, let's say we manage to invest up to EUR 150-200 million a year. From this sum, there are sometimes some investment projects in Romania. So far, over the last six years, we have invested around EUR 200 million in Romania, which is a ratio of probably 20 percent of the funds invested in the entire region.
We invest from two funds: one is a buyout fund which buys major stakes in large companies, which total EUR 20-25 million. From this fund, there is around EUR 60-70 million left to invest in the region.
The other is a venture capital fund where there is EUR 50-60 million left to invest. This fund generally targets minor stakes in small companies. Investments made from this fund are between EUR 1 million and EUR 5 million. In total there are ten target countries. Romania is the largest investment portfolio after Poland by proportion of the total funds that have been invested so far.
When EI decided not to invest in certain projects anymore, what were the reasons?
There are many reasons. Most of the time, we did not agree on the price. Other times, the business did not perform. Usually, it takes more than six months from the moment you start a transaction until it is concluded. Sometimes, the business did not perform as expected in that time span and ceased being attractive to us. The financial crisis was another reason.
What projects has EI invested in over the past year or two? What now?
In the past year we have only invested EUR 3 million in Smartree, which we bought in 2010. A year earlier, we bought the Profi store chain. These were the transactions we have made over the last 12-14 months. Our investment rate is probably two companies a year. We are looking at firms in retail, IT, manufacturing and financial services. But our policy is to announce it after we have carried out the transaction.
What would be interesting for an investment fund on the IT market in Romania?
There are many areas. The difference that the growth of the internet and the appearance of iTunes, iPhone and iPad have made is that it allowed any smart programmer with entrepreneurial spirit to become an international player overnight. Everyone is just a click away from the world market. There are tens of thousands of applications on iTunes, and some of them are Romanian applications. There are also opportunities in e-commerce, and other types of services such as financial services.
How quickly does EI make an exit from a firm?
The average rate of keeping an investment for us is four to four and a half years. Recently, this has been even longer because the crisis delayed some exits, so we may keep firms even for five or six years. We only want to sell when the business can turn in its deserved value and this can depend on the circumstances. In theory, it's four to five years, but in practice it can go up to seven years. Of course, Romania was more affected by the crisis than elsewhere, but the difficult times were everywhere. 2009-2010 were poor years all over Europe and many exits were delayed even there, so the situation in Romania is not different.
What profits does EI make from an investment?
There are companies which we sold at a profit that was eight times the invested sum, others that we sold for a much lower profit. On average, we get back two and a half to three times the money we invest after this period of four or five years.
otilia.haraga@business-review.ro
CV Cristian Nacu
Cristian Nacu was appointed president of SEEPEA in December 2010. He was previously named partner in Enterprise Investors in 2007, having joined the firm in 2005 as vice-president and head of the Romanian office. Prior to that, he spent six years as investment officer at the International Finance Corporation. He also worked for two years for the Romanian government, completing more than 25 privatizations.