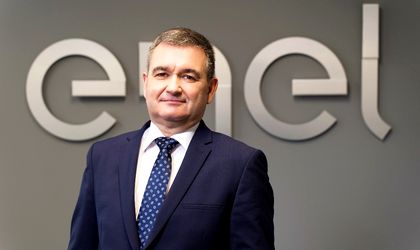 Enel Romania appointed Valeriu Binig as Regulatory and Antitrust Affairs Director, while Claudia Brandus, who previously coordinated the regulatory activities, joined Enel Group's European Affairs office in Brussels.
Valeriu Binig is one of the leading specialists in the energy market in Romania, with over 32 years of professional experience in the sector, in various roles ranging from technical and academic to M&A and finance raising advisory, power plant operation engineer, designer, researcher, lecturer, coordinator of Phare programmes, European Commission Delegation Task Manager, top utility company manager, administrator and consultant in investment banking/financial advisory services in the sector.
In his capacity as Regulatory and Antitrust Affairs Director, Valeriu Binig will lead a highly qualified and diverse team, having as main objectives defining, representing, and promoting the company's position on regulatory and antitrust issues. Also, he will be responsible of identifying the regulatory trend for the assessment of the economic and financial impact of regulations on local business lines as well as managing regulatory and antitrust issues and proceedings towards interested relevant stakeholders, addressing and monitoring local business lines compliance and defining the optimal local strategy.
Prior to joining Enel Romania, Valeriu Binig held leading positions in consultancy firms like EY Romania and Deloitte, and was also a director within an investment banking and investment fund management team. Before that, he undertook roles in the transformative process of the local energy market, in management positions of energy distribution and generation companies, prior to the unbundling process in the Romanian electricity sector.
He was (Co)Chairman of the AmCham Energy and Environment Committee (2013-2017) and member of Amcham Romania Board of Directors (2013 – 2014); Chairman of the Energy Task Force of the Coalition for Developing Romania (2015, 2017) and the Engagement Partner for assistance to the Romanian Ministry of Energy in quantitative modelling for the elaboration of the National Energy Strategy (2016). He is currently a member of the Advisory Board of the Energy Policy Group.
Binig graduated the Power Engineering Faculty of Bucharest "Politehnica" University. He holds a PhD degree in Reliability of Power Systems after two years of Doctoral School at The Compiegne University of Technology.
At the same time, Claudia Brandus is moving to the European Affairs office of Enel Group in Brussels, in order to take over the promotion of the company's positions, strategies and priorities at European Union level, for the countries where Enel is present – except Italy and Iberia region.
Therefore, Claudia Brandus will be responsible with institutional relationships with policy makers at European Institutions, and also for monitoring and analysing European policies, such as Energy Policy, Climate Change and Environment Policy, Research and Innovation, Competition Policy: antitrust, state aid and mergers.