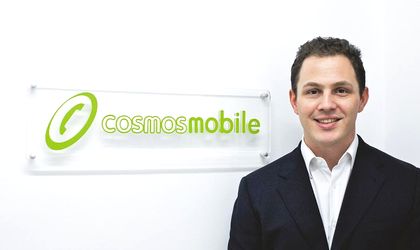 Cosmos Mobile has recently opened a new concept store in Sun Plaza mall, under the brand 4free, taking the company's national network to 49. Michalis Kontos, general manager of Cosmos Mobile, tells Business Review that the firm is in negotiations to open up to 10 new locations this year, using reinvested profit. It may also relocate some shops to areas with higher traffic. So far Cosmos Mobile has invested EUR 800,000 in developing its GSM retail network.
Otilia Haraga
How many stores does your network consist of at the moment?
There are 49 stores in total. This year we have opened our second concept store in Sun Plaza and we want to open several more stores this year. We are still in negotiations. We prefer commercial centers because they are open longer hours and have higher traffic. These 49 outlets represent the national network and include the concept stores. Eight are in Bucharest, the rest are in other major cities. Four of the shops we operate alone from our headquarters with our employees and the rest are run by dealers managed by us. They work under our own brand and Cosmote's brand, providing Cosmote services and products.
What about the stores which you intend to open?
I can't give you an exact number because we are in negotiations over them right now. But our intention for 2010 is to open several more stores, up to a maximum of ten, in key points. We also have to follow some regulations from
Cosmote: we must never open stores next to Germanos or other Cosmote retailers. Cosmos Mobile has more than 50 employees at the moment.
For every store that we open we need five people, so as we develop our
network we will employ more.
Did you have to relocate stores?
We made four-five relocations outside Bucharest in 2009. In 2010 we may relocate some stores to better locations that have higher demand and traffic. Since developers are reducing rents, we are taking advantage of this and we have renegotiated our rent several times. There has been a 20-30 percent decrease in the cost of the rent we pay. However, the rent has to do with the area where we are operating: it could be EUR 50 per sqm or EUR 100 per sqm.
So far the company has invested EUR 800,000 in the development of its GSM retail network. How much will you invest this year?
For every opening we need approximately EUR 50,000 per store. So the investments we make this year will depend on the outcome of our negotiations and ultimately on the number of stores that we open: if we open ten, the investment will be around EUR 500,000. These new store openings will be done using reinvested profit, not bank loans.
What new products will you introduce?
We are in the process of compiling a list from hundreds of products. We want to introduce some gadgets that you cannot find in other telecommunication stores. It will be a big surprise on the market. So, apart from GSM handsets and accessories, and accessories for iPhones, we will also have devices such as clocks run solely on water.
As I understand it, you have a 20 percent market share of Cosmote pre-pay products…
We have 7,500 points of sale which represent more than half of the relevant POS in the country. As we develop, we will also increase the number of these locations. From these 7,500 we visit 6,000 locations per month. We provide them with telecommunications products and our people provide continuous training on how to sell the products. Our market share on Cosmote pre-paid products is 20 percent and in 2010 we intend to increase it to 24 percent. As far as Vodafone and Orange products are concerned, we don't have these figures because we do not collaborate directly with them but through their main distributors. At this point, 70 percent of our products are Cosmote ones and the other 30 percent are from the other two operators.
Why is Cosmos Mobile intent on focusing on pre-paid?
We chose pre-paid mainly because we have a good distribution network on the pre-paid sector. These pre-paid products are not Cosmote's alone, they are also from Vodafone and Orange. The ratio of pre- to post-paid is something like 85:15 on the local market. In comparison with other European countries, Romania has a very competitive pre-paid offer, but as a rule, in all the countries, the pre-paid market is bigger than post-paid. In the post-paid area, we deal exclusively for Cosmote; we do not sell products from other operators.
Who owns Cosmos Mobile?
Cosmos Mobile is owned partially by Global Eye Investments [ed. note: with investments in telecommunications & IT, real estate& project development, energy and services] and a pre-paid distribution company with extensive experience on the Greek market.
What turnover and profit did you post last year and what are your estimations for 2010?
In 2008, the turnover was around EUR 11 million, EBITDA amounted to EUR 618,000 and profit EUR 585,000. In 2009, we kept around the same revenues: turnover of around EUR 11 million, EBIDTA of some EUR 737,000 and profit of EUR 600,000.
For 2010, it will depend on the offers and the number of stores we open. I cannot give you an estimate; we will try to maintain the same figures. But since we are expanding and reinvesting some of our profit, it might not be the same level.