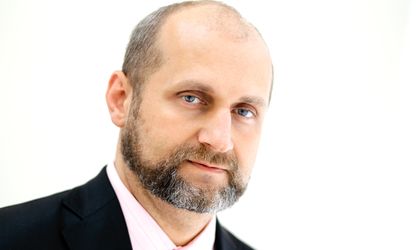 Mircea Turdean, managing director of Farmec, talked to BR about the company's plans to add Ukraine and Russia to its existing export destinations and this year's investment strategy.
Simona Bazavan
What have you changed in the company's strategy since you took over?
I became managing director of Farmec in 2010, following in the footsteps of my father, Liviu Turdean, who held the position for more than 40 years and who was a mentor and professional example for me. I have continued the strategy he began and later changes came naturally, determined by daily activity. As before, we will continue to focus on R&D in order to come up with new and innovative products.
How has the Romanian cosmetics market evolved overall this year compared to 2010?
According to a Euromonitor study, the local cosmetics and personal care products market will grow by approximately 3 percent this year. As for general trends, we have noticed lately at the level of the entire market that customers are turning more to natural products, with advanced formulas which at the same time have accessible prices. This is why products targeting medium income customers have an increasingly powerful presence globally.
What has Farmec's response been to the market decline in the past couple of years?
We continued to launch new products. On the other hand we also had to adjust our business to the context of the Romanian economy. We reduced costs, including those related to investments, while productivity was increased. We took measures to protect the cash flow and focused more on developing and promoting our products. We have intensified communication on all channels, both traditional ones and social media,  as the crisis has generated lower advertising costs.
What is the company's export strategy?
In 2010 exports generated 10 percent of our turnover. At present we export to all continents, to countries in Europe, Asia and North America. Some of our main markets are in Japan, Lebanon, the United Arab Emirates and European countries like Hungary, Spain, Italy and Greece. Our best-selling product ranges outside Romania are Gerovital H3 and Gerovital H3 Evolution, both anti-aging products, and also Gerovital Plant and AslaVital.
Right now we are focusing on growing our business on the Hungarian market. We are developing promotion and communication campaigns and we have also signed partnerships with several chain stores. Next year we intend to expand to the Ukrainian and Russian markets.
As our strategy focuses to a larger extent on the Romanian market, on the medium run we predict faster growth for our local business.
What were the company's investments and turnover this year?
In the first semester Farmec saw a 16.9 percent turnover increase compared to the same period of last year, totaling RON 54.6 million. This year we target a 7 percent growth for our business. Our investment plan for 2011 included the acquisition of new equipment but also the opening of a new cleaning products production line in accordance with GMP standards.
simona.bazavan@business-review.ro
CV Mircea Turdean
1994 Joins Farmec as technician, later becoming researcher and department manager
2003 Promoted to technical director, responsible for coordinating production, research and new investments
2010 Appointed managing director
He graduated from the Chemical Technology Faculty in Cluj Napoca and the Open University Business School.