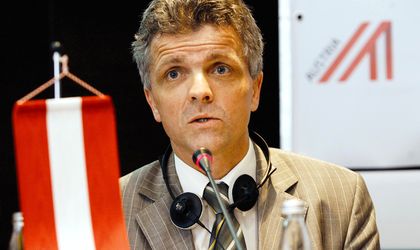 The commercial section of the Austrian Embassy to Bucharest has recently celebrated 60 years since its founding in 1950. Now Austria has become the number one foreign investor to Romania, with about EUR 10 billion invested so far and sound plans for future local expansion according to Rudolf Lukavsky, commercial counselor of the Austrian Embassy in Romania.
Simona Bazavan
For many years now Austria has been the top foreign investor to Romania. What's behind this?
Austria and Romania share a long common history, which is also reflected in close business relations. The weight of Austria's presence in Romania is best illustrated by its position of number one foreign investor to the country and the volume of bilateral trade. Bilateral trade is driven by Austrian exports to Romania which peaked in 2008, reaching close to EUR 2.4 billion, and in 2009 remained at a level above the average of the last five years, amounting to EUR 1.6 billion. Austrian imports from Romania have been steady over the past five years in the range of EUR 722 million in 2004 and EUR 645 million in 2009. In the first half of this year we saw a dramatic increase of 40.9 percent in Austrian imports from Romania.
How much did Austrian-owned companies invest in Romania last year and what are the estimations for 2010?
Net investments from Austria amounted to EUR 500 million in Romania for 2009, which is very positive, taking into account the difficult market situation. The overall net investment volume stands at almost EUR 10 billion or 20 percent of total FDI. 2010 is a difficult year, but Austrian companies keep expanding. Just a few examples of 2009/10 Austrian investments in Romania are the biomass power plants by Schweighofer and the EUR 15 million logistics terminal by Gebr. Weiss, Baumit also invested EUR 20 million in an new production unit and Voest Alpine put EUR 20 million into a steel service center in Giurgiu. And the expansion of Auatrian retailers present locally will continue. bauMax has 11 stores so far and plans to open two more in Cosntanta and Timisoara.
What local industries have the potential to attract Austrian FDI in the future?
Austrian companies are keen to develop their investments in the Romanian economy and we see great potential ahead especially in the fields of R&D, alternative energy, industrial suppliers and automotive parts.
From your contact with Austrian companies, what are the main setbacks in the local business environment and what should the Romanian authorities do to help foreign investors?
It is crucial for the further development of the market that Romania can ensure a stable business environment. Generally speaking, Austrian companies are calling for more transparency, efficiency and consistency in the public administration, in particular in public procurement and improvement of the legal system in order to better facilitate their investments.
How would you say that the local political environment influences business opportunities in Romania?
Any investment decision is based on a mix of criteria, labor costs, competition, market potential, the legal environment and so on. Unexpected changes in legal and political conditions are disadvantageous for everyone.
Has the economic crisis brought about any opportunities for local companies?
The economic crisis is, despite all, a good chance for companies to re-evaluate their business plans, to re-think their business strategies and improve their client services.
What would you recommend to an Austrian investor who plans to open a business in Romania in the near future?
Romania is still a hot spot for Austrian companies and in the region. Romania is – after the Czech Republic – the second most important country for Austria in terms of direct investment. Over 5,800 companies have Austrian capital involvement and there are 100,000 direct jobs from Austrian investments operating in Romania, so this country has become, over the years, an interesting and attractive business partner for Austria.