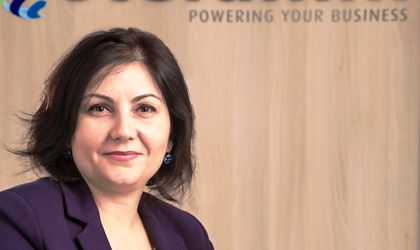 Anca Fotache takes over the leadership of the Service Delivery Division for the EMEA region within IT Stefanini's IT Solutions Company, replacing Andreea Stanescu, who has held this position for 7 years. She joined Stefanini Romania more than 4 years ago, first as Service Desk manager, then as Senior Operations Delivery manager. 7 months ago, Anca was promoted to a regional position, the ITO Delivery director for Stefanini EMEA.
"Throughout these years of our years, Anca has always demonstrated leadership skills, successfully meeting local and regional challenges," says Olga Botusan, HR director for the EMEA region at Stefanini. "Adding to them over 12 years of solid management experience, Anca is the most natural choice to take over as director of the Service Delivery Division for the EMEA."
From this position, Anca will be responsible for the delivery of IT support services and infrastructure – in Europe, through the service centers of the company in Romania, Poland, Belgium and the Republic of Moldova.
Anca is a graduate of the Faculty of Philosophy at Bucharest University and is passionate about reading.
"I am glad and it is a pride for me to join my colleagues in Romania who hold regional offices," says Fotache. "I wish to continue Andreea's efforts and the entire team in the process of transforming and digitizing the company."
After 7 years of success with Stefanini, Andreea Stanescu will leave the company from October 1 to dedicate himself to other projects, both in his personal and professional sphere.
"Andreea Stanescu was a key person for our company and a model for all our colleagues who worked with her because of her professionalism, determination and entrepreneurial spirit," says Botusan. "Under its leadership, the Service Delivery team across the EMEA region has contributed significantly to the growth of our company in the region. Andreea's involvement in many key initiatives has been crucial to our success in recent years."
Stefanini is a Brazilian company with over 30 years of experience in providing IT services worldwide, from outsourcing IT infrastructure to software development. It has a direct presence in 40 countries through the 73 offices around the world and a portfolio of over 500 active clients. Customers come from sectors such as financial services, manufacturing, telecoms, chemicals, services, technologies, the public sector, and benefit from a full set of mature and professional services covering the entire life cycle of an application.