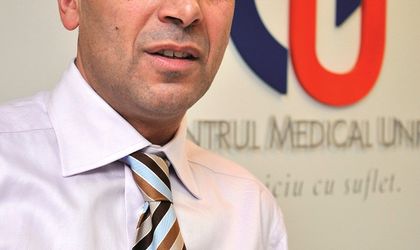 Doctor Wargha Enayati, the founder of private medical care operator Centrul Medical Unirea, recently sold another 29 percent of his stake in the company to investment fund Advent. But he has kept a 20 percent package, and plans to invest the money from the sale in the firm. A charitable foundation is also on his to-do list. Next in line for CMU are a greenfield clinic project to be opened this year in Iasi and four new acquisitions.
By Corina Saceanu
What are you planning to do with the money from the sale of your share package in CMU to Advent International?
The transaction, the whole amount, is a combination of cash in and cash out. My aim is not to invest in another business, but to continue to invest in CMU. The only thing I hope to be able to start is a foundation which will focus on the moral education of children.
How hard was the decision to give up the controlling share package in the company and why did you decide to do so?
It was certainly not an easy decision, but I had already made the decision before with the first sale – then it was a difficult one. This time it was not as difficult, as I am now used to these procedures and I had a good experience with my investor before. I was looking forward to working with Advent. I have known them for years and I like their style. To be honest, I don't feel any change in my position. It's not about holding the majority or minority stake in the company, as we all want things to go well. Without doubt, CMU has become a very big company, so it was not possible to carry everything on my shoulders anymore.
To what extent will you have veto rights after this deal and on what sort of decisions?
It was secured in our shareholders' agreement that no decision will be made without my OK. Time showed, also with our previous investor, that even when I was a majority shareholder, I listened to what the minority shareholder had to say and sometimes accepted decisions which I didn't like, because even my people agreed with that decision. I am a baha'i, and stemming from my faith is the belief that consultation and passion are two very important things, not only in a family, but also in a business. I think it is better to make the wrong decision, but be united behind it, rather than the correct decision, but divided.
Have you thought about exiting the business entirely in the future?
I hope that will not happen. When I had 49 percent, it was clear it would be sold sometime, but now, with 20 percent, maybe the next investor – in five years, let's say – will want me to stay onboard. It would depend on who the future investors were. I don't want to start something new – I like this business too much. I can see that I can help society with what we do. Being a doctor is a noble profession. I remember that a couple of years ago there was a headline in Business Review saying 'Pioneers in health care'. This is something I can achieve here and I still have a lot to do to help. Besides the financial aspect, I hope I can help people too.
Where do you see CMU in a couple of years from now?
I have learned from these investment funds that CMU could be a company with EUR 40 to 50 million in turnover. But if you ask me, planning for more than six months is already too much in the world we are living in. We adapt immediately to situations and
take decisions. We have very nice business plans which could change substantially if new trends in the market
develop.
Does the local private health care market have too high a degree of uncertainty for you to make long-term plans?
It does hold uncertainty. When you look at these investments we are making, they come at the same price or are even more expensive than elsewhere, say Germany, but the price we charge for services is half or even a tenth of the price for medical services in Germany. This is not normal. It is difficult and dangerous. Many people say the medical field is the only thing which is sure in the crisis, but even before that many invested heavily and it didn't work.
When you started CMU, what were your plans for the company?
When I started I was a cardiologist and I wanted to have my cardiology office and that was all. It is true I had many ideas. Then I became the physician for the German embassy. I started working with other embassies as well, with expats from different companies. Then I realized the way I was working couldn't even cover my equipment costs. So I had to do something else and this was when I had the idea of selling subscriptions. I started doing so six to nine months after I started the venture, in 1996. In 1996 I had around 150 subscribers; now we have 75,000.
If you hadn't made this investment in CMU, in what would you have invested instead?
Before 1995 I was investing in real estate. It sounded like the easiest way to make money – you buy a place and rent it – which provided enough money to live easily. But fortunately, I wanted to diversify and this was a good decision, because after 1995 the real estate market went bad until 2000 while the health care market went up. In 2003 the real estate started to boom again and I got upset seeing all those youngsters buying and selling one piece of land and throwing money around while driving expensive cars, making in one year the same profits we were making working with 500 people onboard. This was not fair. But I decided to do my job the correct way until the end and see what transpired. It was again a good decision not to invest in real estate. I was tempted and I did a few small things, but nothing big and dangerous.
What has been the hardest moment for you in all these 15 years since you started CMU and how did you manage to overcome it?
The hardest moment was when we were still small and foreign competitors were coming in. They had a lot of money to invest and much nicer clinics, and I was on the verge of losing my customers. I had to be inventive, come up with new products. I had to invest heavily. In Romania, nobody has invested as much as we have in the private medical care system. We are not the biggest on the market for the moment; we are number three. Even the ones that are bigger than us have not invested as much as us. Being inventive meant opening the first real imagery center in Bucharest, the first stem cell bank, offering 24-hour care on call. We also have a new project, a paid medical advice call center in partnership with Romtelecom, which will be operational in March.
Other hard moments over the years were the disappointments I had when some people left CMU. At the beginning it was very difficult for me to understand this but now it is easier to swallow. This is something I learned, a way of life I had to accept.
Have you ever considered expanding outside Romania, in the region, with the CMU chain?
I haven't. It is too early, and we are still gaining experience with our acquisitions throughout the country, which is a difficult experience. So it is not yet the time to go outside Romania.
What are your acquisitions plans for this year? How many suitable acquisition targets are there for you?
We will continue acquisitions. Now, with Advent on board, this will get even more serious. We will not buy just whatever is there on the market. The price has to be good and their level has to be similar to ours. It depends on the city and its medical network. You could have a huge clinic but if you have no doctors to hire, it will be a problem. In other cities there might be nice clinics to buy but there wouldn't be enough customers. In other cases, there could be a lot of potential customers but no clinic to buy. Then we would decide to do a greenfield project. We will open a greenfield unit this year in Iasi and I believe we will make at least four acquisitions this year.
To what extent is there room for new entries on the local private medical care market?
The private health care systems in Romania and in Poland are the best developed in the whole Eastern European region. This is because of the big discrepancy between state and private medical care services. In Poland and Romania the private medical care subscription formats that exist have developed very well. This type of product has no intermediary between the provider, which is the doctor, and the patient. This improves the quality of service. The price is also much lower than with health insurance, because the insurance companies want to make their profits. I believe the subscription format will be something we will export to the West. Actually this has already started. The health insurance companies in the West are in big financial trouble and health insurance is not a business anymore. We have 75,000 subscribers; we would be the best candidate to start health insurance. But after making calculations, the price of our services would at least double, only taking into account administration.
corina.saceanu@business-review.ro