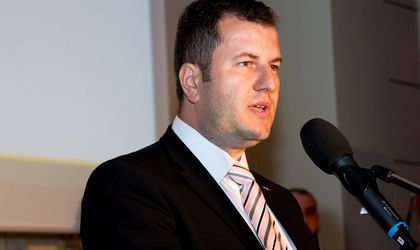 Adrian Adam has been appointed general manager of Courtyard by Marriott Bucharest, the first hotel of this brand owned by Marriott International, which is set to be opened this summer, in Bucharest, on Dimitrie Pompeiu Boulevard.
The new general manager of Courtyard by Marriott Bucharest has an experience of over 20 years in the hotel industry. He has worked for 3 important hotel chains – IHG, Hilton, Radisson Blu – where he managed the sales, revenue, marketing & PR and operations teams, with outstanding results in increasing the quality and market share of these hotels.
"I am really enthusiastic about this challenge of leading a new hotel on the Romanian market. I hope that the experience I gained in 20 years will help me turn the first Courtyard by Marriott in Romania into a landmark for the hotel market in Bucharest.  On this very active market, which is continuously developing, I trust that me and my team will succeed in creating a reference point in the local hospitality industry, in terms of services' quality", said Adrian Adam.
The first Courtyard by Marriott in Romania will be opened in a newly built 13-floor edifice, with a spectacular design.  The 4-star hotel will have 259 guestrooms, 9 conference rooms, with a total of 495 sqm, a 24/7 onsite shop, a fitness center and onsite parking. The hotel will also have a Solt Dining restaurant, with a premium casual menu, inspired by Northern cuisine. Courtyard by Marriott is part of Marriott Rewards loyalty program, which rewards members with instant benefits and best available rates.
"We are delighted to have Adrian Adam on board. I am confident that his expertise and impressive track record in the hospitality industry will position Courtyard by Marriott as a leading 4-star business hotel in Bucharest", said Augustinas Barauskas, CEO of Apex Alliance Hotel Management.
Courtyard by Marriott is the second hotel, after Hilton Garden Inn Bucharest Old Town, to be opened in Bucharest by the Lithuanian company Apex Alliance Hotel Management.
In 2019, Apex Alliance Hotel Management will also open the first hotel inside Henri Coandă International Airport- Hilton Garden Inn Bucharest Airport. In 2020, the company will add two more hotels to its portfolio: Moxy by Marriott and Autograph by Marriott, which will be open in downtown Bucharest.
Courtyard Marriott is a 4-star brand of the Marriott International group which addresses business travelers. The first Courtyard hotel has been opened in 1983, in Atlanta. Presently, there are over 1,000 hotels worldwide, which operate under this brand, in 42 countries.