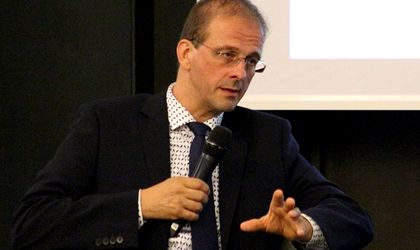 Held on June 19th, 2018, the 17th edition of Realty Forum – The Voice of Romanian Real Estate – brought together leading developers, investors and consultants present in our country. During the event, organized by Business Review magazine, the discussions were focused on market realities and projections for new investment projects on the local housing market, ways in which internal migration of Romanian specialists form new estate trends, the main industry sectors: office, residential, retail, industrial and logistics. Ivan Lokere, CEO of multinational Alinso Group, developer of PWP, a significant economic player in the region Muntenia was one of the speakers of the event.
Who is Alinso Group?
"Alinso Group is an important multinational real estate player, focused on developing business parks, logistics, industrial warehouses and office spaces. Our main concern is sustainability. In Romania we have survey projects and development projects covering several cities. The industrial park developed alongside Ploiesti has skyrocketed in recent years, we have over 60 strong multinational companies inside the park and we also operate a rail terminal –ATP Terminal. We are an industrial group of companies, we focus on industries and innovative companies," said Ivan Lokere in the opening of the event.
Development towards the east. Quality jobs in a diverse and innovative environment
"There are several key reasons why Western companies chose to relocate, the economic crisis has forced them to take severe actions. It is normal that they were heading to new emerging markets, for developing new factories or sites in a flexible market. Initially the payroll mattered very much.
But this was only in the beginning. Here I discovered qualified and quality workforce. We tried to create an innovative environment, an attractive park for the people working there. The diversity of people working in the park, with different backgrounds and different experiences shape a very pleasant and attractive working environment."
Attractive points. Arguments for new investors and clients of PWP
"The ability to share a common workspace – like the multi-tenant buildings we are offering – we are also trying to set up buildings that can be used both for light and heavy industry.
Two-thirds of the park focuses on industrial production. A quarter of the park is oriented towards logistics. About 15 percent are laboratories, R&D centers and offices."
Romania must keep up the pace with the development of the region. Entrepreneurial solutions.
"I think we need more entrepreneurship here in Romania, we are already working on this, we want to create centers around universities to find people, graduate engineers, who can lunch their own start-up businesses. Our policy is based on attracting innovative companies," stated Ivan Lokere, CEO of multinational Alinso Group.
Advice for the Romanians: Learn from the Western experience and then invest in new innovative and competitive local companies
"Firstly, you have the foreign companies investing in production facilities here. But this is only the first step. These investments, strenghten Romania. The people who will work in these companies will develop, over time, more powerful businesses that will compete with the international companies where they started. We must focus on entrepreneurship in Romania, and we have to create our own companies to become competitive with foreign companies. "
Cheap labor force is a myth nowadays. Now Romania must become creative, to add high-value through innovation and research
"We have companies with a wide perspective within the park, Romania has the ability to do research, we need to focus and promote better Romania in the international press. Foreign investors who come in our park are first attracted by  the cheap labor, but they stay here for the quality of the work. This results in high quality products."
Are there are plans to develop new parks? New concepts to help young companies. Strategy for the future.
"Obviously, we can develop powerful parks in all cities, in Transylvania. We want to develop the concept of business parks reduced in size to provide investors with space for young companies, based on innovation.
From the industrial perspective, in Romania we consider the development of small business parks near major cities to provide development space for young companies. We see a global trend in this respect.
I would like to emphasize that one of the major problems of Romania is the perception of the country abroad, lack of positive media promotion abroad ", Lokere appreciates.
The formula for development
In Romania, Lokere says, the formula for development can be of two types, at least as I see it, from my own experience. There is the option to buy a piece of land to build something that will be presented to potential investors and develop the area, but there is also a second variant, the one of growth from within.
What is to be rapidly implemented in Romania
"We have a huge potential consistent of Romanians living abroad, which will help Romania increase rapidly, if they return with the experience gained there and develop their own companies here. Romania has a unique geographical position that can be capitalized, but this has to be done very quickly. You must very quickly invest in infrastructure.
If that does not happen, competition from other nearby countries might occur, such as Serbia, which will one day join the European Union and Serbia already has prepared infrastructure. "
Tips for new investors. Mistakes to be avoided.
"For new investors on the market – looking back, even if our park is a success, you can say that at first we acquired too much land, we have 300 hectares. Perhaps it would have been enough to buy only 200 hectares, because, despite Ploiesti being a successful city, there are delays in the infrastructure. Fortunately, new partners from the industry and logistic area are heading towards us. Currently there are already more than 60 multinational companies in the park, so the vision of  PWP, in the long term is positive.
My advice is though, for new players in the industrial and logistics real estate areas to buy time if they guarantee investment, especially if they do not have our ability. Otherwise they can get stuck.
Behold, I gave advice to competition, I hope to appreciate and follow," concluded Ivan Lokere as speaker in the Realty Forum 2018 organized by Business Review in Bucharest, at the Sheraton Hotel.