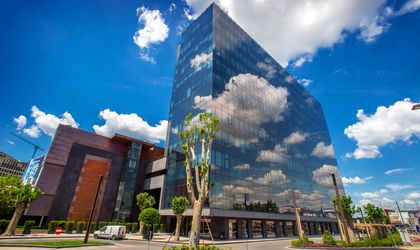 20 companies and more than 2,500 employees in two class-A buildings. This is how the business center developed over the last couple of years has evolved in Openville, the first mixed-use project in the west of Romania created by IULIUS and Atterbury Europe in Timişoara.
Developed in two phases, the first of which is pending completion, Openville will bring major changes to the core of Timişoara. Designed as a project with additional office, retail and leisure uses gravitating around the Iulius Mall shopping center, the Openville project has thus far delivered a total of 31,000 sqm of class-A office premises on the market.
The two completed office buildings of the total seven to be included in the project were developed under the United Business Center (UBC) brand. Leased as early as their construction phase, UBC 1 and UBC 2 established themselves as the business bub of the region, with tenant rosters featuring major names in the IT and automotive industries: Intel, Microsoft, Ness Digital Engineering, Atos, Veoneer, ACI Worldwide, Bitdefender, Azets, Steadforce, Flex România and many more.
The brand will further consolidate its position on the market in Timişoara following the upcoming completion of its third office building, spanning on 19,000 sqm leasable area. NTT Data and Visma Software leased ample premises here, while several other multinational companies to be announced over the upcoming period are scheduled to move into UBC 3.
The tallest office building in Romania erected in Timişoara
Also in terms of office spaces, the year 2018 marked the launching of construction works in the Openville project for what is set to become the tallest office building in Romania. UBC 0 will comprise 27 floors and will stand at a 155 meters height, thereby surpassing the building in Bucharest that currently holds this title.
UBC 0 will include more than 52,000 sqm of office spaces, almost as much as the grand total of the three other UBC buildings in the first phase of development (two of which were opened). The main characteristic of the new building is the generous surface area on each floor (upwards of 2,000 sqm), providing flexible spaces with no interior columns and with abundant natural lighting, and that can be partitioned according to the clients' requirements.
Located in the immediate vicinity of the upcoming Openville Park, the ground floor of UBC 0 will include premium stores, and particularly restaurants and cafés that will benefit from terraces and panoramic view overlooking the green area. Moreover, the first floor is reserved for a specially designed corporate events center comprising no less than seven modern halls.
English kindergarten, fitness center, food court and services, all in the same place
Openville Timişoara has attracted companies that wish to provide their employees not only with the most modern work conditions, but also with immediate access to various facilities both during and outside office hours. The UBC buildings are singular in their status as the only office facilities in Timișoara to be integrated in an operating mixed-use development.
The 2,500 plus employees working in the two UBC buildings benefit from the proximity to the largest shopping center outside of Bucharest. Employees here have direct access to 350 plus stores, food court area, restaurants, fitness center and multiplex cinema. They can also access several services here, ranging from public institutions where they can apply for passport or driver's license issuance or pay their taxes, banking facilities, kindergartens and medical practices, all the way to beauty salons, dry-cleaner and travel agencies.
In addition to saving time, there are also financial benefits to this. Employees in Openville are provided with a loyalty program, namely "Partner Card", which entitles them to year-round or seasonal discounts as high as 25% at hundreds of operators in Iulius Mall Timişoara.
Moreover, upon completion of the first phase of the Openville project, employees will also have access to numerous other services: a kindergarten and a primary school where students are taught exclusively in English per the British curriculum, private event halls, a new multiplex cinema concept, and many more stores. Meanwhile, the project's park will provide the opportunity for outdoor relaxation during breaks, as well as to socialize and unwind at the numerous cafés and restaurants to be fitted here.
Openville entails an investment upwards of € 220 million, being the largest real estate investment in the west of Romania. The first phase will include: 47,000 sqm of retail premises, new brands, 50,000 sqm of office premises in operation (UBC 1, UBC 2, UBC 3) and another 52,000 sqm under construction (UBC 0), a park, a traffic underpass and 4,068 parking spaces.