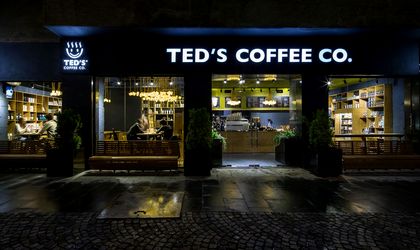 Openville will accommodate a new café with a distinctive concept for aficionados of the fine, aromatic beverage. The TED'S COFFEE CO. national chain will open its first location in Timişoara in the mixed-use project that is currently pending development in the vicinity of Iulius Mall. The coffee shop will span on 110 sqm and will be fitted at the ground floor of the United Business Center 3 (UBC 3) office building, which is currently under construction.
TED'S COFFEE CO. will be the place where clients can enjoy their favorite coffee, exquisitely brewed and served with a beaming smile. The coffee varieties served at TED'S, ranging from the House Blend all the way to Single Origin coffee, are "specialty coffee" certified.
In addition to mainstream espresso, cappuccino, latte or filter coffee brews, the people of Timişoara will be able to enjoy delicious caramel, tiramisu, coconut and nuts combos, as well as the latest trends, such as cold brew coffee, espresso tonic, matcha latte or chai latte. The menu will also include coffee-based summer concoctions, fragrant teas, hot chocolate and fruit-based energy beverages. Moreover, clients will be able to create unique combos to obtain a coffee to their liking.
The TED'S COFFEE CO. locations are memorable not only owing to their delicious coffee specialties, but also via their distinctive design created by LAMA Arhitectura. Lighting fixtures made of "to-go" coffee cups, bright colors, birch wood furniture or industrial walls are only part of the features adding to the relaxing and unique atmosphere.
TED'S COFFEE CO. has a nationwide presence, with 17 locations in Bucharest, Braşov, Sibiu and Ploieşti.
About Openville Timişoara
The first phase of development of the Openville Timişoara project will include new concepts of shopping and entertainment. The largest mixed-use project in the region will complete the current offer of Iulius Mall with 47,000 sqm of additional premises to be fitted in an expansion wing of the shopping mall, at the ground floor of the office buildings and in the upcoming park area.
In addition to the variety of restaurants and themed cafés in Openville, the people in Timișoara will also be able to discover here new brands, a novel mix of entertainment activities and a new cinema concept. The works for the additional retail premises were started in December 2017.
The Openville mixed-use project is developed by IULIUS and Atterbury Europe, adding up to an estimated investment upwards of € 220 million.