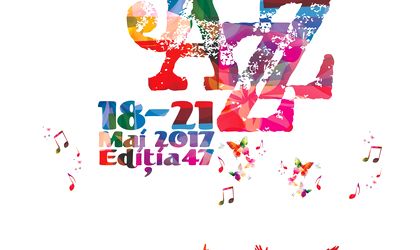 Sibiu becomes one more time the jazz capital of Romania between May 18-21. This edition promises four days of culture and high quality music: 120 musicians from 17 countries will perform live concerts in Piata Mica, starting 7 PM.
The 47th edition of Sibiu Jazz Festival will transform the entire city in a large cultural manifestation, held simultaneously in several locations.
"Jazz for Kids" project will take place at the Gong Theatre. The Council Tower will host the photography exhibition "Jazz Body Sounds", signed by Tibor Jakab and The Art Gallery UAP Sibiu will host two exhibitions: "Jazz – Soul and Shape", bronze statues exhibition created by Eugen Petri and the festival jazz posters exihibition created by the artist Stefan Orth. "Jam Session in the Kitchen" will give a brand new meaning to the culinary art in Piata Mica and in the evenings the audience will be delighted with jazz music from all over the world.
A novelty in this year's event is "Romanian Jazz Meeting", a project which brings in front of the public Romanian musicians, an opportunity for them to launch themselves internationally. Romanian Jazz Meeting is, by far, the only project in the country where Romanian artists can hold concerts both for the public, but also for jazz promoters, critics or journalists.
Another surprise for the public is the free entrance at all the concerts organized in the Piata Mica, during the festival.
The Line-up
First day starts with "Jazzapella" – the most competitive Romanian vocal sextet. Once the atmosphere is created, the audience will feel the rhythm of "Accord Vibes", followed by the nonconformist Irina Popa, who will hold an incendiary concert together with her quintet.
Thursday night will reach its peak with the help of "the terrible kid of jazz", the polish Grzegorz Karnas and his quartet, "Karnas Formula".
On Friday, May 19, Sibiu Jazz Festival kicks off a weekend full of music and positive vibes with a little help from the "sinners": DJazz & Happy Sins. Then, Peter Sarosi & Azara will conquer the crowd with a show under the spell of virtuosity. The party continues with Jeff Her Corporation's tunes, who will hypnotize the audience with their fantastic improvisations, followed by the beautiful Yilian Canizares and her sensual show, held with her Cuban-Swiss-German quartet.
On Saturday evening, Piata Mica will be full with the sounds of the philosopher Mauro Sigura and his quartet. Then, the audience will be taken to the streets of Valencia, with the help of De La Purissima, in a melancholy of contemporary sonorities and folk. In this fusion of cultures, Natalia M King and her quintet will take on the stage to indulge the audience with her impressive mix of jazz, blues and soul.
The last evening of the festival brings on stage musicians from far lands. The Koreans Black String will warm up the atmosphere with their exotic instruments, only to be followed by the Syrians Mozayek Band to complete a successful event.
Find out everything about the 2017 edition of Sibiu Jazz Festival on www.sibiujazz.eu