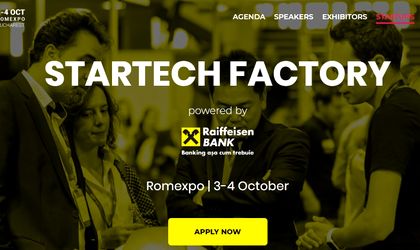 Romanian technology companies, at the beginning of their business journey, are invited to join the StarTech Factory, an excellent opportunity to develop a successful future business.
Internet & Mobile World and Raiffeisen Bank launch StarTech Factory, an initiative dedicated to tech startups.  The program will be operational between 3rd and 4th of October, at Romexpo, at the 7th edition of IMWorld, offering free booths for 22 startups in order to hel them win awareness. Participants can register until September 7th on www.imworld.ro
The StarTech Factory targets all tech startups in the first two years of activity with a maximum of 10 employees, a scalable business model and a turnover up to EUR 150,000. Full participation conditions are available @ www.imworld.ro.
Seven of the most convincing entrepreneurial teams will get the chance to participate to a pitch on the Main Stage, trying to impress the jury, but also the IMWorld business audience. The members of the jury are succsessful business people that will nominate the winner of a EUR 2,000 prize offered by Raiffeisen Bank, the Startups Area Partner at IMWorld 2018.
"Startups can change markets because of their agility and creativity. They are the innovators. We believe that the new perspective and opening of startups together with the market experience of large-scale companies can create partnerships that have the perfect ingredients to develop value-added products and services for customers. We are glad to be back at IMW and support the first edition of the StarTech Factory. Each program for startups gives the chance to this type of companies with potential to come forward ", says Cătălin Chirieac, Digital Banking Manager – PI Clients, Raiffeisen Bank
The next generation of business, which is expected to bring progress, finds in IMWorld, the largest B2B expo conference for IT & Digital solutions in SEE,  the Home or the Place (Capitals intended), where a startup can really make its dream come true: to become a successful business.
"Internet & Mobile World has always had a space reserved for emerging businesses, but this year we have decided to focus a significant part of the spotlight on the startups segment at the expo-conference for digital and IT business solutions. We want to support the Romanian fresh businesses to find investors, clients, partners and mentors, and give them the chance to become, hopefully, the next unicorns. What Internet & Mobile World offers is a major exposure to over 5,000 companies represented by 9,000 visitors and free access to all the IMWorld marketing and business mechanism," said Alexandru Maxineanu, Project Manager IMWorld.
In estimated figures, IMWorld 2018 will have:
7 stages with 7 exhibition areas for IT & digital solutions;
25 industries and 5000 companies represented at all levels;
9,000 business participants, of which 5,500 CxO;
140 exhibitors with over 2700 IT & digital solutions;
147 local and international speakers and 127 agenda sessions;
22 national startups
7 networking areas
Access for the two quality business days proposed by Internet & Mobile World is exclusively based on a ticket that can be purchased from www.imworld.ro
Media Partner for Startups Area at IMWorld 2018 is Business Review