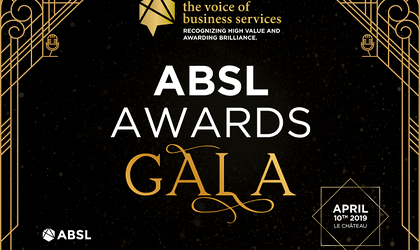 As the voice of the business services, ABSL has created the ABSL Awards with the purpose of recognizing the most innovative, impactful and high value projects and initiatives of the business services industry over the course of the previous year.
ABSL Member companies nominated their best projects and will be appreciated by the entire business community during the ABSL Gala, that will take place on April 10th, Le Château, Bucharest, stating 6:30 PM.
This year, the competition includes 6 business categories and a special award for the Colleague of the Year:
Business Leader in:
Business Excellence
Business Innovation
Customer Experience
Corporate Social Responsibility
Talent Development & Education
Vibrant Workplace
Registration & Tickets
Member & Partner companies:
Core Members & Strategic Partners: 3 free passes
Associate & Supporting Members:  2 free passes
Regular tickets:
150 EUR | 1 ticket
500 EUR | 4 tickets package
ABSL Awards Gala is the celebration event where the business community gathers to honour the companies, their people and their meaningful contribution to making the Romanian business services industry performant, attractive and competitive.
This is also a great opportunity for networking so non-ABSL Members are welcome as well.
Book your seat on 2019gala.absl.ro!