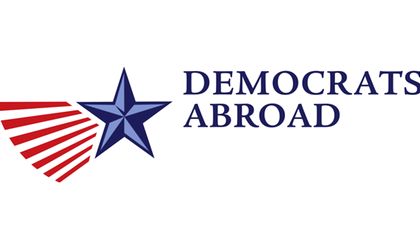 Democrats Abroad Romania (DA Romania) elected a new Executive Committee at their Annual General Meeting on April 17th.  The organisation has elected the following persons to the Committee:
Chair – Radu Florescu
Co-Chair – Marina Coanda Bundac
Secretary – Kim Vranceanu
Treasurer – Mike Rodill
Legal Counsel – Charles Vernon
Members-At-Large – Bryan Jardine & Perry Zizzi
Established in May of 2018, DA Romania is the local Romanian chapter of Democrats Abroad.  The new incoming leaders to the committee are responsible for sustaining and supporting the work of Democrats Aboard and the overall Democratic Party.
"We are happy to announce the election results of DA Romania Executive Committee," says Radu Florescu, Chair of Democrats Abroad Romania. "We have witnessed an outpouring of concern and activity of Americans living in Romania following the general election 2 years ago. Our goal is to provide outreach to other Americans and to provide even greater opportunities for our members to learn about and engage with what is happening politically back in the U.S. via our events, teach-ins, meet-ups, voter registration drives, and other activities. We look forward to pushing the DA agenda as we close in on the next election cycle in 2020."
As American politics has come to the forefront of global concern with the Trump administration, DA Romania aims to be the point of contact for Americans living in Romania who desire to be more actively connect with their local and federal government as well as to be more involved in civic engagement back home.
The elections are one facet of an ongoing program of activities for DA Romania. For more information please visit our website at http://www.democratsabroad.org/.
About Democrats Abroad
Democrats Abroad is the official Democratic Party arm for the millions of Americans living outside the United States. Democrats Abroad strives to provide citizens living abroad with a voice in government and elect democratic candidates by mobilizing the overseas vote.
Democrats Abroad currently has 41 country committees throughout Europe, the Americas, the Middle East, Africa and Asia. These country committees keep Americans abroad informed of their rights and help them participate in the U.S. political process. Members live in more than 190 countries around the globe and vote in every state and Congressional district in the U.S.
Democrats Abroad is recognized as a "state" Party by the Democratic National Committee (DNC) and is represented on the DNC by eight voting members, as well as at the quadrennial Democratic National Convention.
Democrats Abroad online voter registration tool – votefromabroad.org – makes it easy to request a ballot and vote absentee from any place on the planet.