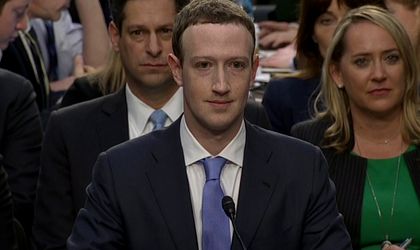 Facebook CEO Mark Zuckerberg pledged to correct the company's mistakes regarding user privacy and defended the platform's value in front of members of the US Congress in a joint hearing of the Senate Commerce and Judiciary Committees, Bloomberg reports.
Zuckerberg argued that users come to Facebook, Instagram or Whatsapp about 100 billion times a day, and that the core part of the company "does seem to be working fairly well".
The CEO also wanted to take full responsibility for the recent data privacy scandal, saying "it was my mistake and I'm sorry". However, lawmakers were not fully convinced by his mea culpa.
Republican Senator John Thune said: "After more than a decade of promises to do better, how is today's apology different? And why should we trust Facebook to make the necessary changes to ensure user privacy and give people a clearer picture of your privacy policies?"
"We've seen the apology tours," added Democratic Senator Richard Blumenthal, while Senator John Kennedy simply told Zuckerberg, "Your user agreement sucks", and warned that he will support regulation of Facebook if things don't change.
In response to the possibility of regulation of the platform, Zuckerberg said that he would be open to it "if it's the right regulation" and that the company will come up with some suggestions.
Despite the negative attention on Zuckerberg, his company's shares were up 4.5 percent in New York Trading yesterday.